Duda Farms Fresh Foods is a brand I enjoy working with, but this is not a sponsored post. I'm just excited to share fun ways kiddos can enjoy Ants on a Log!
---
Did you know there's actually a National Ants on a Log Day? It's the second Tuesday in September every year and it gets me excited because I love anything that celebrates fruits and vegetables and it can be a fun way to encourage kiddos to eat more of both! I especially love making Ants on a Log with Dandy Celery because it's less stringy! They actually have 5 PhDs on staff and their job is to work with Mother Nature to make the celery sweeter and crisper than other varieties. So when trying to get kiddos to try new fruits or vegetables, in this case- celery, it's always helpful to pick up one that has less strings!
Y'all know I love creating healthy, fun and creative lunches (I actually made a whole post on Bento Box lunches last month)! Different variations of Ants on a Log are perfect for Bento Box style lunches, a lunch at home or even an afternoon snack! And these are NOT your grandma's Ants on a Log- from sweet to savory to holiday-themed, check out these fun options that will definitely have your kiddos excited about lunch and maybe even trying a new food!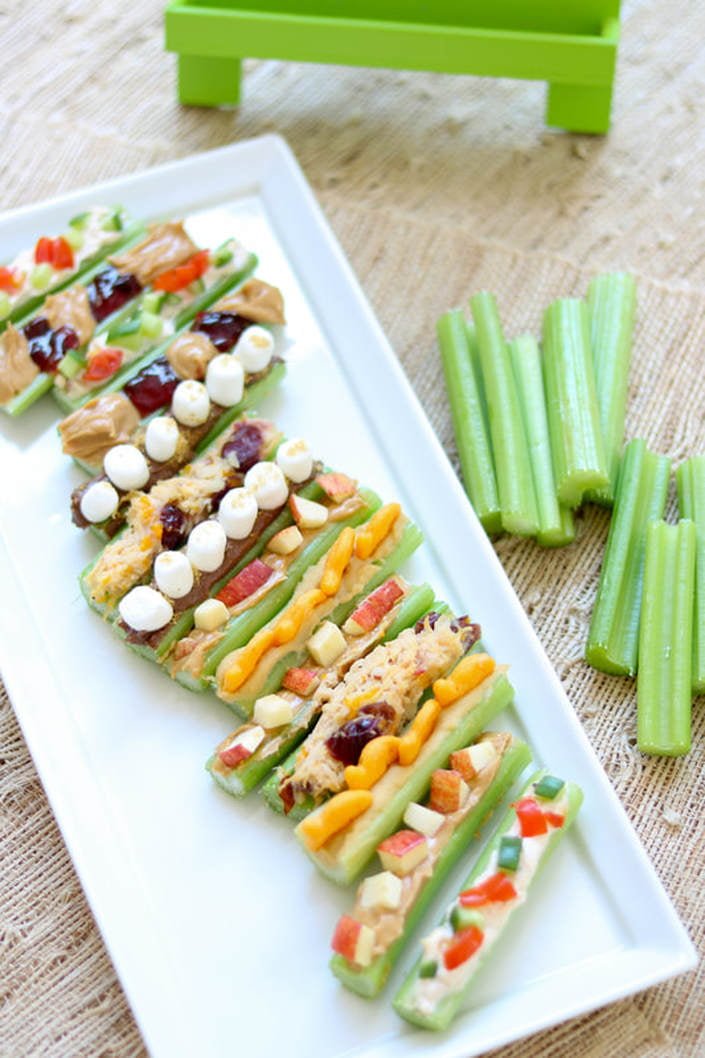 1.) Here are some of my favorite sweet options! What kiddo doesn't love a PB & J? Well take that love for the classic straight to the celery stick and make these super cute PB & J celery boats.
2.) If your kiddo loves S' mores, they will love this twist on the campfire classic! PB & Co Dark Chocolate Dreams Peanut Butter + graham cracker crumbs + mini marshmallows. Can lunch get any cuter and delicious?
3.) One of the easiest swap outs for the classic Ants on a Log are these Apples on a Log- creamy peanut butter with sweet and crunch apple. 4.) I also like this version with pumpkin spice peanut butter for a super fun seasonal treat. Pb & Co makes the perfect pumpkin peanut butter that gets me excited every fall!
5.) Now for those who love savory a little more than sweet, check out these fun creations! Ants on a Log went for a swim in these Fish up A River celery sticks! Simply spread your favorite hummus flavor in a piece of celery and top with whole grain Goldfish. 6.) This also works great with pretzels or popcorn!
​7.) Another easy favorite is to fill up a celery boat with cream cheese (if your kiddos like ranch, I'd suggest the vegetable cream cheese flavor!) and put fresh diced cucumber and tomato on top. 8 & 9.) You could also try pimento cheese or guacamole bites to be different!
10.) Celery also makes the perfect dipper or boat for chicken salad! You can snag this super simple 5 Ingredient Chicken Salad Recipe below!
This recipe is a piece of cake to whip together and has kid-friendly ingredients like mandarin oranges and cranberries! It has a creamy and smooth texture that goes perfectly with crisp celery!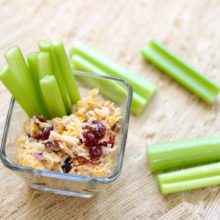 Print Recipe
5 Ingredient Cranberry Orange Chicken Salad
Ingredients
1

12.5 oz. can

chicken breast, drained

1/4

cup

dried cranberries

2

Tbsp

chopped almonds

1/3

cup

mandarin oranges

2

Tbsp

avocado mayo

Salt & pepper

Celery Sticks for dipping and to make Chicken Salad Boats
Instructions
Open the can of chicken and drain the water.

Put chicken into medium size bowl and shred with fork.

Add dried cranberries, almonds and oranges, mayo and mix well.

Season with salt & pepper to taste and spoon celery into celery boats for Chicken Salad Logs or use celery sticks as dippers for the perfect crunch!