This is not a sponsored post. The brands included are some of my favs or I had the pleasure of partnering with for my Backyard Bash segment on Great Day SA. You can find all the recipes featured in the segment below and make sure to check out the lovely ladies who contributed their genius tips for this post!
---
Hi y'all and welcome to KISS in the Kitchen! There are usually some new faces here after I get to have fun whipping up some recipes on Great Day SA so thank y'all for dropping by and as always, thank you to so many of you who swing by regularly to see what's going on at the KISS blog!I'm not sure how we're almost into August, but I do know that many of us are having one or two more backyard bashes before it's time for the kids to go back to school. So whether it's a birthday party, a pool party or just a backyard BBQ with the neighbors, here are 10 tips and recipes to help you with the planning!
1.) Plan a colorful menu! A colorful spread is inviting and 99% of the time (exceptions include candy and cereal), color = nutrition! My fav colorful spread is serving a variety of Lantana Foods Hummus (their beet hummus is the best ever!) with a bunch of fresh veggies. The bright colors may even get the kids excited to try something new!
2.)
Plan a menu that requires little last minute prep.
Sharon Palmer, RDN, The Plant Powered dietitian,
recommends planning a menu that requires little last minute prep. Her favorite summertime menu is a variety of filling salads, such as whole grain salads, pasta salads, vegetable salads, and bean salads. "You can make them sometimes the day before, and if you serve them in a large bowl, you don't need a lot of utensils (fork) for people to eat them. If it's a really hot day, I place the serving bowls in a larger bowl of chipped ice to stay cool and safe!"
​
3. Take shortcuts. It's okay to cut some corners. For example, instead of making popsicles with multiple ingredients (milk, juice, fresh fruit and other ingredients), I simply thawed some Halo Top Ice Cream (if you haven't tried Halo Top before, it's low calorie ice cream that tastes like the real deal. It's high-protein and low-sugar but still tastes creamy and delicious!) on the kitchen counter for about 20 minutes then poured the melted ice cream into 5oz Dixie Cups with fresh fruit and placed a popsicle stick in the middle. Voilá!
4.)
"Plan a meal that can be done in a serve yourself style so that you're free to enjoy the fun
too instead, of having to prep food or serve guest during the party". Kate Lee, MPH, RDN of
Home Cooked Happy
says she loves to set up a good chili bar or taco bar, where she can prep the main dishes ahead of time and let guests choose and add all their own fixings/toppings to suit their taste. Super easy and guests always love it!"
​
5.)
Choose recipes that don't need a lot of prep or hands on cooking.
These
Orange Margarita Ribs
cook for almost 90 minutes in the oven and require ZERO prep. The glaze only takes about 15 minutes to prepare, but warning- you'll want to put it on EVERYTHING because it's that delicious. Get the full recipe
here
!
6.)
Don't forget about the important non-food essentials.
Lindsey Janiero, RDN, LDN, dietitian and owner of
Nutrition to Fit
, recommends staying cool by setting up a couple standing, floor, or table top fans in a shaded area for people to have a quick cool down spot. Plan the start time for your backyard bash for after the height of afternoon temps start to diminish. Going into the evening? Be sure to have plenty of citronella candles out to ward off bugs!
​
7.)
Prevent sunburns and keep your guests comfortable
by putting centerpiece baskets with sunscreens and SPF chapsticks, says Elizabeth Shaw, RDN, CLT of
Shaw's Simple Swaps
. Having a cooler with slightly damp washcloths is also a nice way to refresh guests or wipe your kiddos sticky fingers!
​
8.)
​Have plenty of hydration available, especially if you're serving alcohol.
Lindsey Janiero, RDN, LDN, dietitian and owner of
Nutrition to Fit
, A hot and humid afternoon is dehydrating enough, but alcohol can add to dehydration. Stock coolers with plenty of hydrating beverages, like water, seltzer, lemonade, and iced tea. Kids around? Be sure to have a separate kid-friendly cooler to encourage kids to hydrate plentifully on a hot afternoon. Check out these fruit infused water options from
Nutrition to Fit
!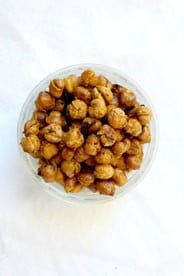 9.)
Use index menu cards to help guests with food allergies.
Many guests may have food preferences or restrictions and identifying food with either what it has in it (e.g. "contains gluten") OR what it doesn't (e.g. "gluten-free"), is super helpful! Having at least one snack or side dish that is free of gluten, milk or nuts is a great way to feel certain guests with food allergies will have something to enjoy. I love these
Smoky Roasted Chickpeas
from Amber Ketchum, MDS, RDN, LD with Homemade Nutrition as a salty, crunchy snack that is also allergy-friendly!
10.) Google "backyard party hacks" and the options are endless! Some favorites I found were using old wine bottles for vases, cupcake liners attached to straws to prevent bugs in beverages and keeping drinks in a plastic bin with frozen water balloons! There are so many creative ways to plan a party, but when I think back to all the parties I've hosted, the best ever advice I could give is this: Have fun, be intentional and don't spend time cleaning over time with your guests. I've always struggled with that last one my whole life and I actually followed my own advice earlier this month. It felt wonderful. Life is too short to not spend with the ones you love. Wishing y'all a blessed and joyful rest of your summer!
---
Pin for later!