---
I'm excited to partner with Monterey Mushrooms, the largest fresh mushroom grower in North America, for this post. As always, all opinions are my own, and I only partner with brands and products I genuinely love using in my own kitchen.
---
It's summer and let's face it- we're busier than ever! We all need healthy meals in a hurry and this colorful and flavorful stir-fry is perfect for the whole family. It's loaded with veggies and the flavor is out of this world. If y'all have tried my Asian Chicken Portabella Wraps, you'll recognize the slightly sweet gingery sauce that make both recipes incredibly unique and delicious.
One of the barriers to making a stir-fry (IMO) is when ALL of the vegetables have to be chopped. I took that into consideration and made sure to select some that don't require chopping in addition to a few that need some slicing and dicing. I also included Monterey Mushroom's Umami Stir-Fry mix for ease, flavor and nutrition! The Umami Stir-Fry Mix is one of my favorite fresh mushroom packages to grab from H-E-B and it has a blend of shiitake, mushroom and baby bella mushrooms.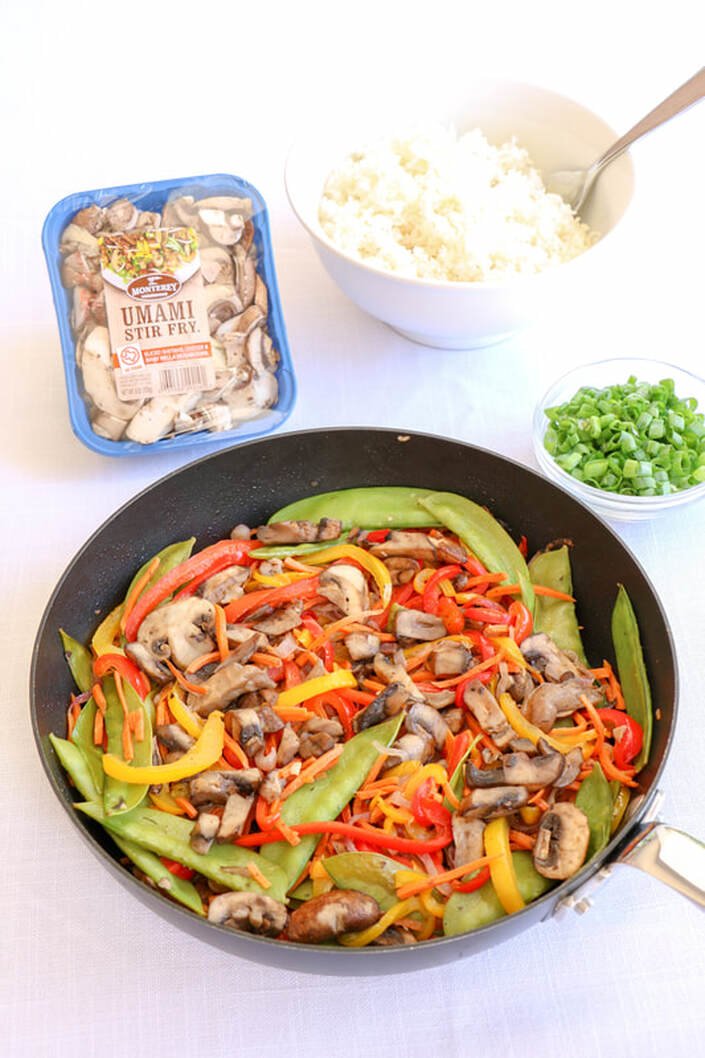 In addition to mushrooms being full of nutrition (hello Vitamin D, phosphorus, selenium and more!), they're also full of unique flavors. In case you're not familiar, the umami flavor is very savory and meaty.  The mushrooms in this Umami Stir-Fry mix have really unique flavor profiles! The shiitake mushrooms tend to have a rich smoky flavor, while oyster mushrooms are more delicate and have a hint of mild pepper to them. Baby bellas are one of my personal favorites and have an earthy flavor. If you're a fan of baby bellas be sure to check out these Maple Balsamic Sauteed Mushrooms!
KISS Tip: Customize the base of this dish with your choice of rice. Stick with white rice or try brown rice or even cauliflower rice!
This dish is a perfect nod to Meatless Monday, especially considering the sustainability of mushrooms. Did you know that one million pounds of mushrooms can grow in the space of just one acre while requiring minimal water and are ready to harvest in just a matter of days?! This makes them one of the most earth-friendly and renewable crops available! 
Over the years I've had a few people share with me that they aren't huge mushroom fans and a few years before that I honestly wasn't the hugest mushroom fan myself! I didn't realize how many varieties of mushrooms that are available and how each one has a slightly different flavor and texture. My favorite way will always be blending finely diced mushrooms into burgers, meatballs, etc., but this stir-fry is quickly climbing to the top of my favorites list as well.
Print Recipe
KISS Rainbow Stir Fry
Ingredients
2

Tbsp

avocado oil

2

cloves

garlic, minced

1/2

red onion, cut into think strips

1 1/2

cups

matchstick carrots

1

yellow pepper, cut into thin strips

1

red pepper, cut into thin strips

6

oz.

snow peas

2

6 oz. packages

of Monterey Mushrooms Umami Stir Fry

2

Tbsp

sesame oil

4

Tbsp

coconut aminos

2 1/2

Tbsp

maple syrup

1 1/2

tsp

Chinese Five Spice

1

Tbsp

minced ginger or ginger paste

1

clove

minced garlic

Chives, chopped

Prepared rice of choice
Instructions
Heat skilled on the stovetop to medium heat. 

Add 2 Tbsp avocado oil and 2 cloves minced garlic to skillet. 

Sauté garlic for 1 minute until fragrant. 

Add red onion, carrots, peppers and snow peas to skillet. Cook for 5 minutes. 

Add mushrooms to skillet and continue cooking for 5 more minutes. 

While veggies are cooking, prepare the sauce by combining and whisking together sesame oil, coconut aminos, rice wine vinegar, maple syrup, Chinese five spice, ginger and garlic. 

Add sauce to stir-fry mixture and continue cooking for 2 minutes. 

Remove stir-fry from heat and serve over rice. Enjoy!