Babies can eat beef as early as 6 months and it is one of the most nutritious, flavorful and fun foods you can offer your baby! As a dietitian and a Mama of two young girls, I love to offer beef to them in a variety of different ways.
Beef is packed with high quality protein, zinc and choline, all of which help support growing bodies and healthy brain development in babies and toddlers. (U.S. Department of Agriculture, Agricultural Research Service. FoodData Central, 2019. fdc.nal.usda.gov).
Once you know that, how could you not offer it to your kiddos?!
Keep reading for more on why I am so convicted in my decision to regularly serve beef to my baby and toddler!
Disclosure: This post is a collaboration with Beef Loving Texans. I received compensation, but I only partner with brands and entities that align with my values. Thank you for supporting the brands that keep KISS in the Kitchen running!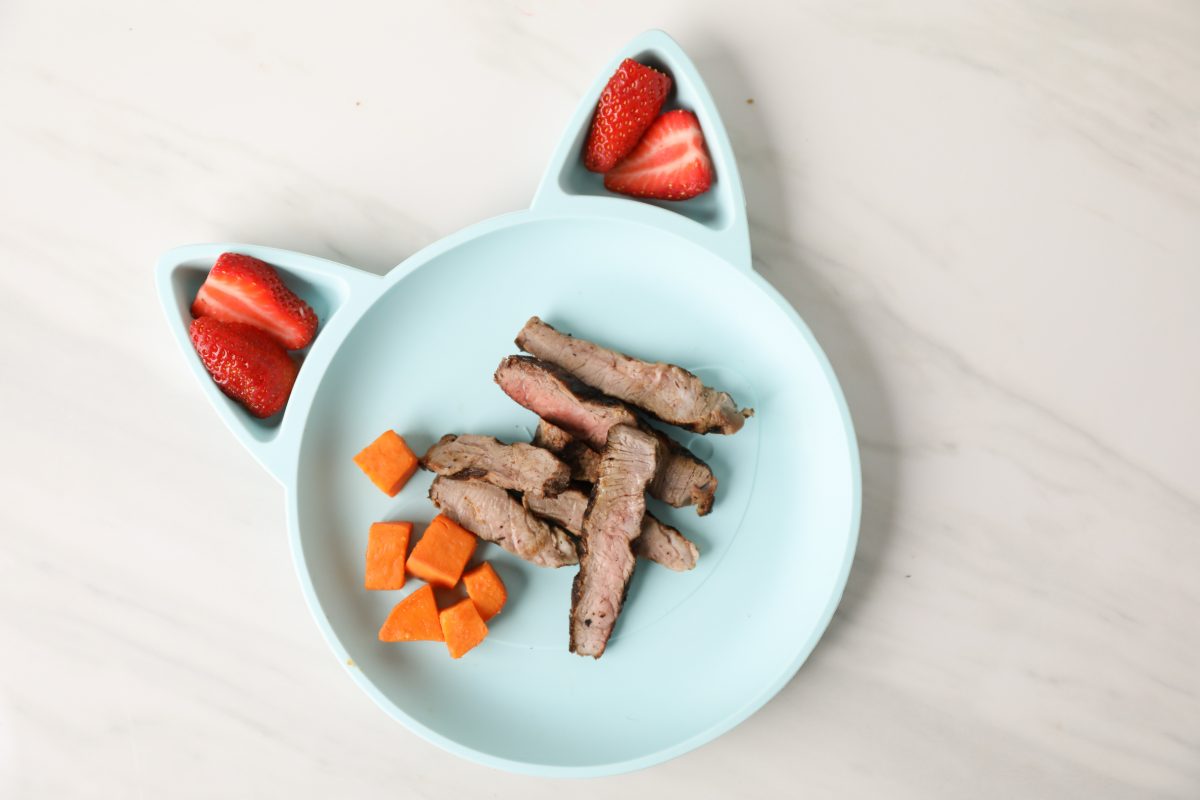 Is food before one just for fun?
As a pediatric registered dietitian, I've often heard and even been trained that "food before one is just fun". I fully agreed with that until I began to feed my own children. We've thoroughly enjoyed doing baby led weaning with both girls and it's very satisfying to watch your kiddos eat without abandon foods you know are nourishing their little minds and bodies (please note that feeding your baby purees is totally acceptable and all the information presented here fully applies!) So yes, food before one IS fun and it should absolutely be no pressure regardless of the feeding style you choose BUT every bite your baby takes DOES count, especially in the first 1,000 days of their life! 
The American Academy of Pediatrics, the Women Infants and Children's Program and now for the first time ever, the Dietary Guidelines for Americans recommend introducing solid foods, like beef, to infants and toddlers, in order to pack in every bite with protein, iron, zinc and choline!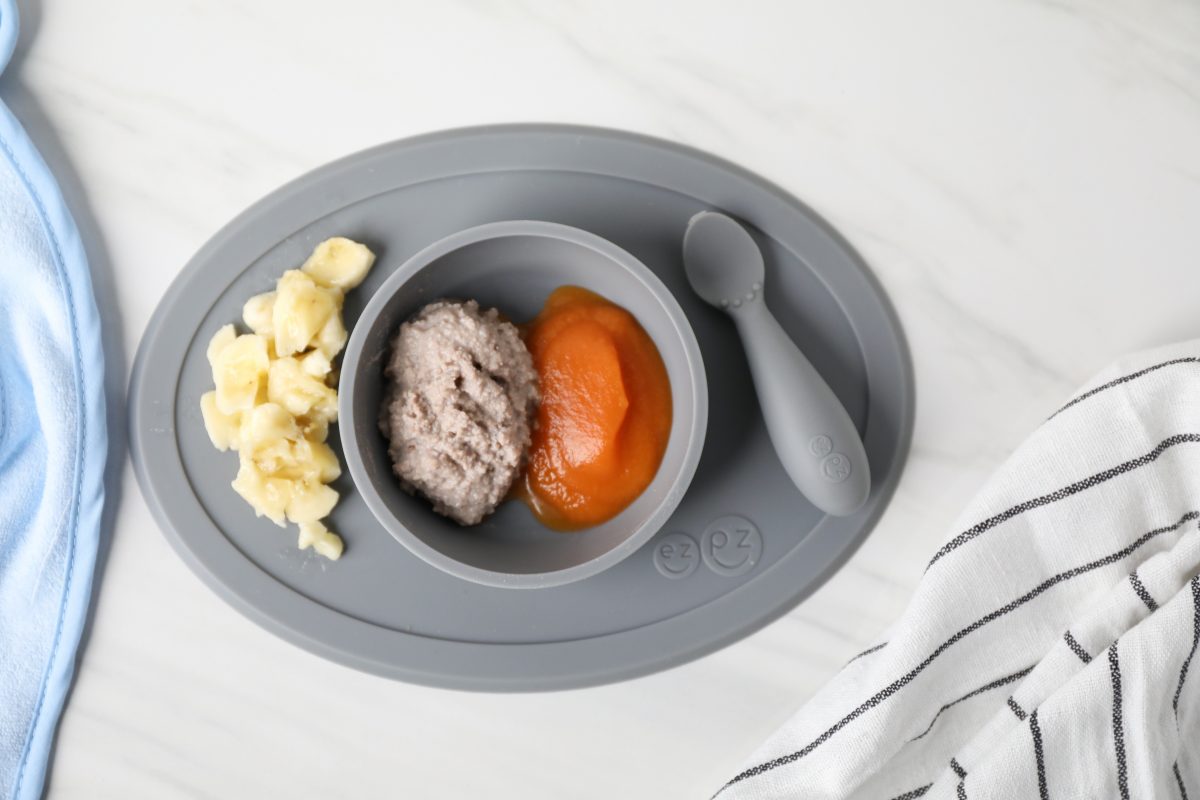 Starting your baby with beef as a complementary first food can ensure they get nutrients they need for healthy growth and development. Whether you choose to feed your baby purees or whole foods, every bite they take counts, especially in their first 1,000 days of life.
When can I introduce beef to my baby?
Currently, my youngest daughter Clara is almost 9 months. We know babies can eat beef as early as 6 months, but we introduced beef for the first time around 6.5 months. I'm not exaggerating when I say I think it's her favorite food! It's no secret that beef (even with minimal seasoning) has such a great flavor and she clearly appreciates that since she chooses beef over anything else on her high chair tray. She's also been teething since she was 4 months (or so it seems!) and strips of steak are especially enjoyable on her gums. She actually still doesn't have teeth at 9 months but thankfully teeth aren't a requirement for feeding her beef!
For more on why we chose to do baby led weaning, check out this post here!
How do I modify recipes for a traditional pureed feeding approach?
If you're choosing a more traditional feeding approach with purees, most recipes can be easily modified with the exception of maybe steak. For meatballs, ground meat or a tender roast, just use whatever kitchen equipment you typically puree with (likely a food processor or baby food maker) to puree the finished recipe (ideally with a little breastmilk or formula). Every bite your baby takes counts so I would avoid pureeing these with water and missing an opportunity for added nutrition.  I encourage you to consider letting your kiddo feed themselves with a spoon so they can practice! It might be a little more messy but it will be fun and help them explore beef with all their senses.
In case you missed this recipe, these breakfast meatballs are delicious, easy and perfect to introduce to little eaters! For more easy beef recipes that are perfect for the early years, check out these recipes the whole family will enjoy!
Clara has now had flat iron steak, sirloin steak, meatballs, ground beef and pot roast. Serving nutritious foods babies and toddler love to eat, like beef, is simple and easy—puree, mash, chop or shred meat at various stages to meet their changing feeding needs. If you have questions about starting solid foods, consult a physician or health care provider.
Regardless of what feeding style(s) you land on, when your baby begins eating is a great time to take a CPR refresher course!
I hope you feel empowered and excited on your baby's eating journey! I'm so thankful the Dietary Guidelines for Americans now recognizes that lean meat nourishes a healthy lifestyle, and that the nutrients found in beef are essential at every life stage. For additional resources and to learn more about beef as a complementary food, visit Beef Loving Texans blog!