---
I'm excited to partner with Monterey Mushrooms, the largest fresh mushroom grower in North America, for this post. As always, all opinions are my own, and I only partner with brands and products I genuinely love using in my own kitchen.
---
Here at KISS in the Kitchen (where KISS stands for Keep it Simple, Shannon), I've 
always
 been about easy, healthy and delicious recipes. That hasn't changed, but I'm finding the closer we get to baby girl's arrival that I'm even more laser focused on simple recipes. 
Sheet pan meals
, 
overnight bakes
 and shorter ingredient lists are all on my radar. Because I don't want fewer ingredients to result in fewer vegetables, I am literally jumping for joy (I'm 7 months pregnant.. so it's more like a toe raise, but I really am excited) for Monterey Mushroom's new product, "Let's Blend". These pre-seasoned and finely diced mushrooms save so much time while adding flavor, nutrition and moisture to your favorite meat dishes. I L-O-V-E Let's Blend and I am super confident you will too!
You may have seen blended burgers, tacos or other items on restaurant menus as blending finely diced fresh mushrooms with ground beef, chicken, lamb and turkey has become a popular trend! Let's Blend has been life-changing in my own kitchen, and one of my favorite things about the product (other than how much time it saves) are the flavor options! Classic is perfect for hamburgers (y'all might have seen these on my Instastory a few weeks back!), Mexican is perfect for tacos and the Italian makes these 5 Ingredient Meatballs the tastiest meatballs I've ever had.
So let's chat about these meatballs and why they're an ideal recipe for the whole family! Here in Texas, it's about to be Spring Break. While some families are hitting the road, many are staying home. I often encourage parents to capitalize on extra time at home by getting their kids in the kitchen for some fun. I work with a lot of picky eaters and I see their little lives change when they actually get to help prepare food in a fun and pressure-free environment. Meatballs are the perfect kid-friendly recipe to practice getting them comfortable in the kitchen. From teaching them to crack an egg, to measuring the gluten-free bread crumbs and allowing them to use their [clean] hands to mold the meatballs, they can take part in the fun experience of making a meal. By the way, there's only 5 ingredients in this recipe so you know prep and cleanup will be a breeze.
Most of the recipes I create are gluten-free and this recipe is no exception. For local folks, you can find everything you need at H-E-B, including Let's Blend and gluten-free spaghetti noodles! AND…. drum roll please, from 3/7-3/20, there is a special promotion for Let's Blend with a BOGO (Buy One Get One) in San Antonio H-E-B stores! So now you have to decide if you want to make tacos or burgers in addition to these meatballs ;). I'll also be making this recipe on Great Day SA this Thursday, March 8th and once again on the Monterey Mushroom Facebook Page this Friday, so there are plenty of opportunities to learn about Let's Blend and see how easy, nutritious and delicious it makes your favorite recipes! 
Monterey Mushrooms nailed the spices in Let's Blend. The Italian Let's Blend smells exactly like pizza (at least to me) when you open the package. I've used it with both turkey AND beef and both were a hit! The lean beef meatballs were the clear winner in our house, but the turkey was still moist and packed with flavor- which can be a difficult task using lean ground turkey breast! You can see I also added some extra Italian Let's Blend to the turkey meatballs below, per Mr. KISS in the Kitchen's request ;).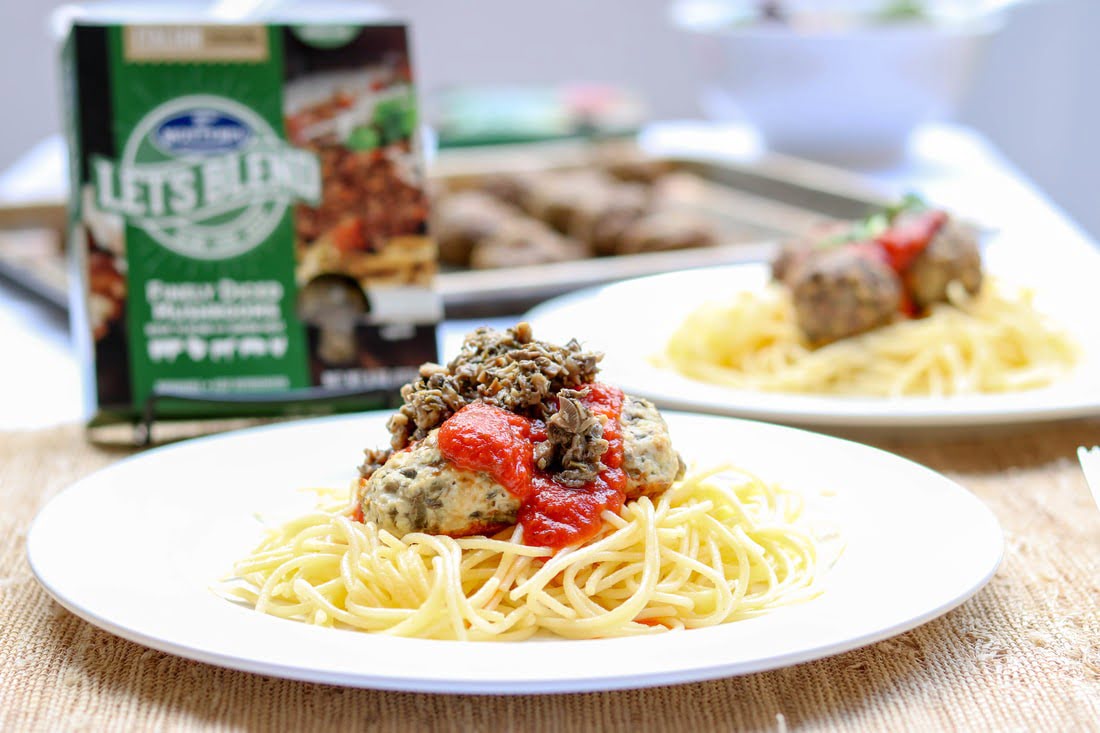 You might have also noticed from the photo above that this recipe makes 20 meatballs! That's another benefit of using Let's Blend- it helps your recipes stretch farther! Incorporating fresh mushrooms into meat recipes can boost the nutrition while also helping with sustainability. One million pounds of mushrooms can grow in the space of just one acre while requiring minimal water and are ready to harvest in just a matter of days. This makes them one of the most earth-friendly and renewable crops available! Monterey Mushrooms is proud to provide fresh, locally grown mushrooms to grocery store and restaurants year round, from 10 farms strategically located across North America!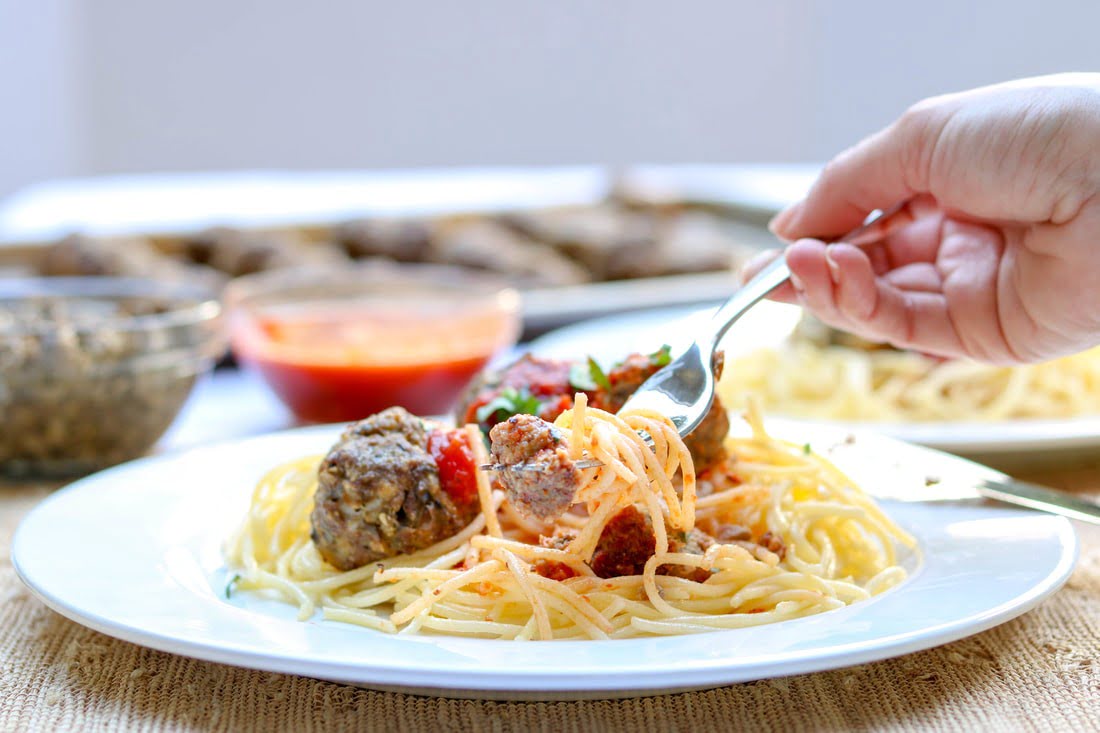 KISS Tip: Use chicken, turkey or even lamb for this recipe if you're not a fan of ground beef or don't have it on hand!
I can't wait to hear what y'all think about this recipe and Let's Blend! You will be hard pressed to find a more moist, nutritious and flavorful meatball that from start to finish takes just 30 minutes and only has 10 minutes of hands-on time. Let me know what you think in the comments below and what flavor of Let's Blend you're most excited to try!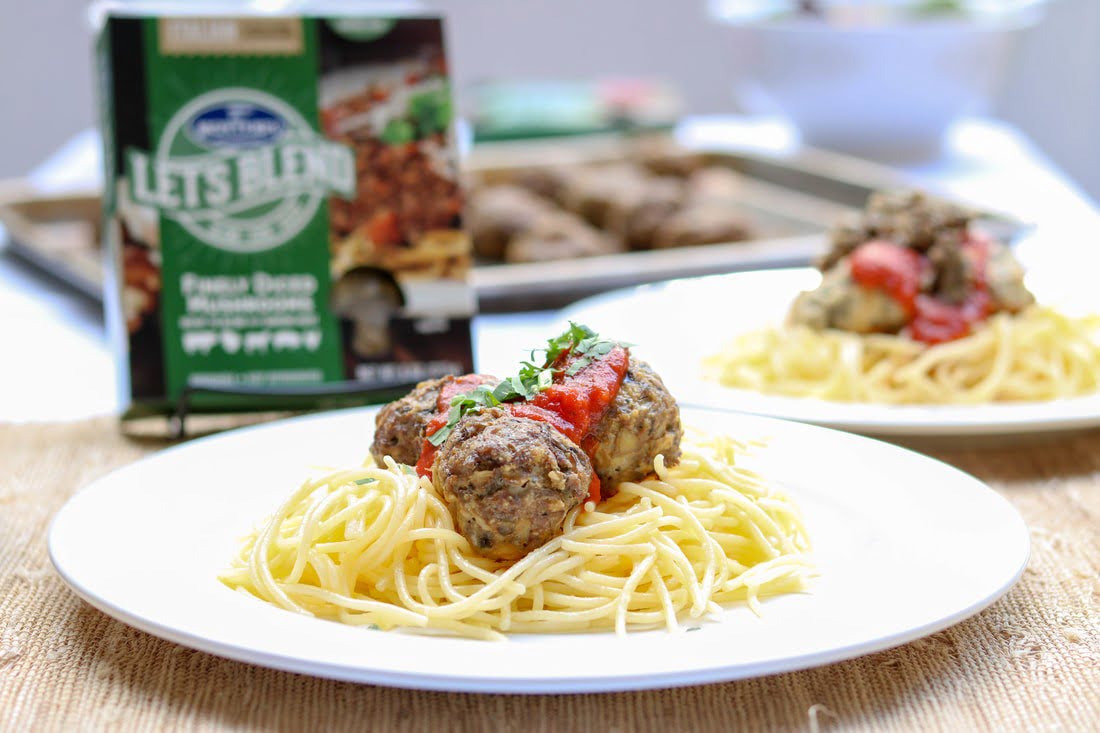 Print Recipe
Beef and Mushroom Blended Meatballs
Ingredients
1

lb.

lean ground beef (93/7)

1

8 oz. package

Monterey Mushroom's "Let's Blend" finely diced mushrooms, Italian flavor

(Learn how to create Let's Blend at home!)

1/2

cup

gluten-free bread crumbs

(I prefer Schar)

2

large

eggs

1

Tbsp

jarred, minced garlic
Instructions
Combine all ingredients in large mixing bowl and mix with your hands.

Using your hands, shape into golf ball shaped meatballs and place on lightly greased baking sheet (you can also lightly grease a foil-lined baking sheet for even easier cleanup!).

Cook for approximately 20 minutes until no longer pink in the middle and thermometer reads 165°.

Enjoy with pasta, spaghetti squash or zoodles!