I cook a lot of beef. Like, a lot. From ground beef to steak to roast, I'm one beef lovin' gal. I even belong to a running group sponsored by the
Texas Beef Council
, called the Texas Beef Team. Over the holidays, the Texas Beef Council mailed Beef Team members a gorgeous holiday roast, and I finally made it this past weekend. (For the easiest roast recipe in the whole wide world, click here.) And lucky for me, there were leftovers for days! But instead of slapping those juicy lean beef slices in between some bread (I have a slight sandwich addiction), I decided to get a little more creative….while still keeping it simple.
This is the simplest recipe ever. Other than slicing the bellpepper, the other ingredients require very minimal prep.
​
KISS Tip #1: Use 4oz containers of pineapple tidbits (in 100% juice) instead of a big ol' can that will leave you with extra pineapple.
Lettuce wraps are the perfect way to spice up protein leftovers. Whether you've got chicken, shrimp or beef- a sturdy romaine leaf plus some extra crunch veggies and sweet tangy dressing is a simple and refreshing dinner that takes minimal time and effort.
*Please note this is an ideal recipe when you have leftover meat! If you don't have leftovers, prepare ground beef, fajitas or any other protein how you normally would then follow the recipe below!*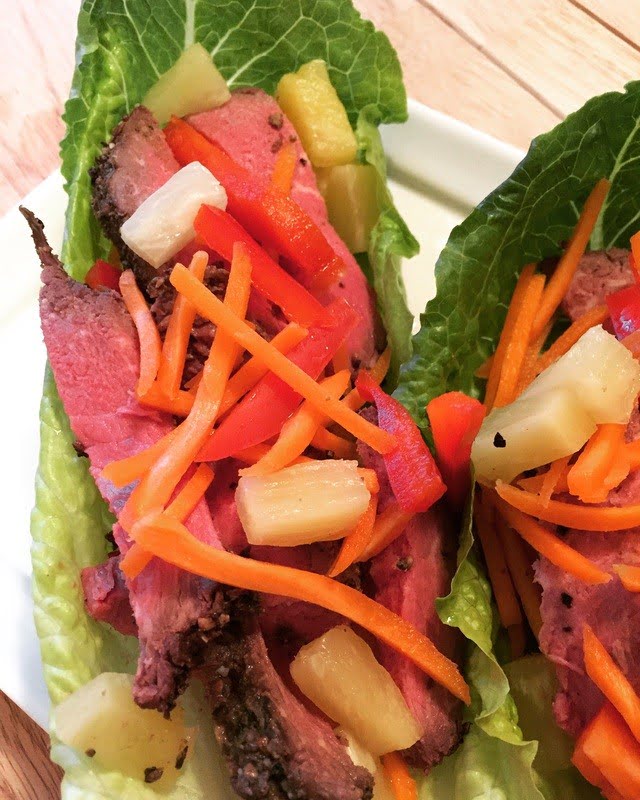 KISS Tip #2: Make extra beef, chicken or shrimp next time you're cooking, so you'll have leftovers to use in this yummy recipe!
---
KISS Beef Lettuce Wraps with Asian Dressing
Serves 4

Ingredients
1 lb leftover sliced roast OR cooked fajita meat, steak or ground beef
8 large romaine lettuce leaves (you can buy these in a package, pre-washed)
1 large red bell pepper, washed and cut in thin strips
3/4 cup matchstick carrots
8oz pineapple tidbits (in 100% juice), drained/rinsed
"Asian dressing"
3 Tbsp avocado or olive oil
2 tsp toasted sesame seeds
2 tsp balsamic vinegar
2 tsp honey or agave
1/4 tsp salt
Instructions
1.) Place romaine leaves on plates or flat surface.
2.) In glass measuring cup, add all dressing ingredients and mix well. Set aside.
3.) Evenly divide bell pepper, carrots and pineapple among the lettuce leaves.
4.) Reheat leftover beef (if desired) and place on top of veggies and pineapple.
5.) Drizzle dressing on lettuce wraps and sprinkle with extra toasted sesame seeds, if desired. Enjoy!
---