Hi y'all! If you've been following along with my 
Fruits of the Spirit Recipe series
, you already know this is my favorite time of the year! One of my favorite things during the holidays is making and giving homemade gifts. I'm not too crafty so my type of DIY present is one that comes from the oven and these Berry Banana Bread loaves are sure to put a berry big smile on anyone's face! And speaking of "favorite things", keep reading below to find out about a sweepstakes from California Giant Berry Farms you're definitely going to want to enter!
These mini loaves are packed with bananas and berries, making them naturally sweet and requiring a little less sugar than some of your standard banana bread recipes. Plus, they're very allergy-friendly (gluten-free, dairy-free and nut-free) but still super delicious, so they're a safe and easy homemade goodie! 
---
California Giant Berry Farms is giving away some of their favorite things from 2017 to help set you up for success in 2018! Click here for their Stocking Stuffers Sweepstakes!
---
From a blender, to a slow-cooker to a Kitchenaid mixer and more, there's 6 prizes up for grabs! I think the slow-cooker is one of the best items because it comes with a copy of the Farm, Family & Food Cookbook that has their secret family recipes inside! I think it's important to remember California Giant Berry Farms is a family business- which is one of the many reasons I love working with them! They also never spray their berries with pesticides and their berries are naturally large because because of the perfect combination of the soil, climate and location of the farm.
Alrighty, back to these little loaves of homemade goodness. If you watched the Facebook live earlier today, you saw me create a layer of strawberries in the middle of the batter before popping the loaf tin in the oven. I'm including some pictures below so you'll have an example when reading the recipe!
I created the layer in the middle because I was worried about the large amount of fruit in the recipe leading to a soggy bread. I also didn't want all the berries to sink to the bottom of the loaf and this method seemed to work well in having the berries evenly distributed and the bread was definitely not soggy!
Whether you're serving this at a party (it looks so pretty when it's cut!) or wrapping it up to give to family and friends, it's an easy recipe and is also easily doubled. The recipe below makes 4 loaves, but doubling it, gets you 8 mini loaves! You can also make large loaves or even muffins, if you're in need of a higher quantity of baked goods!
Wishing y'all a Merry Christmas, Happy Hanukkah and a blessed holiday season! And remember, when in doubt- just keep it simple! <3 Shannon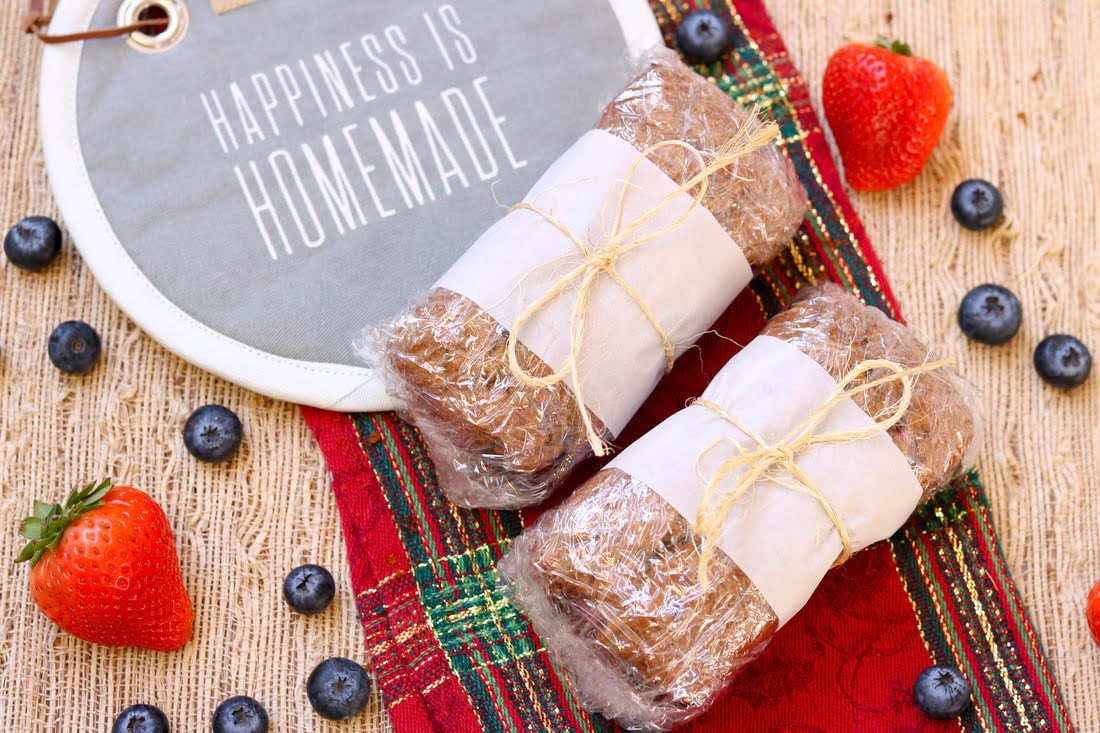 Print Recipe
Berry Banana Bread (GF, DF)
Servings:
4
mini loaves (or 1 9x5" loaf)
Equipment
1 4-count mini loaf pan or 1 9x5" loaf pan
Ingredients
1

cup

all purpose 1:1 gluten-free flour

(I like Bob's Red Mill)

1

cup

gluten-free oat flour

4

medium

very ripe bananas, mashed (about 2 cups)

3/4

cup

coconut palm sugar

1/2

cup

coconut oil or 1 vegan butter stick, melted

2

large

eggs, lightly beaten

1

tsp

vanilla

1

tsp

baking powder

1

tsp

baking soda

3/4

cup

California Giant blueberries

3/4

cup

California Giant strawberries, diced
Instructions
Preheat oven to 350°. Lightly grease a 4 count mini loaf baking tin or 1 9×5 inch loaf pan.

In a large bowl, combine flours, baking soda, baking powder, and salt. Set aside.

Remove peels from ripe bananas and mash well, until little to no clumps remain.

Heat vegan butter stick or coconut oil in glass measuring cup in microwave for 15-20 seconds or until melted. In a separate glass bowl, mix together melted oil, sugar, mashed bananas, lightly beaten eggs, and vanilla.

Gradually stir banana mixture into flour mixture; just until moistened. Fold in blueberries. Reserve strawberries.

Fill each mini loaf hole about halfway, reserving about a cup or so of batter. Evenly divide strawberries and create a layer of strawberries on top of bottom batter layer, then top off each mini loaf with remaining batter (about 1/4 cup or so for each tin). See photo above if this sounds confusing! 

Bake in preheated oven for 30-35 minutes for small loaves (50-55 minutes if making a large loaf). For both sizes, make sure a toothpick inserted into center of the loaf comes out clean. Let bread cool in pan for 5 minutes, then place on a wire rack. Slice and serve warm!