---
I'm thrilled to partner with California Giant Berry Farms for this post. As always, all opinions are my own, but one of my favorite things (and there are many) I love about California Giant Berry Farms is that their non-GMO and naturally large strawberries are never sprayed with pesticides!
---
My Facebook memory from one year ago today was from a Friendsgiving I hosted last year with a close friend. It was so much fun celebrating our friendships while sipping on Cranberry Orange Chai Sangria and digging into one of the most delicious Thanksgiving spreads I've ever had! We even ask everyone to bring a dairy and gluten-free dish to accommodate some of us who have food allergies!
This memory inspired me to create a Friendsgiving Harvest Berry Salad that's loaded with color, plant protein, fun textures and sweet California Giant Strawberries and Blueberries. The only thing that makes it better is the Strawberry Vinaigrette that takes less than 10 minutes to whip up and your guests will likely want to use this dressing for more just salad. I could even see it becoming the new cranberry ;).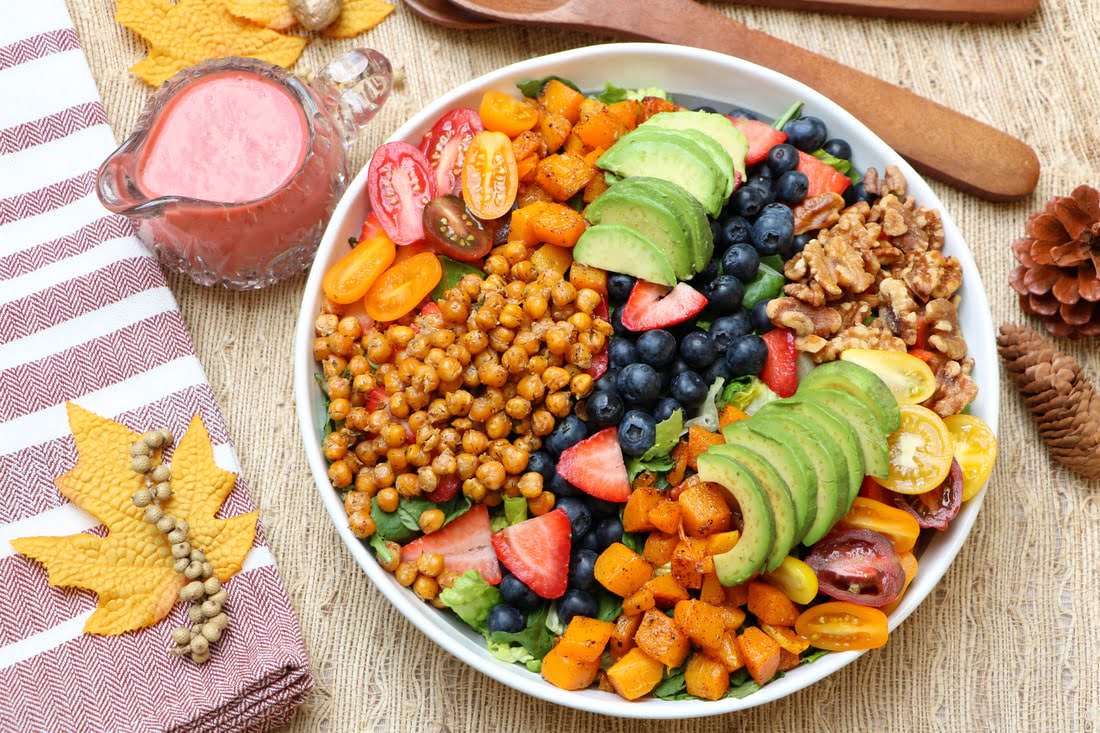 I know what you're thinking (or at least what I was thinking) when I first laid eyes on the salad… I don't want to toss it! It's SO gorgeous, but trust me- it only gets more delicious when you mix all the ingredients together and let the different flavors marry.
I love so many things about this salad, but one of the best parts is how satisfying this salad is! It's truly an impressive mixture of greens, vegetables and fruits that will please vegetarians, meat-eaters and even those with food allergies. The only potential allergen in the recipe is walnuts and those can easily be left out or placed on the side. You could also substitute roasted pumpkin seeds or sunflower seeds if there is someone with a nut allergy at your Friendsgiving or Thanksgiving!
You may have noticed that salads and plant protein are pretty trendy right now. This salad has roasted chick peas that provide some delicious plant based protein while also a crunchy texture. You can roast your own or if you're short on time, the packaged roasted chickpeas will work just fine!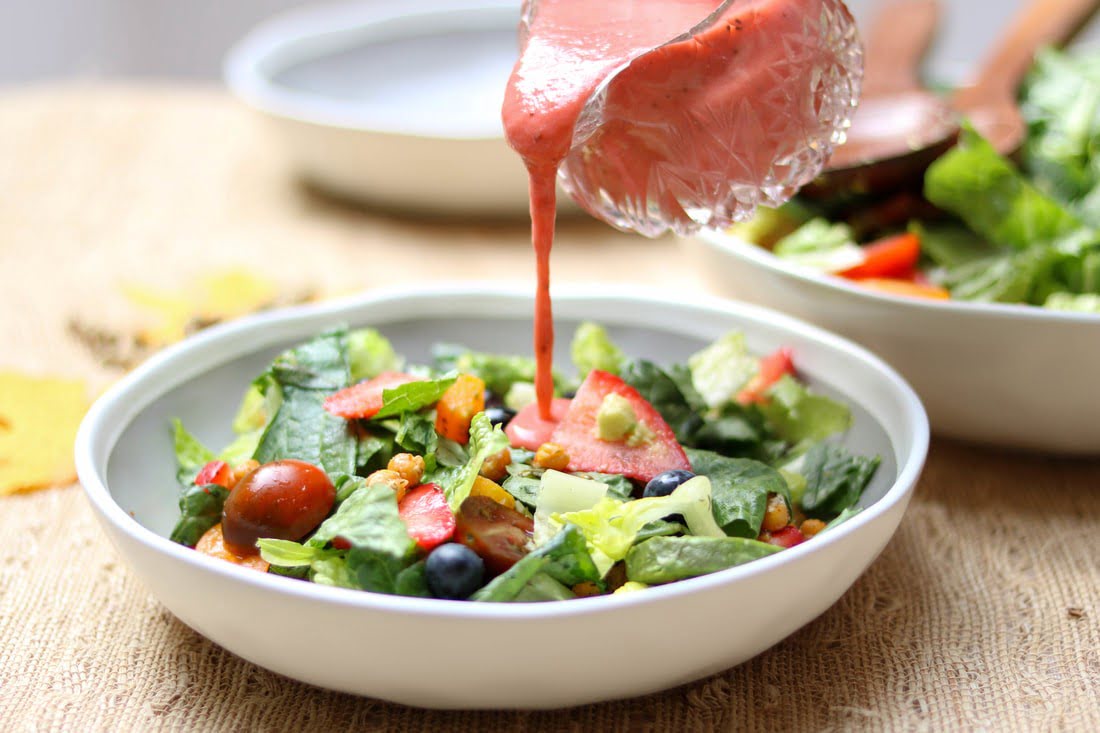 Making a salad dressing from scratch is one of my favorite ways to upgrade a salad without a lot of extra effort. This naturally beautiful dressing has 5 simple ingredients and don't be surprised when everyone that tries it is asking for the recipe! California Giant Strawberries are especially perfect for the dressing because their naturally large size and sweetness. Their berries are naturally large because of the perfect climate and soil they grow in, making them deliciously sweet and juicy! I visited California Giant Berry Farms (which is a family farm!) over the summer and actually got to pick and eat strawberries straight from the field. I literally made a "slurp" sound when biting into the large berries because they were so juicy! 
I hope y'all have a wonderful Thanksgiving with friends and family. I'm grateful for every single one of you that make this platform fun and engaging. I also want to pass along something special I heard this morning. Mr. KISS in the Kitchen and I teach a 4 year old Sunday school class and one of the other teachers asked all the kids to give out plenty of smiles this week- explaining that one of the best gifts we can give others is our smile. I couldn't agree more and would challenge you to do the same this week! Whether you're rushing in and out of the grocery store, in traffic or perhaps truly relaxing with loved ones, let your smiles be generous and genuine. Wishing everyone a safe and special Thanksgiving!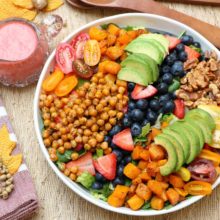 Print Recipe
Berry Harvest Salad with Strawberry Vinaigrette
Ingredients
1

head

romaine lettuce, chopped

1

5 oz. package

baby kale

16

oz. or ~3 cups

chopped butternut squash

(most grocery stores have 16 oz. pre-chopped packages)

1 1/2

tsp

cinnamon

1

Tbsp

avocado oil

1 1/2

cups

roasted chickpeas

(try this recipe or packaged roasted chickpeas are fine!)

2

cups

California Giant Blueberries

2

cups

sliced strawberries

1 1/4

cup

walnuts halves

1

large

avocado or 2 small avocados, sliced
Dressing
2

cups

sliced strawberries

2

Tbsp

avocado oil

2

Tbsp

white balsamic vinegar

2

Tbsp

water

1

tsp

sugar

Salt & pepper to taste
Instructions
Preheat oven to 400° and line a baking sheet with foil.

Toss butternut squash in avocado oil and spread evenly on foil lined baking sheet. Sprinkle cinnamon on top of butternut squash and bake for 25 minutes.

If you're roasting the chickpeas, they also cook at 400° so you can bake them at the same time. Disregard if using packaged roasted chickpeas.

While butternut is roasting, chop head of romaine lettuce into bite size pieces and mix with package of baby kale. Place lettuce in large serving bowl.

Chop baby heirloom tomatoes in half and arrange on top of greens.

Rinse strawberries and remove stems. Slice 4 cups strawberries, reserving half for the dressing. Place 2 cups strawberry slices and whole blueberries on top of greens.

Remove butternut squash from oven and push squash to one side of the baking sheet. On empty half of the baking sheet, place walnuts and roast both the butternut and walnuts for 5 minutes in the 400° oven. 

Remove butternut squash and walnuts from the oven and let cool for 5 minutes before transferring warm squash and walnuts on top of the greens.

Finish the salad by adding avocado slices and serving with Strawberry Vinaigrette.
Strawberry Vinaigrette
Place sliced strawberries in a medium size sauce pan over medium heat and stir strawberries every 1-2 minutes until they start to simmer for about 5 minutes.

While simmering, use a potato masher to mash the strawberries into a pulp.

Remove from heat and let cool for about 5 minutes.

Transfer warm strawberry pulp to a mini food processor or high-speed blender and blend with oil, white balsamic vinegar, sugar, water and a dash of salt and pepper until all ingredients are well incorporated and dressing is creamy. 
Notes
Depending on the size of your salad bowl, you may find all of the fruit and toppings don't fit on top of your greens. Make sure to reserve those ingredients and add more as the salad is tossed and served!