This pregnancy has come with many surprises! From a nutrition standpoint, there have been a fair amount of things that caught me off guard, including it being a lot harder than I thought to meet my protein needs. There's a lot of contributing factors, but a busy schedule with less energy has definitely resulted in less cooking at home (and therefore, less leftovers). I also used to eat a lot of deli meat, which I'm sorry- steaming deli meat to make sure it's safe, just doesn't do it for me. Food aversions in first trimester were the real deal and even now in third trimester I still feel like I fall short some days on protein intake, so this protein smoothie bowl is just the refreshing morning (or night) protein pick-me-up that I need!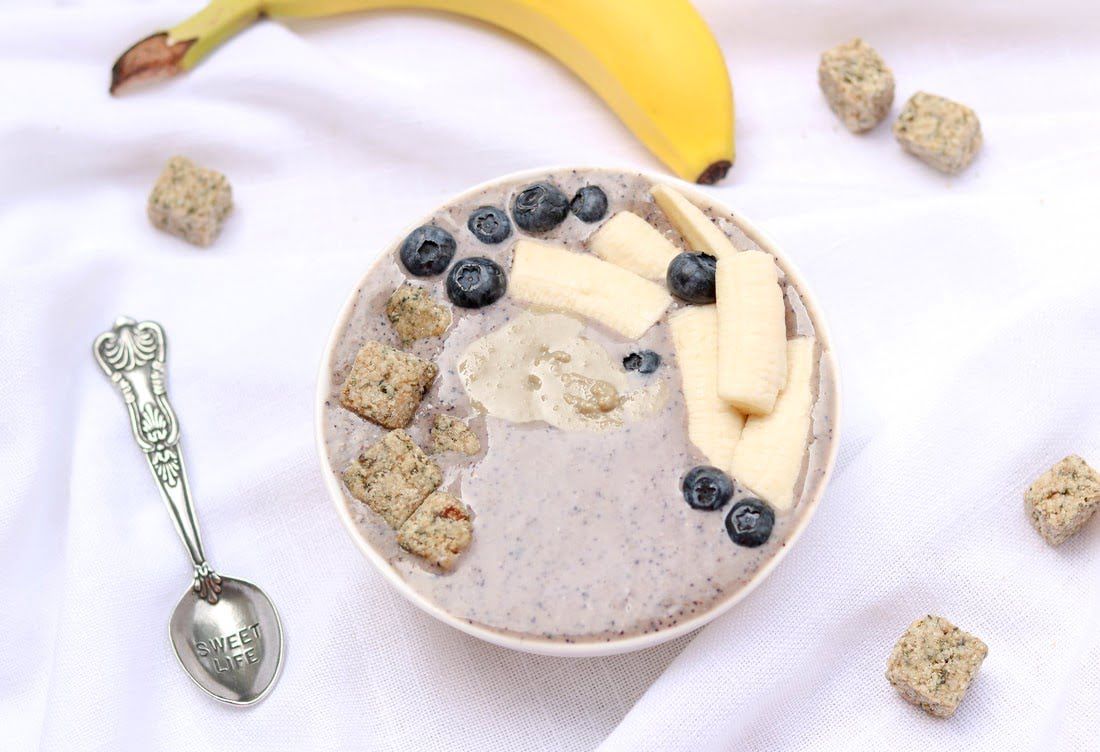 I've always been a big fan of protein and encourage my clients to make sure they include either a plant or animal protein source at every meal or snack. Protein helps us stay full, helps build muscle (IF we're moving that muscle), can help keep our immune system going strong and the list goes on. I'm also a big fan of a striking a balance between animal and plant protein. I know a lot of folks are in one camp or the other, but I rest firmly in both camps- knowing that research shows benefits to both types of protein for different reasons. 
This smoothie bowl happens to be loaded with 100% plant protein and also 100% deliciousness. It's a breeze to whip together and it's nice to enjoy the cool and refreshing thick smoothie now that our weather (at least in Texas) is beginning to warm up a bit!
Print Recipe
Blueberry Banana Protein Smoothie Bowl
Equipment
Vitamix or high-speed blender
Ingredients
1

frozen

banana

1/4

cup

gluten-free oats

1

cup

unsweetened, vanilla plant milk

1

cup

fresh blueberries

1/3

cup

ice

1

Tbsp

ground flax seeds

1

scoop

protein powder of your choice (if desired)
Topping Suggestions
Hemp seeds or hemp bites

Blueberries

Bananas

Seed butter
Instructions
Place all ingredients in high-speed blender or Vitamix and blend until smooth.

Pour into a medium bowl, add your favorite toppings and enjoy!