This Coconut Blueberry Ice Cream has quite a story to go with it- it ended up being a labor of love, BUT let me tell you- making this ice cream is not laborious in the least. It's actually
the simplest recipe ever
with only 4 ingredients and now I could seriously do it in my sleep. And if you don't want the story; just skip to the bottom for the recipe!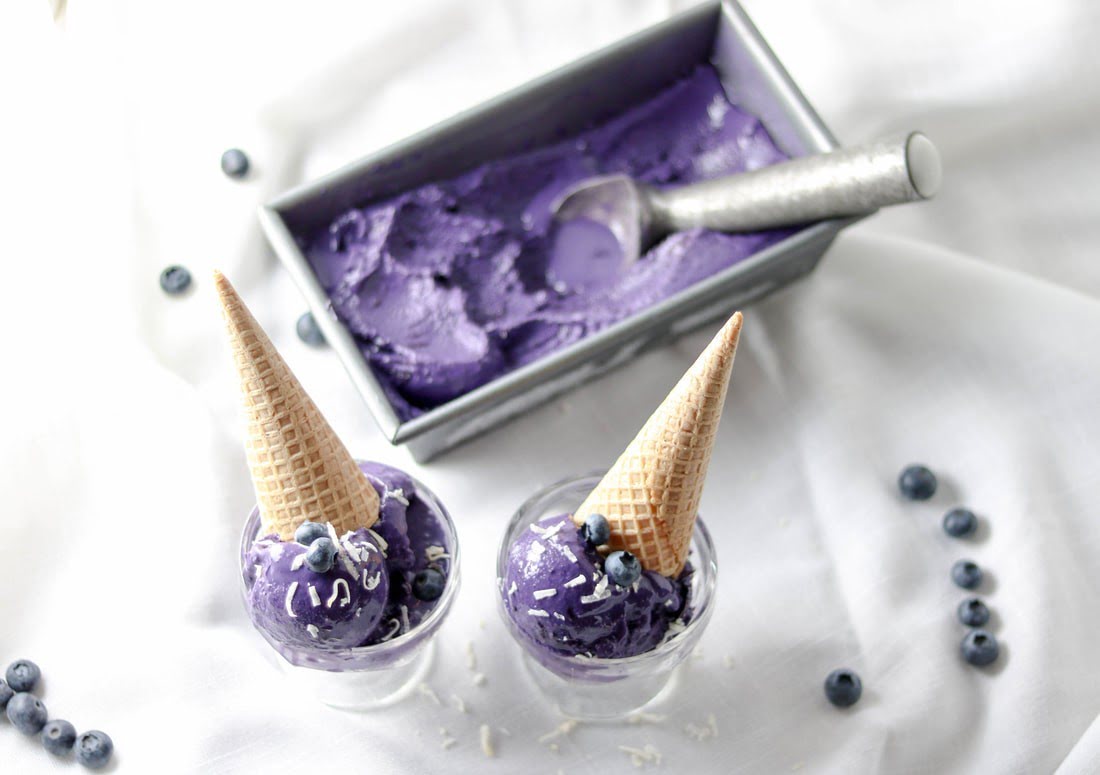 ​I wanted an ice cream maker for the longest time and finally broke down and bought one at Bed Bath and Beyond with a coupon (because is there any other way to by something from BB & B? I literally have a binder of coupons. Hit me up if you need one 😉 ). Excited to make my first batch of ice cream, I froze the bowl for the recommended 24 hours and decide on a dairy-free blueberry ice cream. Coconut milk, vanilla unsweetened plant milk, honey and a bunch of blueberries.
*Spoiler alert* the fact that this is in a bread pan should be the first clue that my first ice cream machine experience didn't go so well.
​Now would probably be an appropriate time to ooh and ahh at the color. I know you're wondering if there's food coloring or something wonky in there, but that's just good ol' Mother Nature.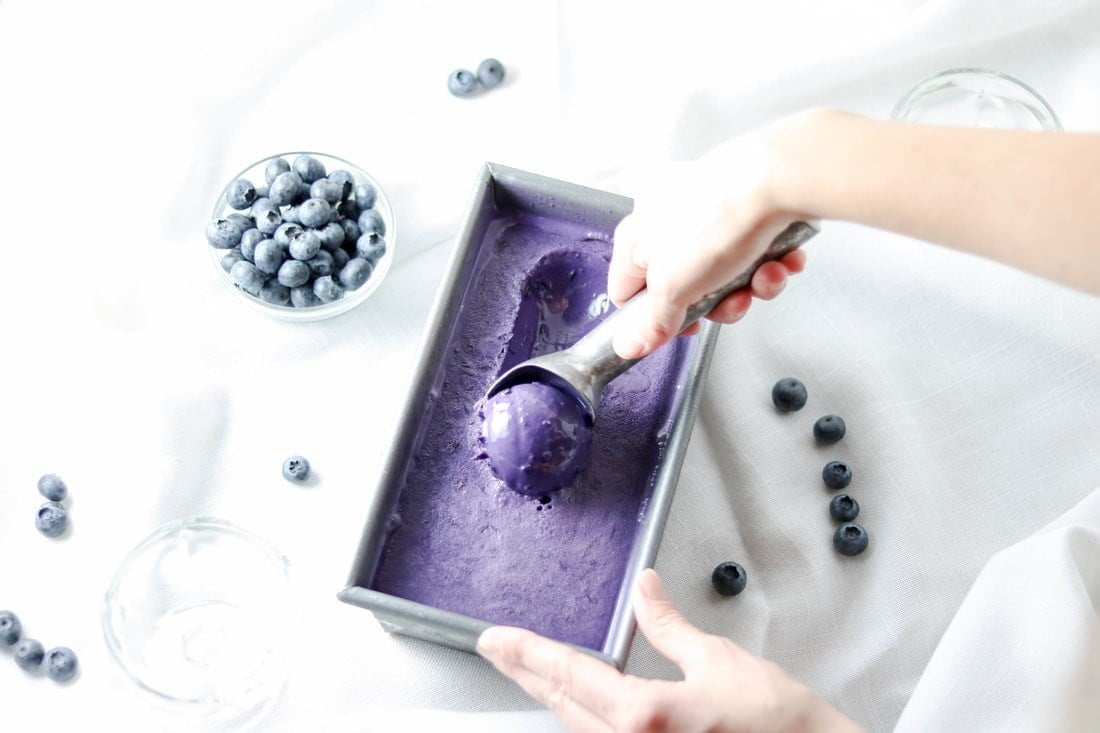 To prepare the ice cream mixture, I cooked blueberries and honey for about 5 minutes, mashing and swooning over the gorgeous color. Little did I know, once I blended the blueberries with the milks in my Vitamix, this lovely lavender color liquid unfolded before my eyes. I'd be lying if I said I didn't just take a swig of the liquid cream…. Oh. My. Gosh. There were noises. It was so good.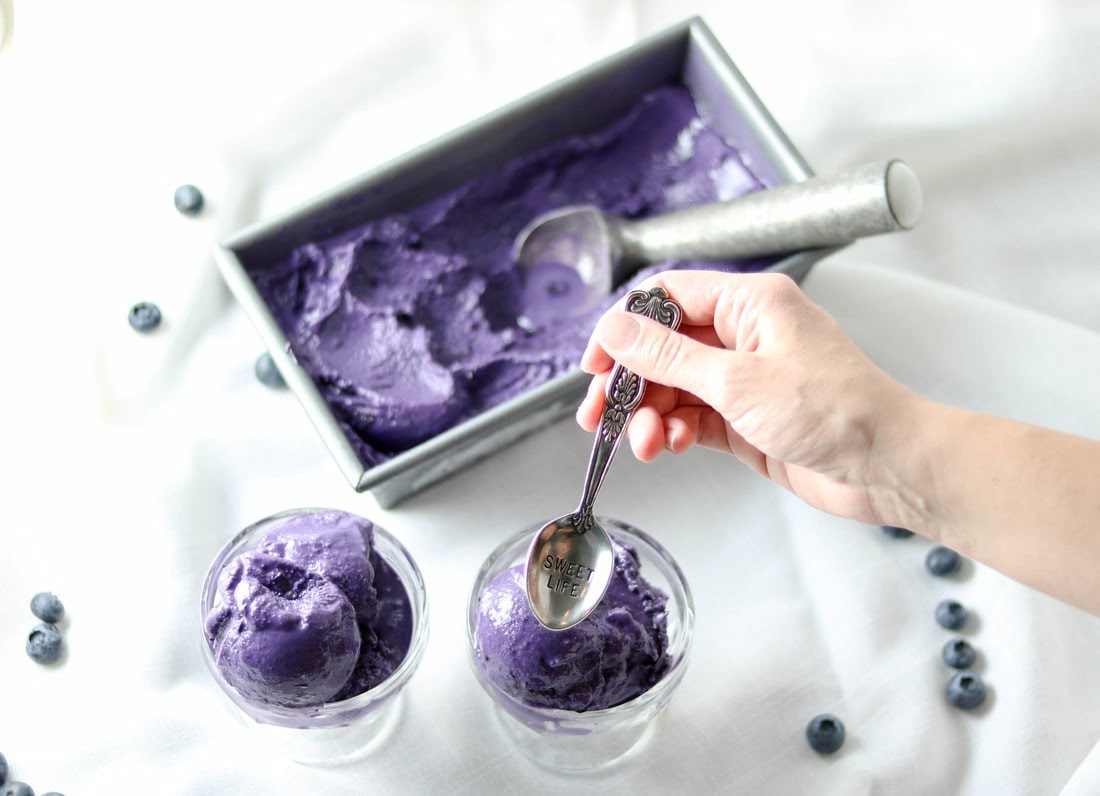 Carefully following instructions (I've been known not to do this), I poured the mixture in my  brand new machine and turned it on. *This particular machine says it makes ice cream in about ~30 minutes-ish*….15 minutes go by. Still liquid. 20 minutes go by. Still tastes good, but still liquid. 30 minutes go by… I got nothing. 40 minutes go by…. I'm officially frustrated and googling each individual ingredient to find out which pesky one is to blame for not freezing! I decided it was the honey and swear I'll never use honey again (in ice cream). I almost tossed the ice cream mixture (because let's get real- I wouldn't actually let myself drink it like a smoothie and I was pretty miffed by that time), but thank goodness I didn't!
​​​I poured the pretty liquid in a standard sized bread pan, put 2 layers of plastic wrap and I tried not to curse while heading to the freezer in the garage. 12 hours later I checked on it- still pretty runny.. supporting my theory that honey is pretty much the devil.
Fast forward about 12 more hours until 9pm at night when I tell Mr. KISS in the Kitchen I was going to go get the blueberry slush mix from the freezer again (massive eye roll) and to my complete shock- it was creamy, frozen and ridiculously gorgeous. All of these photos are from that batch and this ice cream basically became my #1 favorite dessert I've ever created. #notevenkidding
So here's the lessons learned:
Here's the punchline and reason it didn't work- You have to make sure the bowl on your ice cream maker is actually frozen.. turns out my outdoor freezer is a loser and that was the reason behind all my ice cream woes.
I tested this recipe again to see if it would actually turn out as creamy the second time without 40 minutes of (potentially pointless) churning. The verdict is I do think the churning made it a little more creamy. The second batch was slightly icier so I let it sit for a few more minutes before serving, but it was still delicious. This creamy blueberry flavor is out of this world!
I do think this recipe will work just fine in an ice cream maker- I have yet to test it, but will update this post once I do.
The best things in life take troubleshooting and patience. And honey is not the devil.
Print Recipe
KISS Blueberry Coconut Ice Cream (Dairy Free)
Equipment
Vitamix or high-speed blender
Ingredients
2

cups

fresh blueberries

1

13.5 oz can

full-fat coconut milk

1 1/2

cups

vanilla unsweetened plant milk

(I used Ripple's new Vanilla Unsweetened and it worked perfectly!)

1/2

cup

honey

(Consider maple syrup or agave if wanting to make this 100% Vegan 🙂)
Instructions
In a medium saucepan, heat blueberries and honey on medium-high heat until they come to a boil. Turn down heat, mash blueberries and simmer for 2-3 minutes.

Let blueberries cool at least 5 minutes.

In a Vitamix or high-speed blender, pour blueberry-honey mixture and both milks.

Blend on high until mixed well and pour mixture into a standard bread pan, cover with 2 layers plastic wrap and freeze for 20-24 hours.

 If using an ice-cream maker, complete up to Step 3 then let the mixture sit in the fridge for at least 2 hours before following the manufacturer's instructions.