Disclosure: I am thrilled to partner with Canyon Bakehouse. As always, all opinions are my own, and it's a joy to partner with this family-owned company that has a passion and gift for making the most delicious gluten-free breads!
Y'all already know I'm all about keeping it simple here at KISS in the Kitchen, but carrying a sweet little human inside me has me searching for more and more shortcuts, simple recipes and ways to save time. I figure the time I spend now creating the simplest, most nourishing but still delicious recipes, will only benefit our family after baby girl arrives and also inspire anyone that comes here that healthy + easy + tasty is truly possible. This Blueberry Lemon Overnight French Toast bake is all those things and also gluten-free thanks to Canyon Bakehouse's new Hawaiian Sweet Bread! Plus, it makes for the perfect Valentine's Day brunch or treat for anyone you're looking to show some extra love to!
Anyone who knows me knows that I'm a HUGE fan of Canyon Bakehouse Bread. They are a family owned bakery that bakes bread the old-fashioned way with real, non-GMO ingredients you'll find in your own kitchen and you can really tell by the texture of the bread- it doesn't taste or feel gluten-free. ​All of their breads are also free of the top 8 top allergens (excluding egg) and sesame. Plus, every single delicious item is baked in their own dedicated bakery so when I'm working with adults or kiddos who have food allergies; they're always relieved to know Canyon breads are not only delicious, they're also safe!
They recently added two new flavors- Honey Oat and Hawaiian Sweet Bread. You'll find both in Canyon's new Stay Fresh innovative airtight packaging that keeps baked goods fresh for 90 days once it is packed at the bakery (provided you don't open it and break the seal…once you open it – you need to use it within 5 days like all breads). AND, it stays fresh without any preservatives or funky ingredients- it's just cool packaging technology! You can find this in the room temperature area of the grocery store. This is a huge help in our household because I like to stock up on Canyon bread, but now I don't have to use as much freezer space!
The Hawaiian Sweet Bread is the first of it's kind for any gluten-free bread and has a light and fluffy texture (that's perfect for this overnight french toast bake!). With a hint of sweetness (and only 3 grams of sugar), it is the ideal complement to the blueberry and lemon flavors in this dish.
In addition to being a bit obsessed with blueberries and lemon (let's be honest- that's a match made in Heaven!), I'm all about an overnight breakfast casserole. What's not to love about an easy overnight bake that requires minimal prep, sits in the fridge all night and finishes off in the morning with an easy trip into the oven?
​​Don't let how gorgeous and decadent this looks fool you- it takes about 10 minutes to assemble. I'll warn you though- it's really hard to actually wait overnight before you bake it since it's one of those dishes you just KNOW is going to be amazing as you begin to assemble the ingredients. Out of impatience and "a need to test the recipe multiple times" ;), I let it sit for as little as 2 hours and as many as 24. I would say overnight (about 12 hours) is the sweet spot, but each batch was delicious and Mr. KISS in the Kitchen certainly didn't complain when I was making multiples!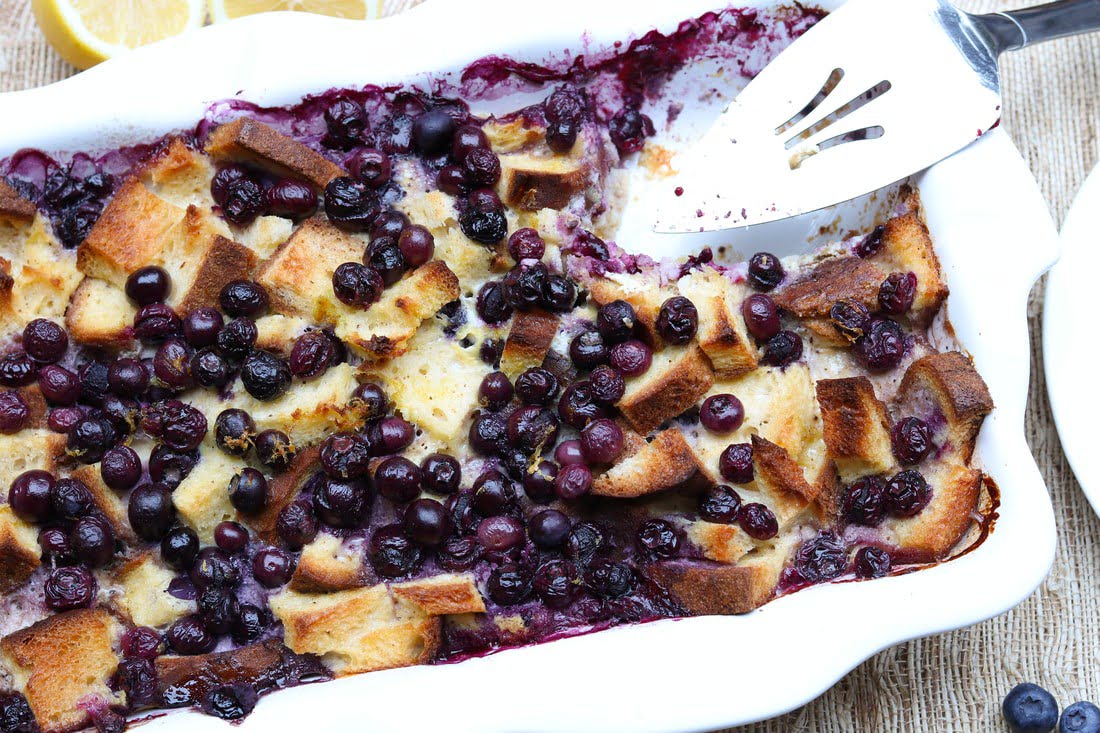 I wish a detailed description of the flavor and texture in this dish could do it justice, but it just can't. It's truly a beautiful blend of natural blueberry sweetness, bright lemony notes, custardy layers with soft and also slightly crisper bread on top. Extra blueberries, maple syrup or whipped cream are great additions but most the time we enjoy this without anything extra because it's just that good. Regardless of what you enjoy it with, it's best enjoyed often and with those you love :).
Print Recipe
KISS Blueberry Lemon Overnight French Toast Bake (gluten-free)
Ingredients
1

15 oz load

Canyon Bakehouse Gluten-Free Hawaiian Sweet Bread, cut into 1-inch cubes

2

cups

fresh or frozen blueberries

8

large

eggs

2

cups

original almond or coconut milk

- I've made this with both Original almond milk and coconut milk (the refrigerated carton, not the can) and it tastes nearly the same with both milks so use whatever you have on hand!

1/4

cup

maple syrup

1 1/2

tbsp

fresh lemon zest

(about 1 large lemon)

3

tbsp

freshly squeezed lemon juice

1

tbsp

pure vanilla or almond extract

- I also tested this with both almond and vanilla extract. Using almond extract almost gives a liqueur taste to the dish, whereas the vanilla creates a lighter more subtle flavor. They're both nice, but I'd recommend using vanilla extract if making for the first time!

1/2

tsp

ground nutmeg

1/4

tsp

salt
Instructions
Coat a 9×13-inch baking dish with nonstick spray. Arrange bread cubes evenly on the bottom of the dish, followed by the blueberries. Set aside.

In a large mixing bowl, whisk together the eggs, almond milk, maple syrup, lemon zest, lemon juice, almond, nutmeg, and salt. Pour over the bread. Cover the dish with foil or plastic wrap and place in the refrigerator for at least 2 hours or overnight*

When ready to bake, preheat oven to 350 degrees. Bake, uncovered, for 50 to 55 minutes or until lightly golden brown and where there isn't any remaining liquid in the center of the dish. Serve warm and enjoy often!
Notes
*The longer this dish sets (goal = overnight), the more custardy and moist it is! I've baked this many times with just letting it soaks 2 hours and it's good, but the best version is definitely letting it soak overnight!