---
Disclosure: I am a Young Living distributor, and am just getting creative in my kitchen with EOs. All opinions are my own and this post is not sponsored by Young Living Essential Oils.
---
Blueberry + lemon- we all know it's just one of those combinations that's Heaven sent. And pancakes.. yeah, those are Heaven sent too. They're perfect for every eating occasion- from breakfast to dessert. And these ones are gluten free and dairy free… BUT STILL taste amazing and have great texture. I would have been skeptical too if someone told me that before I made them. Speaking of skeptical…..
I recently started getting in the whole essential oil thing. I was TOTALLY skeptical, but have been having some health issues directly tied to stress so it's one of many efforts I'm making right now to get my stress level under control. And in just a few shorts weeks… I'M HOOKED. I'm so impressed and frankly just downright surprised at how effective these Young Living oils have been, what they do to my mood/clarity and the multitude of uses. I've begun cooking with them and can't wait to roll out more recipes featuring EOs! If you're interested in learning more, shoot me an email!
Reason #1
 I decided to start using EOs in my kitchen is because the 
convenience
. These Blueberry Lemon Pancakes are a breeze to whip up, but I didn't have any fresh lemons. Sure, I keep lemon juice in the fridge, but we all know how that tastes compared to the real deal. WELL, let me tell you how lemon essential oil tastes compared to the real deal. The same. OR perhaps, even better. But don't take my word for it, try it for yourself!
*Note- I am using Young Living Vitality oils- safe and intended for ingestion. I can not speak to the safety or efficacy of other oils/brands on the market*
Reason #2
I'm using EOs in recipes is because a little goes a long way. You'll see in the recipe below, all you need is 1-2 drops of lemon EO! So let's get to making this mouth watering recipe.
There are a bunch of gluten free pancake/waffle mixes on the market- I chose Hodgson Mill because I felt most comfortable with their ingredients. I also used Thrive Algae Oil because it has a neutral flavor and the highest amount of monounsaturated fatty acids on the market!
Reason #3 I'm cooking with EOs is because it makes me feel like I'm doing something healthy for myself. Placebo effect? Possibly, but who cares? When we are making conscious efforts to improve our health and in this case, managing stress, we feel proud of that. I sure do! Joining Young Living is one of the best "self-care" decisions I've made and I'd love to answer any questions you may have, if you're considering experimenting in the world of essential oils. It may not be for everyone, but I'm officially loud and proud about it :).
And because I'm REALLY trying with this whole "manage my stress" journey- I bought myself some roses. Self-care + self-love = less stress.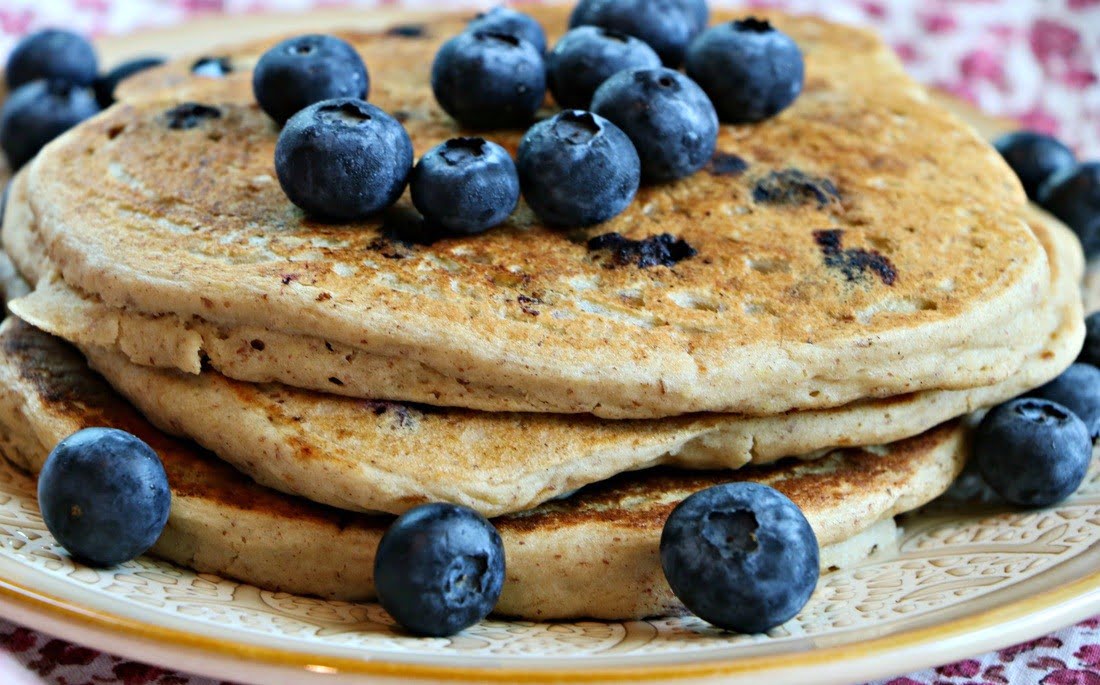 Print Recipe
Blueberry Lemon EO Pancakes with Essential Oils
Servings:
2
pancakes (double or triple as needed)
Ingredients
1

cup

Hodgson Mill (or your favorite) gluten-free pancake mix

3/4

cup

almond/coconut milk blend

1

egg

1

Tbsp

Thrive Algae Oil (or coconut or avocado oil)

1

Tbsp

coconut sugar

1/2

cup

blueberries

1-2

drops

lemon essential oil (or 1 Tbsp fresh squeezed lemon juice)
Instructions
Mix pancake mix and coconut sugar into medium size bowl.

Beat egg in liquid measuring up and mix with milk and oil.

Pour wet ingredients into dry ingredients and mix until blended.

Add 1-2 drops Young Living Lemon EO (if you try to put one drop in, you'll likely end up with 2) and fold in blueberries.

Drop ~1/4 cup batter on an oiled, medium-heat griddle (Drop a few more blueberries on top if you want). Cook for approximately 2 minutes on one side or until bubbles form. Flip and cook additional 30-60 seconds.

Serve with your favorite pancake accompaniments and enjoy!