I'm excited to partner with the U.S. Highbush Blueberry Council for this post. As always, all opinions are my own, and I only partner with brands and products I genuinely love using in my own kitchen.
I know what you're thinking- blueberry side dishes?! I feel like I make the same recipes every year so this year I'm stepping it up with blueberry sides! We're hosting Thanksgiving AND Christmas this year, and I'm really excited about it. We often host the day before then travel to see my husband's family, but we're actually hosting on both holidays this year so it's giving me some extra motivation to try out some new and creative recipes. Blueberries might not be the first ingredient that comes to mind for the holidays, but we are HUGE blueberry fans around here. There's actually more blueberry recipes than any other recipes on the blog, and I'm excited to share THREE blueberry side dishes with you today!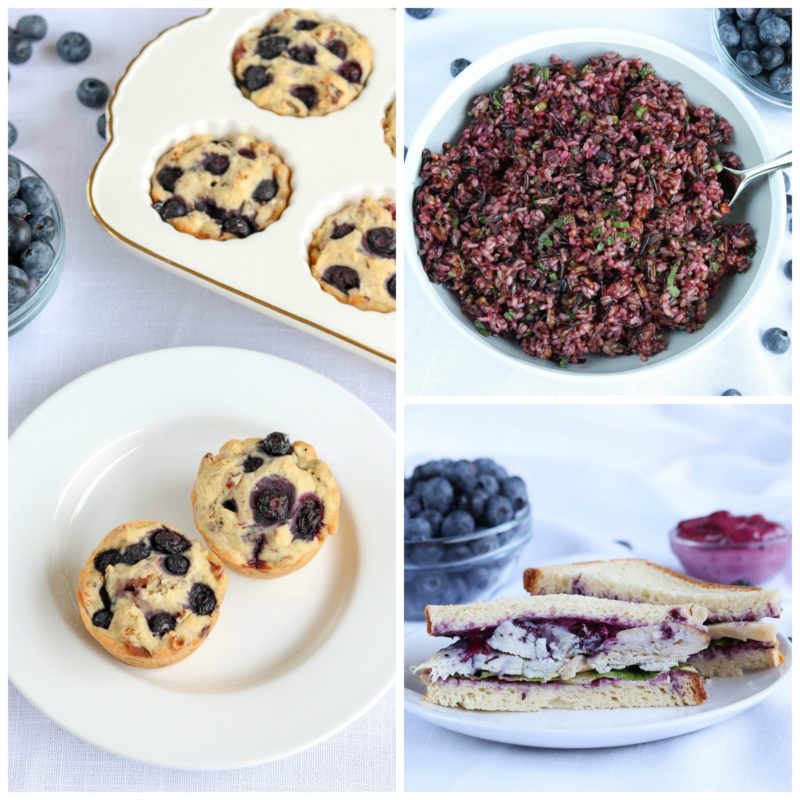 Adding blueberries to side dishes is such a fun way to get in some extra color, nutrition and flavor. Blueberries are a good source of vitamin C and a good source of fiber! They're such a simple solution to help meet the recommended amount of fruits per day. No matter fresh or frozen, add them to oatmeal, yogurt, muffins, condiments or even rice!
Blueberry Bacon Biscuit Muffins
I've always been a sucker for alliteration and these Blueberry Bacon Biscuit Muffins are my new favorite holiday (and every day) breakfast, snack and bread to serve with a meal. The texture is half biscuit, half muffin and the combination of bacon, frozen blueberries and goat cheese (optional) make for a sweet and savory culinary experience that tastes decadent while being really simple to throw together. That's one my favorite things about blueberries- they're super versatile and pair well with a number of savory and sweet dishes!
Frozen blueberries are a staple everyone should have in their freezer! Fresh AND frozen blueberries contain beneficial vitamins and minerals and are such a convenient food that can be eaten on the go or part of your favorite holiday dishes, like these biscuit muffins! And DYK, they're a good source of vitamin C and fiber, making them the perfect ingredient to incorporate into your family's meals!?
Print Recipe
KISS Blueberry Bacon Biscuit Muffins
Ingredients
1 1/4

cup

gluten-free flour

1 1/2

tsp

baking powder

1/2

tsp

salt

1

egg, beaten

3/4

cup

milk

4

Tbsp

butter, melted

1/3

cup

maple syrup

3/4

cup

bacon, cooked and chopped

1

cup

frozen blueberries

1/3

cup

crumbled goat cheese

(optional)
Instructions
Spray a standard 12-count muffin tin with cooking spray; set aside.

In a medium size mixing bowl, combine flour and baking powder; stir well.

In a 2 cup measuring cup combine the beaten egg, milk, maple syrup and melted butter then pour into dry ingredients and stir until combined.

Lightly fold in the bacon, blueberries and goat cheese, if desired.

Spoon batter into the muffin tin and bake for 20 minutes.
Blueberry Wild Rice Salad
Next up for a fun side dish that will WOW your guests is this Blueberry Wild Rice Salad. The color alone is gorgeous and it really makes a holiday meal pop! Plus, rice is such a simple dish loved by almost everyone and tossing blueberries in adds flavor and fiber. Blueberries are a good source of fiber, and we all know how dietary fiber may contribute to feelings of "satiety" or feeling full- something that's extra helpful when trying to balance nutrition around the holidays!
This recipe is perfect for prepping ahead of time so it's not one more dish you have to make the day of. Make 1-2 days in advance, store in the fridge then reheat in microwave when ready to serve!
KISS Tip: Swap out quinoa for rice and store leftovers in mason jars with field greens for an easy Mason Jar Salad!
Leftover Turkey Sandwiches with Blueberry Mayo
I think we're all always looking for creative ways to repurpose turkey. We can only eat so much turkey salad, turkey soup and traditional turkey sandwiches, but taking that boring turkey sandwich up a notch with blueberry mayo is something the whole family can get on board with. Once again, the color is so gorgeous and this recipe calls for frozen blueberries. Frozen blueberries are picked at the peak of ripeness and individually quick frozen which helps preserve their taste, durability and nutritional components!
KISS Tip: Make leftover turkey salad with this blueberry mayo for a beautiful salad that will taste just as good as it looks!
I hope this has inspired you to try some new recipes for the holidays and hopefully provided you with recipes that you can make during the holidays and also all year round!