These breakfast meatballs are the perfect savory and slightly sweet gluten-free meatball that can be enjoyed by the whole family, even the smallest eaters just starting to experiment with solid foods! This recipe was very much inspired by our upcoming second go around with baby led weaning and I can't wait to share why I chose these specific ingredients. Breakfast meatballs are packed with high quality protein, zinc and choline, all of which are found in beef and help support growing bodies and healthy brain development in babies and toddlers.
Disclosure: This post is a collaboration with Beef Loving Texans. I received compensation, but I only partner with brands and entities that align with my values. Thank you for supporting the brands that keep KISS in the Kitchen running!
We absolutely loved our baby led weaning journey with Joy. Her second food was actually beef (the first was avocado) and we now have some exciting new guidelines to support beef as a complementary first food to help ensure babies get the nutrients needed for healthy growth and development! The American Academy of Pediatrics, the Women Infants and Children's Program and now for the first time ever, the Dietary Guidelines for Americans recommend introducing solid foods, like beef, to infants and toddlers, in order to pack in every bite with protein, iron, zinc and choline! After all, every bite your baby takes counts, especially in the first 1000 days of life!
Rewinding to three years ago, I prepared a very simple flat iron steak and cut in to thin slices for Joy's first experience with beef (you can actually see the videos on Instagram here!) and I will definitely be doing the same for Clara in a few more months. If you're wondering a little more about introducing steak to babies, it's pretty simple! A slice of steak (about the size of a small adult finger) is a great first food because your baby will be able to grab on to it with their fist and suck the juices. They won't truly be "eating" the steak but even the juices have nutrition! Plus, the little noises they make when sucking on the steak are so cute.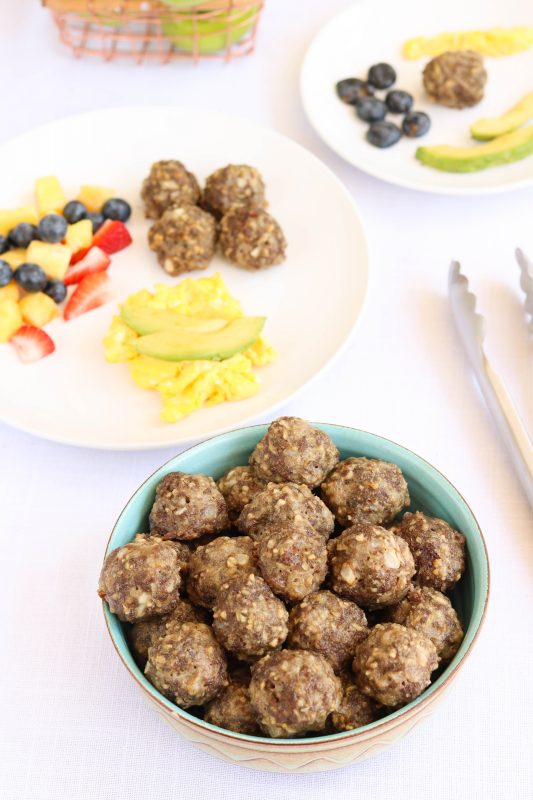 I also can't wait to offer Clara these breakfast meatballs. Meatballs are just one of many easy ways to introduce foods that contain iron, such as beef, which are especially important for healthy brain development. If you're choosing a more traditional feeding approach with purees, this recipe can be easily blended once it's done cooking! Simply use whatever kitchen equipment you typically puree with (likely a food processor or baby food maker) to puree these meatballs with a little breastmilk or formula. Every bite your baby takes counts so I would avoid pureeing these with water and missing an opportunity for added nutrition.  The texture will likely be more of a mixed meal texture (think Stage 3 in packaged type products) and you can either spoon feed them or let them self-feed! If practicing baby led weaning, your kiddo can suck on the juices of the meatball, similar to the steak I mentioned above. For smaller ground pieces, you'd ideally want to wait until their pincer grasp is present (usually around 9 months)!
Serving nutritious foods babies and toddler love to eat, like beef, is simple and easy—puree, mash, chop or shred meat at various stages to meet their changing feeding needs. If you have questions about starting solid foods, consult a physician or health care provider.
Now that we've laid a little ground work on why you may want to consider beef as a fundamental first food, let's dig in (no pun intended) to these meatballs!
What ingredients do I need for breakfast meatballs?
Lean ground beef – an ideal protein choice that provides iron, zinc and choline to support growing bodies and healthy brain development for infants and toddlers.
Granny Smith Apple – one medium apple should yield about 1/2 cup grated. You can use any variety of apple if you don't have a Granny Smith on hand.
Egg – I haven't tried this recipe with a flax egg, but I think it could work okay, if needed.
Minced onion – be sure to mince the onion up pretty small if making these for BLW. You could also use dried minced onion, if needed.
Thyme – oregano or marjoram are good subs if you don't have thyme.
Sea salt
Maple Syrup – be sure that it's pure maple syrup for the best taste possible and to make sure you're getting all of the great nutrients that come along with it like calcium and magnesium! I really liked these with 2 Tbsp maple syrup, but if you're making this recipe for BLW, I'd either completely omit it or cut down to 1 Tbsp.
KISS Tip: Easy side dishes for these gluten-free breakfast meatballs could be eggs, yogurt, avocado slices, sweet potato wedges or mashed or mixed fruit!
KISS Tip: When first starting baby led weaning, choose soft foods your baby can grab in their hand. For softer fruits that can't be cut into strips, smushing them (e.g. blueberries) works well!
You may be wondering how to introduce beef to your baby and I very much remember wondering the same thing! One of the BLW resources I found especially helpful was the book Born to Eat. I remember being especially fearful of Joy choking, but thankfully I learned the differences between gagging and choking. I also used that time period as a good opportunity to take a CPR refresher course. This gave me a lot of peace of mind and I intend on completing the course again in the next month!
There are a lot of reasons I feel strongly about beef as a first food with my girls, but one of the biggest reasons is because of the iron content. By about six months of age, iron stores are usually depleted, so it becomes extra critical to ensure babies are getting adequate iron. This is especially important for breastfed babies since breast milk alone typically won't meet iron requirements at 6 months and up.
I also love that beef has such a variety of textures. You may have heard the phrase, "food under one is just for fun", but I actually disagree. From both a nutrition and a sensory standpoint, every bite can count towards raising healthy eaters. Whether serving your kiddo pureed, shredded, ground or strips of beef, each one has a unique texture which can help support oral and motor development.
KISS Tip: Enjoy these meatballs any time of the day. There's a reason breakfast for dinner is always a hit!
If it's starting to sound like I overthink my kiddo's food choices, it's possible ;). But I do truly believe identifying the most nourishing complementary foods for infants and toddlers while making the feeding experience fun and safe, is critically important at this young age.
I hope you and your family find this recipe and information helpful. I'm so glad the Dietary Guidelines for Americans now recognizes that lean meat nourishes a healthy lifestyle, and that the nutrients found in beef are essential at every life stage. You can visit Beef Loving Texans blog to learn more about beef as a complementary food for babies and for more recipes and information about feeding beef to your family!
Print Recipe
Breakfast Meatballs for Baby Led Weaning
Ingredients
1

lb.

lean ground beef

(93/7)

1

small

Granny Smith Apple, peeled and grated

(about 1/2 cup)*

1/2

cup

gluten-free breadcrumbs

1

egg

1/4

cup

minced onion

1

tsp

dried thyme

1

tsp

sea salt

1-2

Tbsp

pure maple syrup

(would recommend 1 or omit for baby led weaning)
Instructions
Preheat oven to 350°F. Line a baking sheet with parchment paper and set aside.

Combine all ingredients in a large bowl.

Form into 1 1/2-inch meatballs (about the size of a golf ball) and arrange evenly on the prepared baking sheet. You should have about 20 meatballs.

Bake for 25 minutes, or until the meatballs have cooked through and read 165 on a thermometer.

Serve warm! Ideal side dishes could be any of the following: eggs, sweet potatoes, fruit or avocado slices!
Notes
*If using a grater with multiple sizes, choose the side with larger holes.