What do avocados and bananas have in common? In my house, they're both the thing I'm always trying to get creative with because I have too many on the verge of over-ripeness. I can only make so much banana bread (this gluten-free recipe is pretty darn good) and we all know avocados are the moodiest of all the produce. They go from perfection to missed your chance in like 5 seconds, am I right?! Fortunately both ingredients combined with a few others make for the perfectly smooth and creamy chocolate pudding that doesn't taste much like avocado or banana! 
Mr. KISS isn't actually a huge avocado or banana fan and he devoured one of these little mason jars without knowing its contents. His only feedback (and he almost always has feedback to the tune of "I wouldn't change a thing except _____"- It's how my recipes get perfected) was he would like a smidge sweeter. I, on the other hand, just completed a Whole 30 (I shared the details here if you missed it!) and thought it was super sweet. You can be the judge, but add an extra date in if you want it a smidge sweeter.
I used my mini food processor for this recipe but you can easily double the ingredients and make a larger batch in a regular size food processor!
Making a large batch and dividing into mason jars would be great for Easter, Mother's Day or even a baby shower! 
KISS Tip: Set up a pudding bar with empty mason jars, a large batch of prepared pudding and little containers with different toppings for a fun DIY dessert bar at a holiday gathering or baby shower.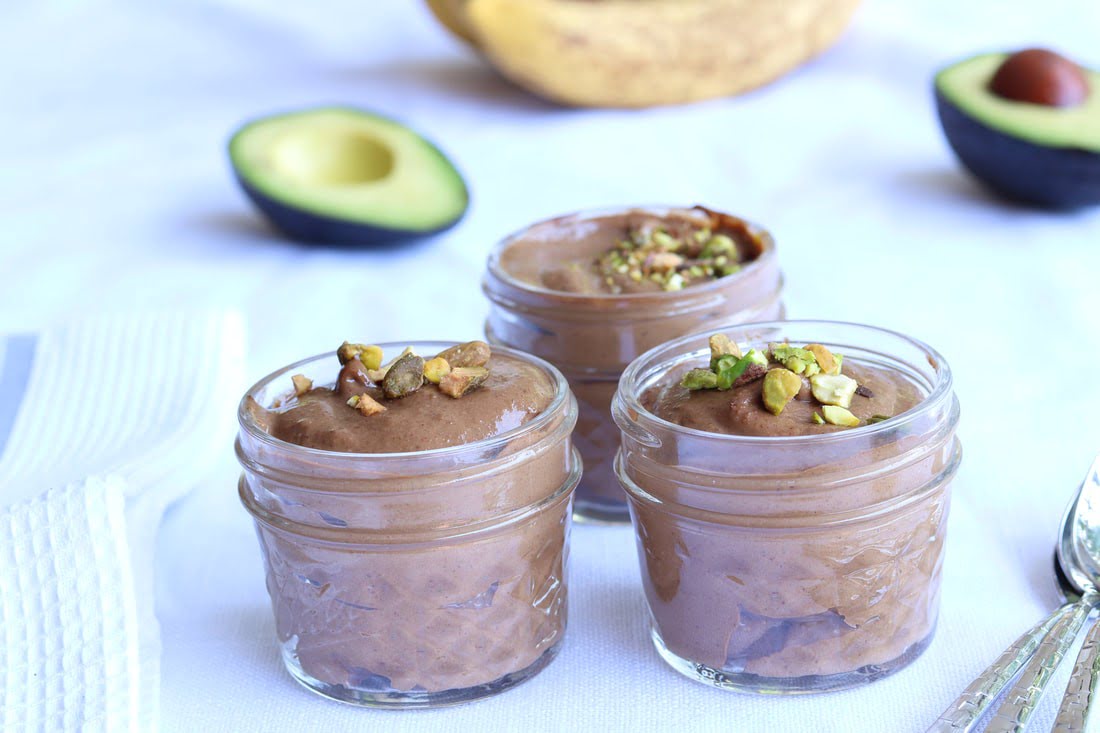 Print Recipe
Cocoa's Lovers Dairy Free Pudding
Ingredients
3

Medjool dates

1/2

cup

unsweetened natural almond or peanut butter

1

ripe medium

avocado

1

5.3 oz. container

plain coconut milk or plain almond milk yogurt

1

small,

very ripe banana, or 1/2 large banana

4-5

Tbsp

cacoa powder (depending on chocolate preference)

1

tsp

vanilla extract
Instructions
Pulse the date and almond butter in a food processor until mixture is smooth.

Add ingredients one by until smooth, blending for about 30-60 seconds with the addition of each ingredient (avocado, then yogurt, then banana, then cocoa powder).

Add in vanilla once mixture is smooth and pulse 10-15 more seconds.

Divide into 3 containers (4oz mason jars work great!) and refrigerate pudding for at least 45 minutes.

Garnish with cacoa nibs, pistachios or unsweetened coconut and enjoy!