Cinnamon roll muffins are bursting with classic cinnamon roll flavor, filled with nourishing gluten-free ingredients and topped with a sweet orange glaze that's perfect for the holidays or all year long!
When developing gluten-free muffin recipes I've been pretty spoiled and often nail it on the first try. I can't say that was the case for these- it took quite a while to get them perfect. I had a vision of a gluten-free muffin that tastes just like a cinnamon roll and has a sweet orange glaze that took me back to child hood. Have you ever had the Pillsbury Cinnamon Rolls with the Orange Frosting? THOSE were the inspiration for these cinnamon roll muffins!
Should cinnamon rolls or cinnamon roll muffins have pecans?
Should pecans go in cinnamon rolls is often the million dollar question. I know there is a great debate on this and I'm on the pro-pecan side of things. I especially love them in these muffins because of their tender texture that's enhanced by crunchy pecans- if you're on the fence, I highly recommend including pecans in your cinnamon rolls and your cinnamon roll muffins ;).
If you're wondering how do you make an orange glaze, it's easier than you might think!
How do you make an orange glaze?
Making a glaze for muffins or other baked goods is surprisingly easy. It's a simple mixture of powdered (or confectioner's) sugar, a liquid (orange juice in this case), vanilla and orange zest. Some recipes might not include the orange zest but I love the extra zing it gives the orange glaze!
Thank you so much for all of your support of this muffin series. It's been a blast creating and eating these for you. I've definitely craved more sweets with this pregnancy and turning those cravings into nourishing and occasionally decadent gluten-free muffin recipes has been a fun "job" during this pregnancy!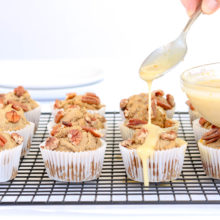 Print Recipe
Gluten-Free Cinnamon Roll Muffins with Orange Glaze
Equipment
12-cup muffin tin

12 muffin liners
Ingredients
Dry Ingredients
1 1/3

cup

oat flour

1 1/3

cup

super fine almond flour, packed

1

tsp

baking soda

2

Tbsp

cinnamon

1/2

tsp

salt
Wet Ingredients
1/4

cup

ghee or butter, melted

1/2

cup

maple syrup

2

tsp

vanilla extract

1

egg

1

cup

oat milk or milk of choice
Other Ingredients
1

cup

chopped pecans, half mixed in batter & half reserved for topping 
Orange Glaze
3/4

cup

powdered sugar

2

Tbsp

orange juice

1/2

tsp

vanilla extract

1/2

tsp

orange zest
Instructions
Preheat oven to 350 degrees. Line 12 cup muffin tin with cupcake liners and spray inside of liners with oil.

Melt ghee or butter in microwave and set aside to let cool.

In a medium bowl, whisk together flour, baking soda, cinnamon and salt.

Heat the milk in the microwave for ~30 second to warm it up (this is so that the liquid mixture stays one consistency).

In another bowl, mix the cooled ghee/butter, maple syrup, vanilla, egg and warmed milk.

Once the wet ingredients are well mixed (use a whisk or hand mixer), slowly add in the dry ingredients. Mix until just combined. Fold in 1/2 cup pecans.

Using a ¼ cup or ice cream scoop, spoon batter into prepared liner until about ¾ full. Top with remaining pecans and bake for 20 minutes or until toothpick inserted into middle comes out clean.