Confession #1 (yes, there are two in this post) – I rarely buy or use cookbooks. Blame it on Pinterest or perhaps my tendency to want to change every ingredient and step in a recipe, but I'm just not THAT into cookbooks. BUT earlier this fall I was browsing in Barnes and Nobles and my eyes landed on Erin Gleeson's The Forest Feast Gatherings cookbook. I. was. mesmorized. The colors, style, layout, everything was just stunning and so different from any cookbook I'd ever seen. You're probably wondering why I'm rambling on about some cookbook, but I promise there's a point to all of this. The Recipe ReDux is playing a little party game this month by grabbing a cookbook and revamping a recipe on a page with any combo of the numbers "2016". Low and behold, page 162 in The Forest Feast Gatherings is just my kind of recipe… a sweet one.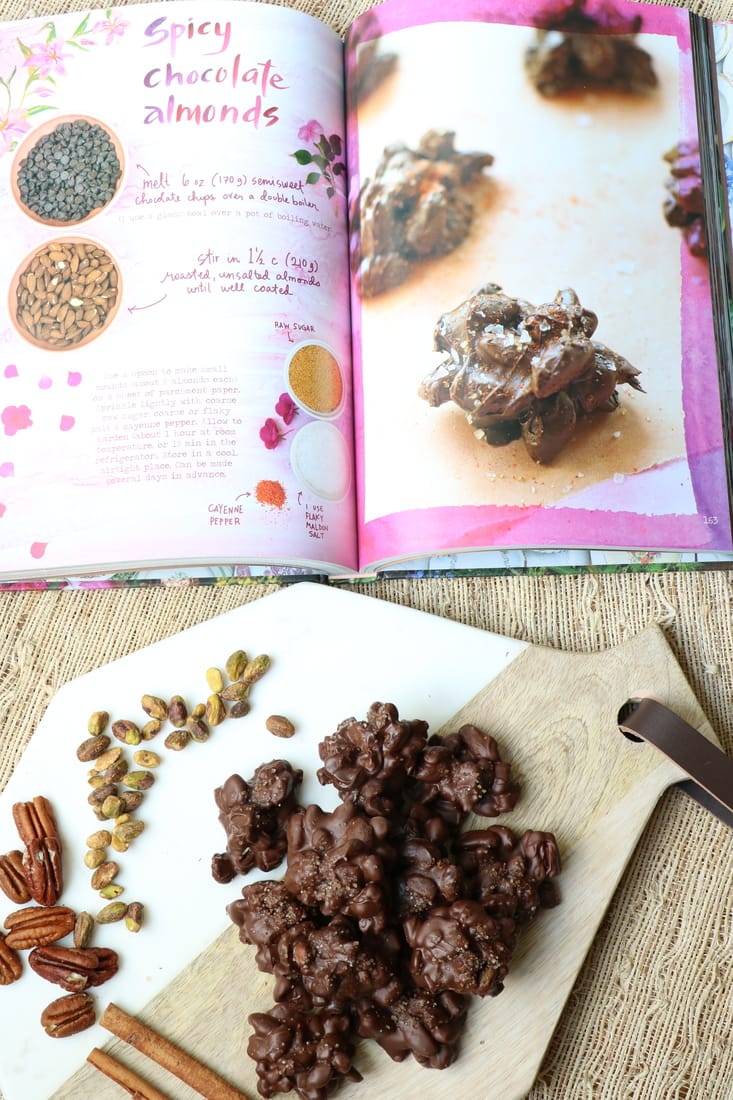 I decided to revamp these Spicy Chocolate Almonds into a less spicy, but still sweet treat. I also used a combination of nuts to add different textures and flavors.
Confession #2: Erin says to use a double boiler, and I don't own one, nor have I ever used one of those things in my life. Fortunately, she also suggests putting a glass bowl over a pot of boiling water and that's exactly what I did. The chocolate melted quickly and became silky smooth! 
These little chocolate stacks seriously couldn't be any easier to make. I chose pistachios and pecans, but you could choose any variety of your favorite nut(s) and I'm willing to bet they will turn out fantastic.
I love adding just a smidge of turbinado sugar and a few sprinkles of freshly ground cinnamon… kinda makes these simple treats look a tad bit fancy.
Print Recipe
Cinnamon Sugar Chocolate Nut Stacks
Ingredients
8

oz.

semi-sweet chocolate chips

2

cups

of your favorite nuts
Instructions
Heat chocolate chips over double boiler or place chocolate chips in glass bowl and heat over boiling water until melted completely.

Stir nuts into chocolate and drop by spoonfuls onto parchment paper. Each stack should be about the size of a 50 cent piece.

Sprinkle with a smidgeon of turbinado sugar and a dash of cinnamon.

Let stacks sit for about an hour or until hardened and not wet/shiny anymore*. Enjoy!
Notes
*If you're in a rush, you can pop them in the fridge for about 15-20 minutes.