---
​The way to my heart is usually through a sandwich. Pita bread has always been pretty high on my "favorite sandwich bread" list because of its unique ability to hold a lot of ingredients without falling apart. Nothing makes lunch a bummer like a flimsy tortilla…can I get an amen? Since I can actually fit more than just a child's portion of protein and veggies inside a pita, I kinda like to really go out all in the healthy ingredient department. And by "go all out", I really just mean load it up with a heart-healthy ingredients like salmon, avocado and of course, a bunch of veggies.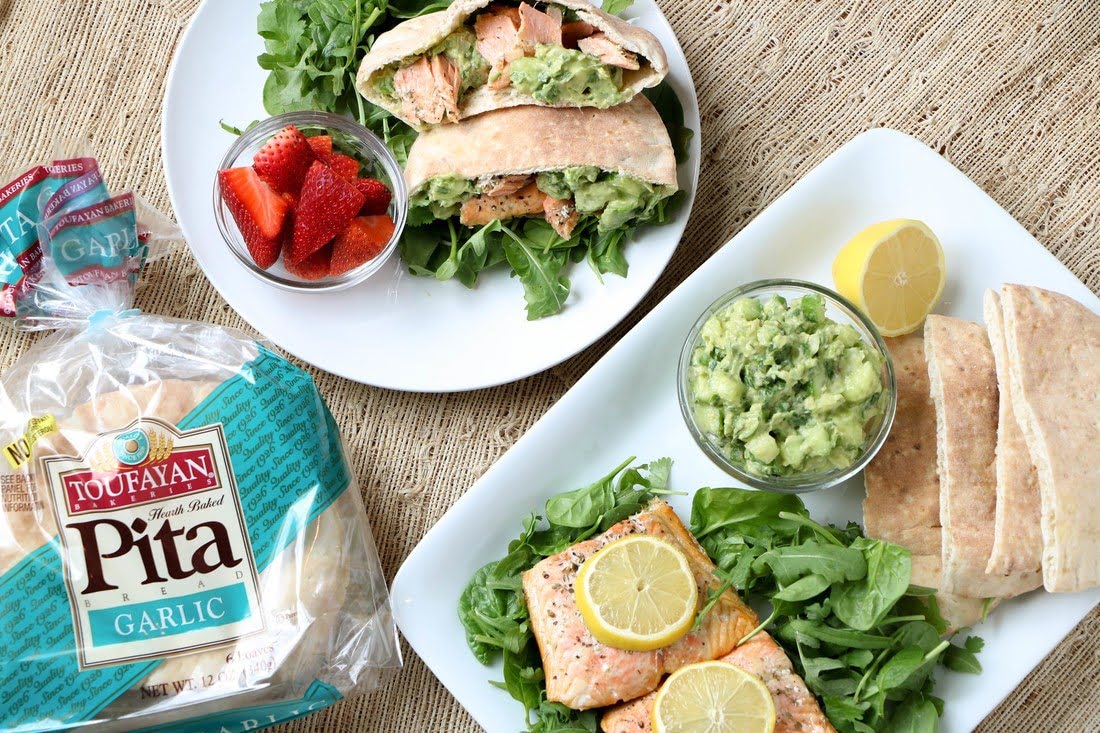 ​I was stoked when I learned about this Toufayan recipe contest because I've been buying and recommending their pitas for years! Toufayan Bakeries uses old-world recipes with only top quality, wholesome ingredients. Plus, Toufayan Pita is naturally cholesterol free and trans fat free so it's nice to know I'm piling healthy into something that's a smart choice to begin with.
What's also pretty cool, is that Toufayan Bakeries is a family-owned bakery in the U.S. They make more than 100 delicious products available across the nation and are actually the largest Pita company in the U.S.! There's an abundance of products to choose from, but one of my favs is their garlic pita bread. It has just enough garlic-y flavor to take a savory sandwich to the next level….like these Citrus Herb Salmon Pockets.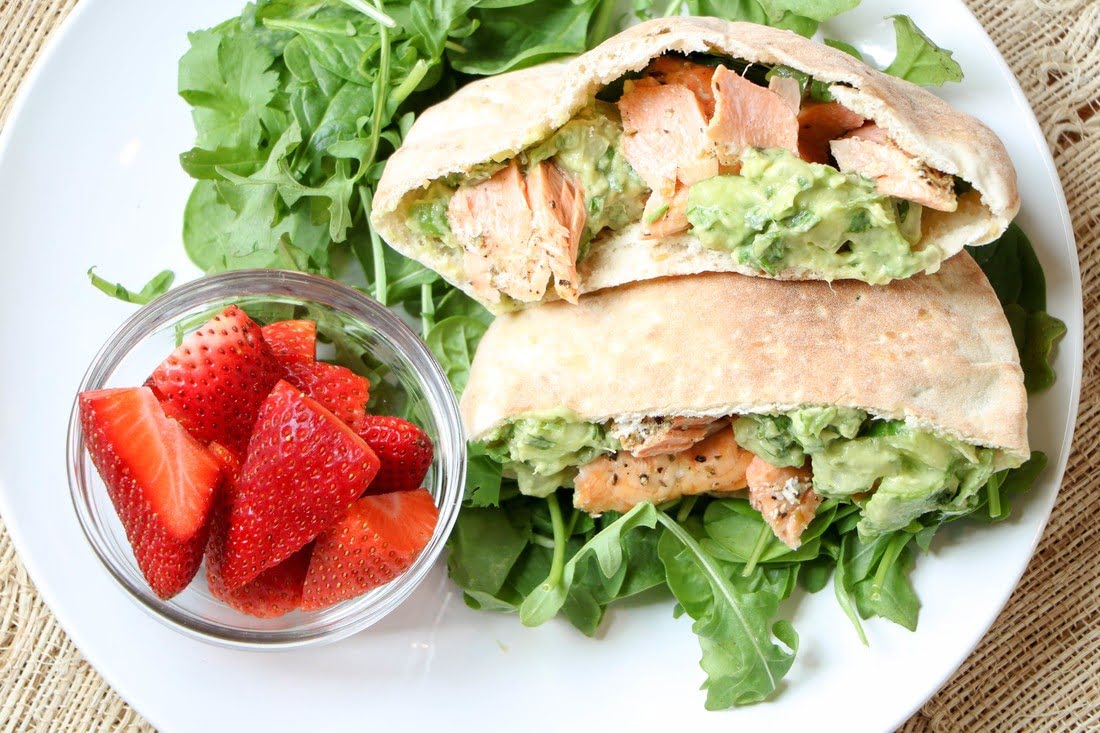 Now that's what I'm talking about- only pita bread can hold that amount of good-for-you ingredients without falling apart.
The flavors of this dish are simple, but delicious. Plus while the salmon is cooking in the oven (takes about 10 minutes on 450
°)
you can whip up the cucumber avocado salad. It's also the perfect clutch recipe that's truly perfect for lunch or dinner.
​
KISS Tip: If you're super short on time, try using canned salmon and seasoning it with a little oregano, salt, pepper and lemon juice!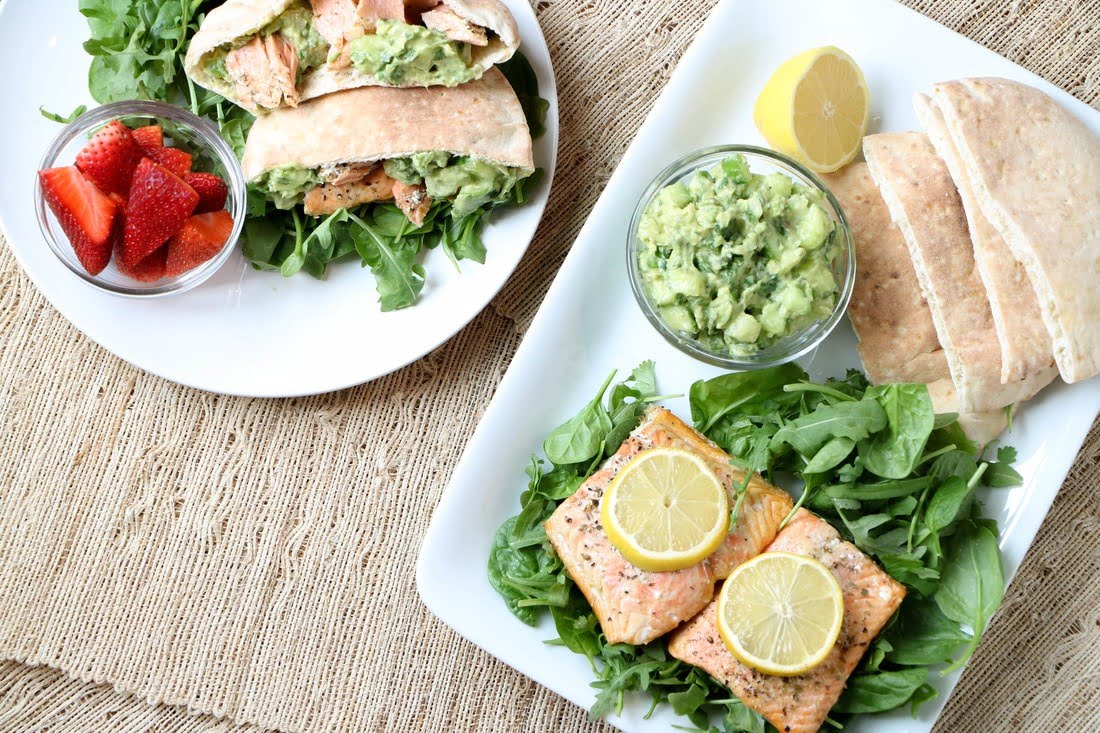 ---
Citrus Herb Salmon Pockets with Cucumber Avocado Salad
Time: 25 minutes
Serves: 4
Ingredients
For Citrus Herb Salmon:
1 lb sockeye salmon, cut in 4 pieces
4 tsp olive or avocado oil
2 tsp dried oregano
1/2 tsp of freshly cracked sea salt
3/4 tsp of freshly cracked black pepper
1 large lemon, halved (reserve one half for juicing and create 4 thin slices from the other half)
For Cucumber Avocado salad:
1 cup chopped English cucumber
1 medium size avocado, sliced in half and pit removed
1/4 cup chopped onion
1/3 cup chopped cilantro
Juice of 1/2 large lemon
1/4 tsp fresh cracked sea salt
For Pita Pockets
2 cups arugula, baby spinach or your favorite fresh greens
4 Toufayan Garlic Pita Pockets
​Instructions
1.) Preheat oven to 450°. Place salmon pieces skin side down on a foil lined baking sheet. Drizzle approximately 1 tsp of oil on each filet followed then sprinkle with oregano, salt, pepper and top with lemon slice.
2.) Bake salmon for approximately 10-12 minutes.
3.) While salmon is baking, chop the veggies. Once chopped, place all the salad ingredients (cucumber, avocado, onion, cilantro, lemon juice and salt) together in a medium size bowl. Begin to mash the avocado in with the other ingredients until well incorporated. The consistency will be similar to a chunky guacamole!
4.) Remove salmon from oven and let cool for 2-3 minutes. Using a fork, begin to tear pieces away from the skin until you have bite-sized pieces of salmon.
5.) Cut 4 pita pockets in half. Evenly divide the arugula or other greens and stuff in each pita half, followed by salmon pieces and cucumber avocado salad. Enjoy with your favorite fresh fruit and make frequently :).
---