I've really been getting into sheet pan meals lately and was super excited to learn this month's The Recipe ReDux is all about our best healthy take on a sheet pan meal! YES, PLEASE. Sheet pan meals equal less prep, easy-peasy cooking AND a clean up that's a cinch. Who doesn't want to sign up for that?
I love a good sheet pan meal that cooks at the same time and temperature, but I also love one that doesn't cook for too long. Don't get me wrong- there are some delicious recipes out there with potatoes, carrots and chicken that are delish, but I'm all about a 10 minute cook-time. Yep, not even kidding. 10 minutes.
Since zoodles are spiralized and have much less surface area than the original zucchini, you can't bake them for long before they turn to mush anyway. Shrimp cook in a flash when baked (usually around 6-8 minutes depending on the size) and baked tomatoes are so forgiving- it only takes 5 minutes or so to soften them, but they could handle a good 15 minutes or so and still turn out tasty. So basically, Zoodles + Shrimp + tomatoes = Oven BFFs. 
Another thing the three main ingredients have going for them is they just look darn beautiful on a plate together! And shrimp, zucchini and tomatoes all go nicely with citrus flavors so there's a generous amount of lemon juice in this recipe! You can also sprinkle some freshly grated parmesan on top for a little extra zing and creaminess or leave it off to keep this dish dairy-free.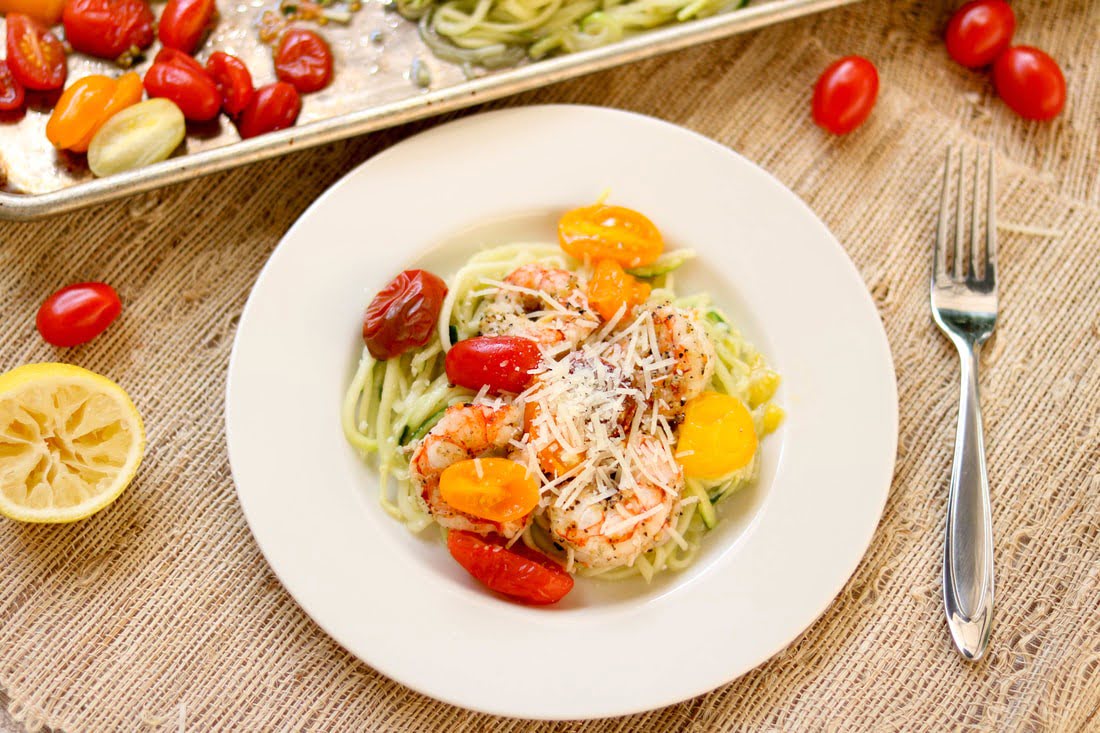 Print Recipe
Citrus Shrimp and Zoodles Sheet Pan Bake
Ingredients
12

oz.

medium-large shrimp 

1

10.7 oz. package

Veggie Noodle Co. Zoodles

or spiralize about 4 cups of zoodles

1

pint package

or about 1 1/2 cups assorted cherry tomatoes, cut in half

2

Tbsp

avocado oil, divided in half

2

tsp

dried minced garlic, divided in half

1/2

tsp

salt, divided in half

1/2

tsp

ground black pepper

1 1/2

tsp

Mrs. Dash Original Blend seasoning

1

lemon, juiced

Freshly grated parmesan, if desired
Instructions
While oven is preheating, slice cherry tomatoes and spread evenly on one end of a well-greased sheet pan (see photos above for example).

Remove zoodles from package and place in medium bowl. Pat zoodles dry with a paper towel and toss with 1 Tbsp avocado oil. Add in 1 tsp dried minced garlic, 1/4 tsp salt and place next to tomatoes in the middle of the greased sheet pan.

Toss shrimp in remaining 1 Tbsp avocado oil and add in the remaining 1 tsp dried minced garlic, 1/4 tsp salt, 1/2 tsp black pepper and all the Mrs. Dash seasoning blend. Toss gently with tongs and place on the remaining space at the end of the greased sheet pan next to the tomatoes.

Slice lemon in half and squeeze the juice from both halves evenly on the entire sheet pan.

Transfer sheet pan to oven and bake for 8 minutes or until shrimp appear white, pink and opaque in appearance.

Serve immediately by making a bed of zoodles with shrimp and tomatoes on top. Sprinkle freshly grated parmesan on top, if desired.