I just got the baby down and am so excited to put the finishing touches on this post! Has anyone else been struggling with the heat wave these past few weeks? These 100 degree days and postpartum hormones are a seriously fun combination ;). That being said, the crockpot is definitely my friend. Anything but the oven, is my friend.
These crockpot oats are fantastic for several reasons. 1.) They don't heat up the house. 2.) The batch is seriously large; there's plenty for breakfast or snack for the entire week. 3.) Oats can be helpful for boosting milk supply 4.) They're delicious.
I suppose the 5th reason should be that they are SUPER simple to make! You can see all the easy and wholesome ingredients in the pot below.
Whether you like to eat oats hot, cold, hot with a splash of milk or out of a mason jar, this recipe will accommodate your oat preferences :).
KISS Tip: Use a slow cooker liner for EASY cleanup!
With the scorching weather, I tend to like a splash of cold milk in my hot oatmeal!
I love the fact that the family can enjoy several bowls of oatmeal when it's done cooking, but there's also plenty of servings leftover to make some on-the-go mason jars for those extra busy mornings! Check out my Blueberry Lemon Overnight Oats for another on-the-go option that's perfect for these blistering summer days.
KISS Tip: Personalize this recipe by changing up the spices (pumpkin pie spice would be amazing once the fall is here!), the dried fruit (dried blueberries or cherries would be pretty delicious) or even the type of apples!
​Whether you switch up the recipe a bit or follow the recipe below, it's sure to be a nutritious, easy and yummy breakfast the whole family can enjoy!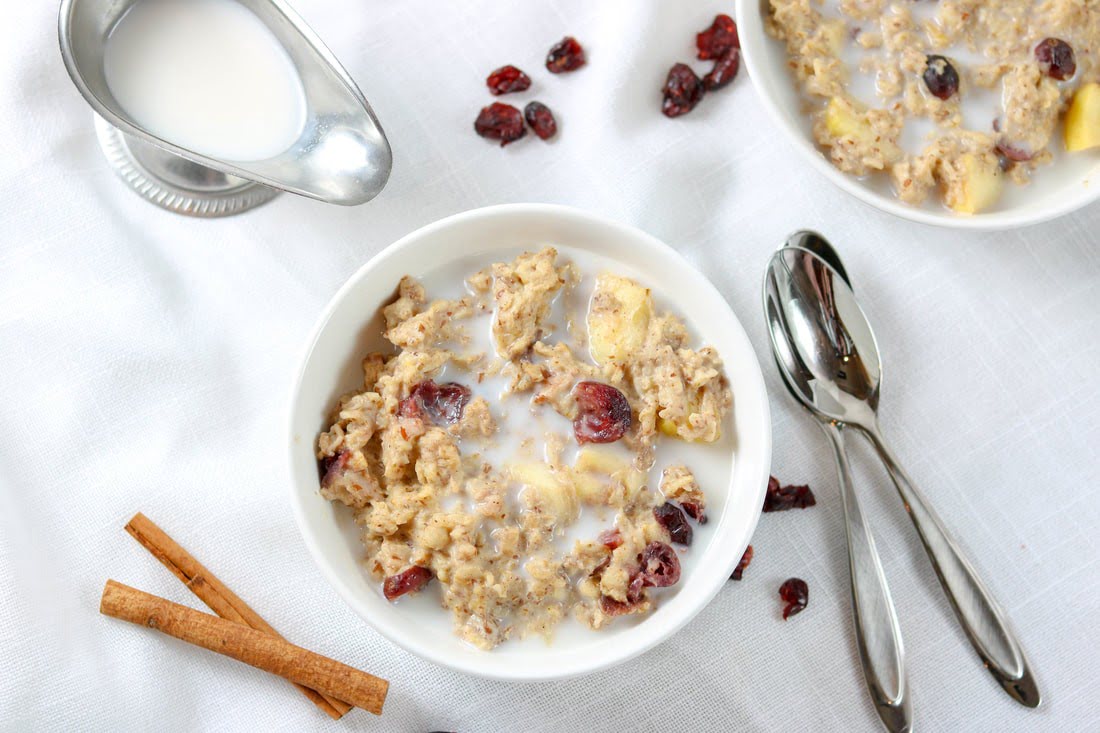 Print Recipe
KISS Cranberry Apple Slow-Cooker Oatmeal
Ingredients
3

cups

gluten-free old fashioned oats

1/4

cup

ground flax

1/2

cup

dried cranberries

3

cups

apples, diced

(I used pink lady apples, but you can use whatever apple you have on hand!)

2

tsp

cinnamon

1

tsp

nutmeg

1/2

tsp

ginger

1/4

tsp

salt

2

Tbsp

coconut oil

6

cups

water
Instructions
Line a slow-cooker with a plastic liner or lightly coat the inside with cooking oil so the ingredients won't stick.

Place the oats, flax and spices in the slow cooker and stir together.

Next add the cranberries and apples, followed by the coconut oil and water. Stir slightly and cook on high for 3 1/2 hours or until oatmeal is desired consistency. (Slow-cookers vary widely in cook times so I would check on oats after about 2 1/2 hours and about every 30 minutes thereafter.)

Divide into mason jars or glass storage dishes and enjoy for the week!