Happy St. Patty's Day-ish. I kinda felt obligated to post something green and after the overwhelming response to my Layered Banana Split Smoothie, I wanted to create more of that layered smoothie goodness. Honesty confession here- I was totally skeptical of my idea for this one…. like, legit concerns I would make it, toss it out and pretend that didn't just happen. But, I'm thrilled to say this weird smoothie totally works! The two layers are quite different in flavor/texture, featuring a sweet creamy bottom layer and a tropical, slightly sweet second layer. Who would have though these two would complement each other so well. Opposites attract, perhaps?
You're probably already wondering what's in each layer, so here's the breakdown:
Bottom = Avocado + Banana
Top = Kiwi + Banana + Spinach
It was about this time in taking pictures where I literally stopped caring about getting smoothie shots and wanted to focus on my spoon. This little guy is just the cutest. I got it and it's cousin spoon, which says "Rise and Shine", a few weeks ago and am obsessed. Surprisingly, I grabbed these precious utensils at Family Christian Bookstore. The store is closing nationwide which is such a bummer, but I picked up these spoons and practically bought out their entire greeting card section a few weeks ago. 2017 is the year for snail mail. Okay, back to the green smoothie action.
That cute little spoon also inspired me to add some whipped cream to these babies. I actually used this new "Whipped Rice Topping" I found that's dairy and soy free and was surprised and it was the perfect addition to this creamy tropical creation.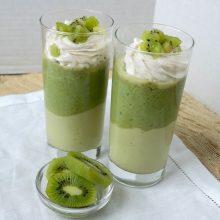 Print Recipe
Creamy Tropical Smoothie
Equipment
Vitamix or high-speed blender
Ingredients
Bottom/First Layer
1

small

avocado

1

large

ripe banana, preferably frozen

3/4

cup

milk of choice

(my favorite is Ripple Plant-Based Milk, original flavor!)
Top Layer
2

kiwis, peeled and sliced

1

small

(or half a large) banana, peeled

3/4

cup

milk of choice
Instructions
Place bottom layer ingredients in a Vitamix or high-spend blender and blend until smooth. Pour evenly into two smoothie glasses. Repeat with second layer and remember, there's no need to rinse blender in between if you create the lighter colored layers first! Enjoy!