November is one of my favorite months. It's the month I start listening to Christmas music, the month it actually starts to cool down here in San Antonio and it also happens to be the month that I received this brand spankin' new book, Fertility Foods Cookbook, 100+ Recipes to Nourish Your Body! Elizabeth Shaw, MS, RDN, CLT and Sara Haas, RDN, LDN are two amazing friends and colleagues who wrote this cookbook and one of a kind resource! Between the female clients I work with and many friends who are on an infertility journey, I officially feel relieved that I have an incredible and comprehensive resource to offer. And in case you're wondering, one in eight families struggle to conceive! That's a big number and these two ladies share their personal experiences along with more than 100 recipes, dietary breakdowns of each recipe, why the ingredients fuel your fertility, tips on self-care, managing stress and so much more!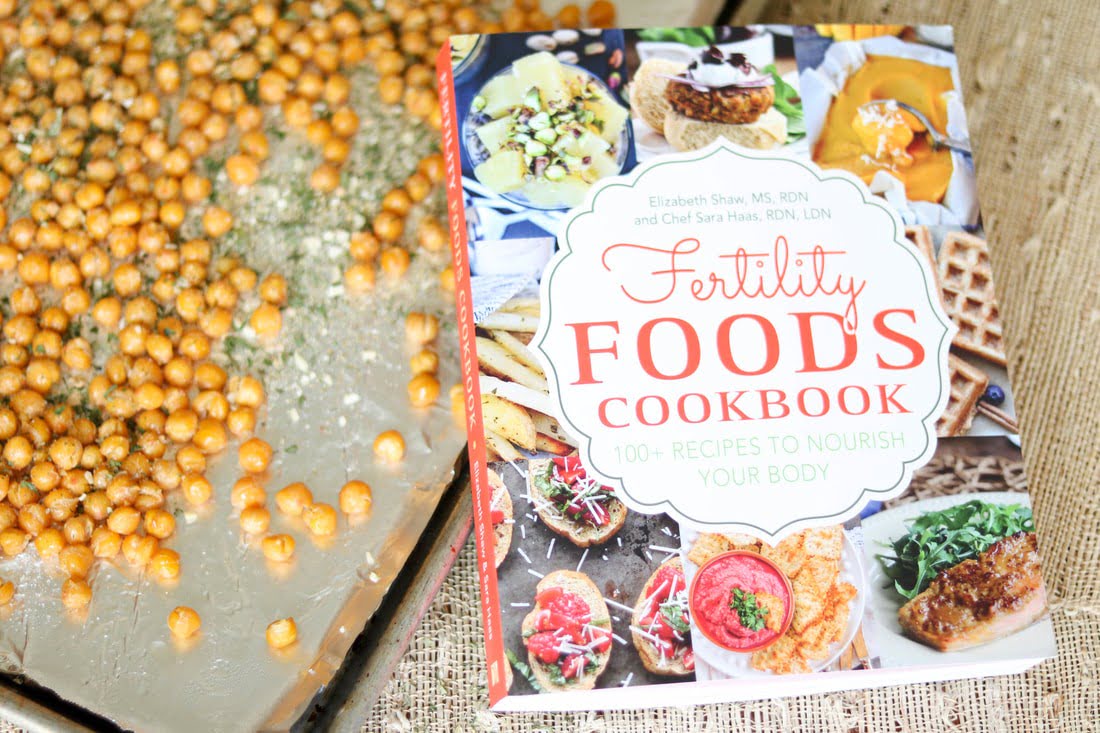 When I first received the book, I immediately started flipping through the gorgeous recipes. I bookmarked about 10 within just a few minutes, but what I didn't notice until later was the heartfelt introductions made by the authors, Liz and Sara. I don't want to be responsible for any spoilers, but let's just say I needed tissues. This book is filled with so much encouragement, honesty and packed with a wealth of nutrition tidbits that will help any mom-to-be! And frankly, the recipes are so easy and delicious that I think this makes for a great cookbook for the family, whether or not the fertility component is applicable! Alright, let's talk about these Crunchy Ranch Chickpeas.
Roasted chickpeas (page 135) are such a fun snack and they also make for the perfect appetizer or party snack (especially during the holidays!). They're a cinch to make and this recipe uses a DIY Ranch Dry Mix (page 108) that is super flavorful and calls for spices you likely have on hand!
KISS Tip: Make these Crunchy Ranch Chickpeas for a holiday party and kill two birds with one stone- use the leftover Ranch Dry Mix with Greek Yogurt for an easy ranch dip with veggies to serve guests!
You know what else these taste fantastic with (other than just eating them straight off the pan)? Salad. Stay tuned for a Harvest Berry Salad coming to the blog this weekend where you'll see these cute and crunchy little chickpeas make another appearance!
And if you're reading this and happen to be on a rocky road to conceiving a child, please grab a copy of the Fertility Foods Cookbook and connect with Liz and Sara. They both have created communities that are real, honest, vulnerable and a safe place to land. One thing is for sure; the journey isn't easy, but you don't have to walk it alone!
Print Recipe
Crunchy Ranch Chickpeas from the Fertility Foods Cookbook
Ingredients
1

15 oz. can

(no salt added) garbanzo beans, drained and rinsed

2

tsp

olive oil

1/8

tsp

kosher salt

2

tsp

ranch mix
Dry Ranch Mix
2

Tbsp

dried parsley

1

Tbsp

garlic powder

1

Tbsp

dried dill

2

tsp

onion powder

1

tsp

dried onion flakes

1/2

tsp

kosher salt

1/2

tsp

ground black peppr
Instructions
Preheat oven to 400°F and line a rimmed baking sheet with parchment paper.

Use a paper towel to dry chickpeas, removing any loose skins.

Add olive oil and chickpeas to a mixing bowl and toss to combine. Spread the chickpeas out in an even layer onto the prepared baking sheet.

Cook 25 minutes, stirring once halfway through. Stir again, then add the ranch mix and carefully toss to combine. Cook 5 more minutes.

Remove pan from the oven and let cool slightly before enjoying.​
Notes
Variation: Try using your favorite spice blends in 1 1/2 teaspoon portions, and adjust as necessary to accommodate your flavor preference!
Storage: Transfer to a sealed container and store in the pantry for up to 2 weeks.