This month's Recipe ReDux is all about showing off our favorite plant power bowls. I'm not gonna lie- when I first saw the theme, I was a little hesitant because I'm a big beef/chicken fan. BUT I'm so glad I had the opportunity to create a complete plant based meal because this Fall Plant Power Bowl is errthing I dreamed of and more! 
Plant Power bowls are packed with fiber, color, protein and they're like, super posh right now. Does anyone even say "posh" anymore? I don't know where that came from.
Winds picked up as a cool front began to roll in today. My usual corner of the house with perfect lighting wasn't cutting it with the clouds… so I took this plant power bowl to the grass. My neighbors (most of which I haven't actually met) undoubtedly think I'm a weirdo as I tote a full meal, pumpkins, props and a camera in the front yard. I'm really trying to work on not caring what other people think (or what I think they are thinking), so this was GRREEEAAATTT practice.
There were many lessons learned with this outdoor food photography experience:
​
•Cilantro and quinoa are incredible sensitive to wind
•Hemp hearts look like bugs and bugs like to get in your food when you're outside
•Dog walkers hate me, but their dogs love me
•The neighbors I haven't met probably think I'm REALLY weird as I carry bowls, pumpkins, a camera, a full meal and other props outside •Distractions abound, but the change of scenery was lovely
See- that pesky cilantro? It's little leaf blew up right before I snapped the pic. I'm quick to forgive though.. because cilantro is delicious. 
This bowl is the perfect combination of naturally sweet butternut squash, savory white bean hummus, crunchy pomegranate arils, protein packed quinoa, creamy avocado and bursting with flavor from cilantro. Topped with hemp hearts, this is seriously a nutrition powerhouse.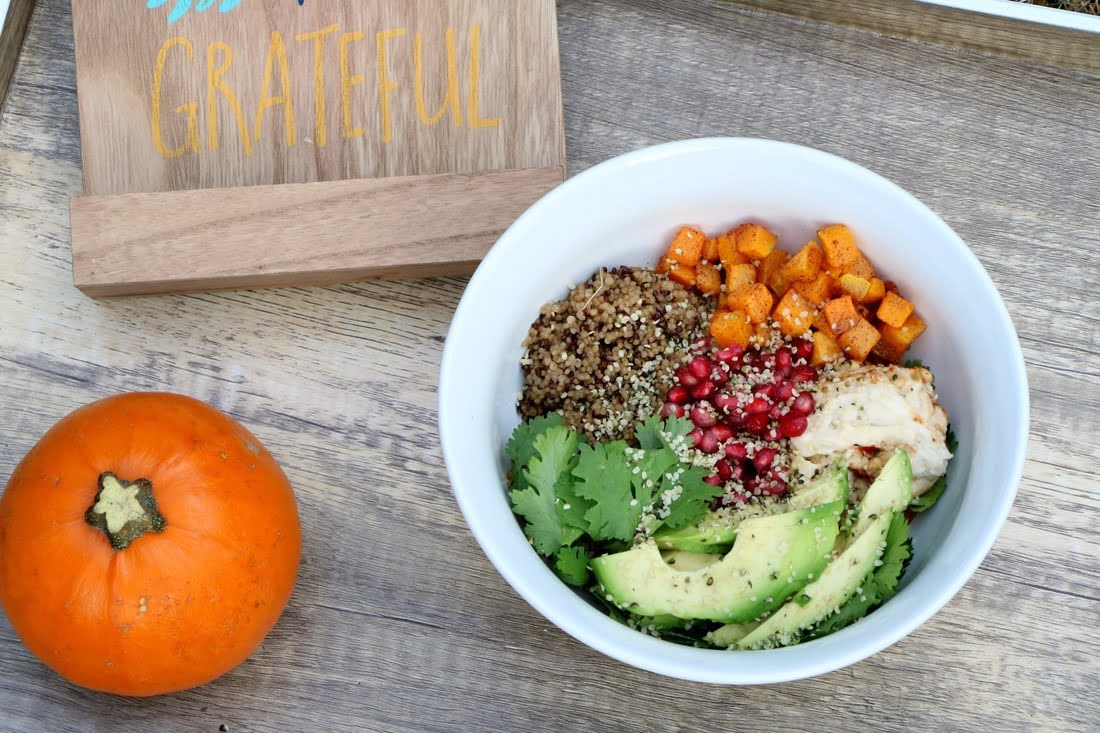 Print Recipe
Fall Plant Power Bowl
Ingredients
1

cup

quinoa, cooked

(I use the microwaveable pouches or cook a bunch at the beginning of the week)

1

cup

butternut squash, diced

1

Tbsp

avocado oil

1/2

tsp

cinnamon

4

Tbsp

white bean hummus

1/2

large

avocado

1/2

cup

cilantro leaves

3

cups

spinach or kale, if desired

(Sometimes I like to make bowls without greens to have a break from salads. This bowl is pretty amazing without a green base, but experiment with it and make it your own!)
Instructions
Preheat oven to 425 degrees. Line baking sheet with foil, toss butternut squash in avocado oil, sprinkle with cinnamon and place on baking sheet. Cook 15-20 minutes until roasted through and you're happy with the consistency. Note- I purchased pre-chopped butternut; it's usually available both fresh and frozen!

In 2 large bowls, place a bed of greens, if desired.

Next, add the quinoa, butternut, hummus, avocado, pomegranate arils and cilantro to the bowl. If desired, add your favorite dressing, but these flavors are SO yummy you probably won't need it!