Whether you're here for the first time or a faithful follower, welcome to KISS in the Kitchen! Father's Day is an incredibly special day to me. KISS actually stands for Keep it Simple, Shannon- something my dad always used to tell me. Naming the blog after something related to Dad helps inspire me on the days I don't quite feel like writing. And I was blessed to have help with this particular post from an amazing dietetic intern, Amanda. I'm sure if Dad was still here, he'd LOVE the DIY rubs and seasonings you'll find below!
Side note– if you don't have time to make a rub or spice blend or just want to purchase one that dad and the whole family will L-O-V-E, (and you want to feel good about purchasing!), check out Head Country BBQ Sauces and Championship seasonings!
Their BBQ Sauce only has 5g of sugar (pretty darn low for BBQ sauce!), but it's still bursting with flavor! Plus, their Championship Seasonings are lower in sodium than most and even have an MSG-Free Option! I'm a huge fan and so excited that they're now widely available here in South Texas, including at H-E-B. I even featured them in Dad's Essential Grilling Kit on Great Day SA this past week!
---
This post, including recipes, was created by Amanda Assali, Texas WIC Dietetic Intern. Photos by Shannon Garcia.
---
It always feels like a daunting task when it's time to come up with a Father's Day gift. Finding something unique and special for the man that has everything is tough stuff. But not to worry! If you've got some extra time on your hands and a few items in your pantry, here are some tips for how to make your Dad-turned-BBQ Master a personalized, easy and tasty gift he'll love to use for those summer time BBQs!
These recipes are as simple as pulling the ingredients out of your pantry and combining them together with love. Dad can use them on anything from beef, chicken, pork or even fruits and veggies to throw on the grill (see suggestions below for pairing a rub with protein/veggies/fruit!). From smoky & spicy to flavors from the Caribbean, I've got you covered. 
BBQ spice rubs are a great way to get creative and you can easily think outside of the box. Try adding what you have available at home to make your own secret rub recipe!
A few extra tips for your spice rub prep:
*When adding brown sugar to a rub recipe, it's important to break up those clumps with a fork or even a few quick pulses in the food processor or blender will do the trick.
*Mason jars are my go-to for making a simple and easy thing like mixed spices look like a personalized labor of love. If you want to go an extra step, you could even print a label that says, "Dad's BBQ Rub" for each of the mixtures to fit the lid of your mason jar. ​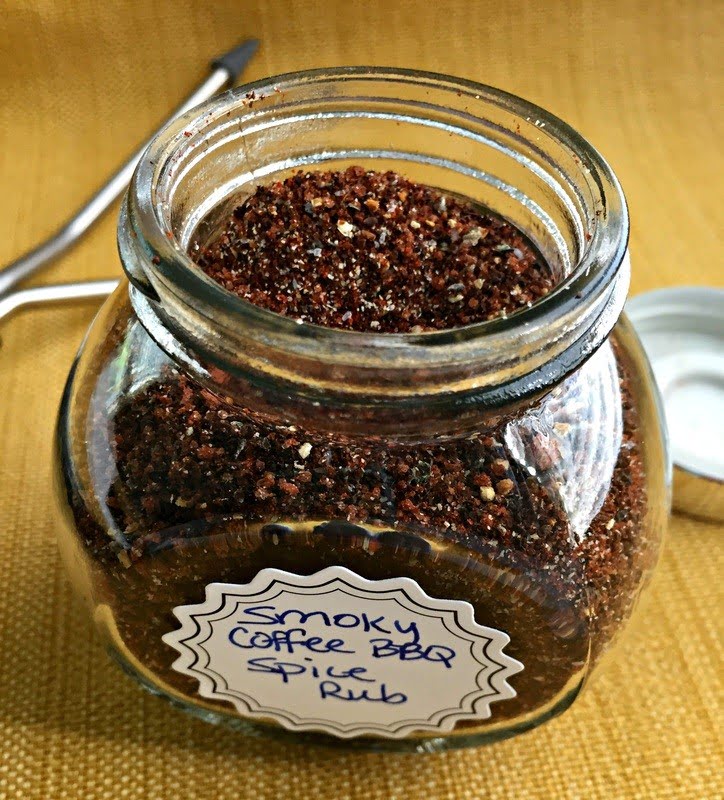 Print Recipe
Father's Day DIY Spice Rubs
Ingredients
Smoky Coffee BBQ Spice Rub
3

Tbsp

cup ground coffee

1/4

cup

dark brown sugar

2

Tbsp

smoked paprika

1

Tbsp

ground black pepper

1 1/2

Tbsp

kosher salt

1

Tbsp

garlic powder

2

tsp

orange peel (jarred)
Texas Style Dry Rub
1/3

cup

chili powder

1/3

cup

brown sugar

1/4

cup

salt

1/4

cup

ground black pepper

2

Tbsp

ground mustard

2

Tbsp

ground cumin

1

Tbsp

garlic powder

1

Tbsp

onion powder

1

Tbsp

paprika

1

tsp

cayenne pepper
Jamaican-Style Jerk Seasoning
2

tsp

onion powder

2

tsp

cayenne powder

1

tsp

paprika

1/2

tsp

dried crushed red pepper

2

tsp

dried thyme

1

Tbsp

garlic powder

2

tsp

dried parsley

1/2

tsp

black pepper

2

tsp

salt

2

tsp

sugar

1/4

tsp

ground cinnamon

1/2

tsp

ground nutmeg

1

tsp

ground allspice