So it's safe to say I'm a little granola. Not like full blown cruncheriffic, but enough to have made the switch to Mrs. Meyer's soaps and want to experiment making my own "Febreze" with essential oils. I've been fostering this sweet pupper, Ruthie, and this past week her adoption became official! I love her to pieces, BUT holy smokes, girlfriend smells like a dog. I've already been putting some EOs on this sweet girl's neck, but it was time all her belongings got treated with some natural odor/germ killing "Fauxbreze"! Look at this sweet girl….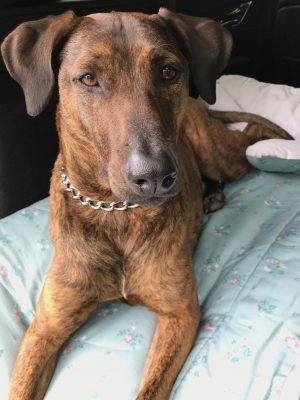 This mixture is super simple and the basic ingredients of water, witch hazel and baking soda you probably have on hand. You'll also need essential oils for the odor/germ fighting part of this spray! I use Young Living essential oils and am so pleased with their quality and benefits! I've also been 
cooking with them
 a lot and even created a free download: 20 ways to Use Essential Oils!
I found this fun "plant mister" at World Market and it makes for the perfect Fauxbreze container, especially since darker colors help protect the essential oils. An amber glass bottle would work well also.
KISS Tip: Keep the Tea Tree oil for its antimicrobial properties, but experiment with the other essential oils until you've found your favorite scent combo. Lavender + lemon or grapefruit + lime would be good combos!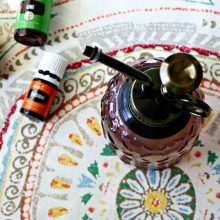 Print Recipe
Homemade Fauxbreze
Equipment
Dark-colored glass spray bottle
Ingredients
1/2

cup

distilled water

1/2

cup

witch hazel

1 1/2

tsp

baking soda

5

drops

tea tree oil

20

drops

citrus oil

(I used half lime, half tangerine)
Instructions
Combine all ingredients in glass measuring cup.

Pour (using funnel, if necessary) into dark colored glass bottle.

Spray all the stinky areas in your house :).