Happy New Year y'all! All I know is 2017 has got to better than 2016… can I get an amen? The past year has been quite a wild ride and it's amazing all the things that can happen in just one year's time. That being said, I posted this recipe about a year ago, but the photos were embarrassingly awful so it was time for a revamp. Besides, I was craving this soup and I wanted to use my new yellow Le Creuset yellow dutch oven.
I love this soup because it's a cinch to make and it takes me back to childhood. Once a year we had one of my most favorite events- Feast Day. Feast Day was the coolest- I mean even cooler than the bike rodeo, because… there was food. A ton of food- a feast to be exact (the inner dietitian in me, even then, was amped). In hindsight, I think this was about the cheesiest potluck one could create, BUT for me it was magical because 1.) I didn't have to wear a private school uniform. 2.) I got to wear a costume (my choice of pilgrim or indian- both of which accommodated pigtails) and 3.) FOOD. 4. FOOOOOD.
​All the moms, mine included, also wore their best Feast Day attire. Mom Pilgrims. Mom Indians. And we all enjoyed my favorite pastime- eating. One of my favs was Feast Day Soup. In simple terms, it's a beef vegetable soup. I've made variations of it for years, and the most recent batch I made was so feast-able.
KISS Tip: This soup tastes even better the day after you make it! Consider making a batch during a weekend meal prep and enjoy some seriously delicious soup in the days to come.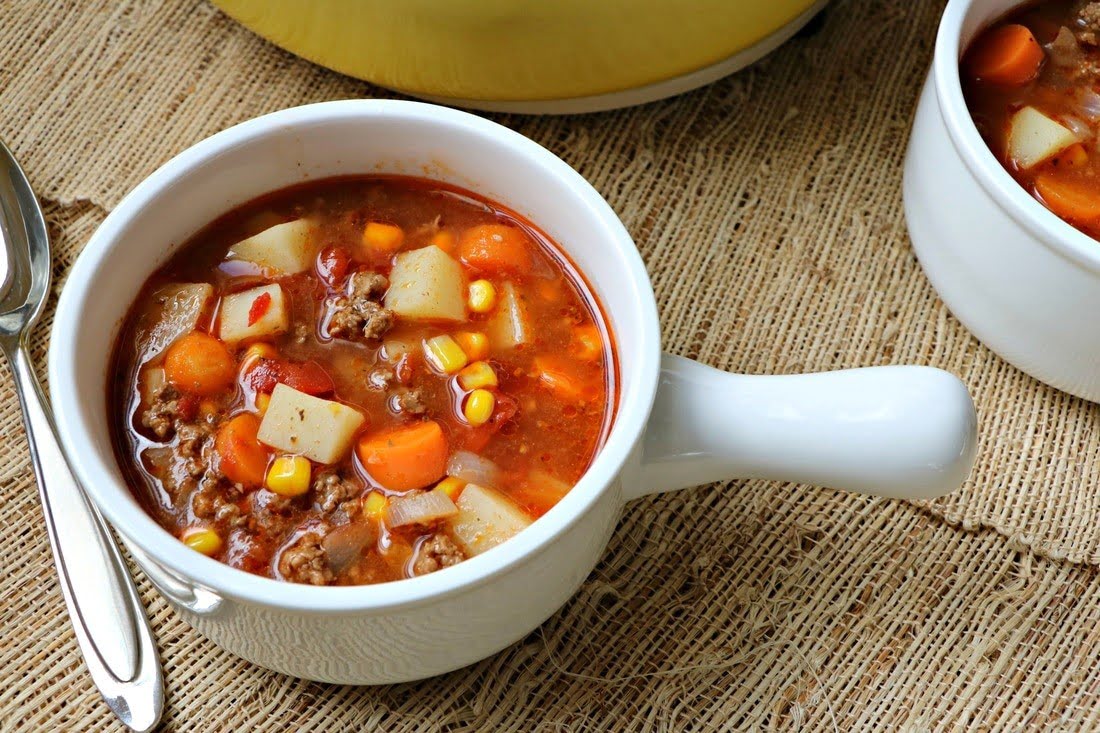 Print Recipe
Feast Day Soup
Ingredients
1 1/2

lb.

93% lean ground beef

1

large

onion, diced

1

15 oz. can

crushed tomatoes

3-4

medium

potatoes, peeled and chopped

1/2

bag

baby carrots, chopped

1/2

16 oz. bag

frozen corn (add at end)

2

tsp

garlic powder

1

tsp

dried oregano

Salt & pepper to taste

~4

beef bouillon cubes

(Bouillon can be the trickiest thing ever. 4 cubes should do the trick, OR the equivalent using bouillon or liquid/paste OR you could also sub beef stock for the 6 cups of water.)

6

cups

water
Instructions
Brown ground beef and onion in dutch oven with garlic powder and oregano.

Add all vegetables, tomatoes, bouillon and water and bring to boil.

Boil/Simmer for 20 minutes or until vegetables are done (still slightly crunchy!)

Add about half the bag of frozen corn.

Serve with your favorite cornbread and enjoy the NEXT day!