---
I'm excited to partner with Monterey Mushrooms, the largest fresh mushroom grower in North America, for this post. As always, all opinions are my own, and I only partner with brands and products I genuinely love using in my own kitchen.
---
It's that time again, y'all! Fiesta is here and our city is once again enjoying this two week long party! Last year we celebrated Fiesta with Taco Stuffed Peppers with Beef and Mushroom and this year we're celebrating with these Fiesta Stuffed Portabella Caps! Both recipes are incredibly simple (because that's always what you'll find here!) and packed with flavor and nutrition!
Did you know that mushrooms are one of the most earth-friendly and renewable crops available? One million pounds of mushrooms can grow in the space of just ONE acre while requiring minimal water and are ready to harvest in just a matter of days. I love working with Monterey Mushrooms because they provide fresh, locally grown mushrooms to grocery store and restaurants year round, from 10 farms strategically located across North America!
This recipe comes together super fast. Veggies are sautéed, mixed with steamed rice (I used a microwaveable pack for ease) then mixed with ground beef and placed in mushroom caps to bake in the oven! The combination of Portabella caps plus a hearty mixture of lean beef, rice and veggies make this one hearty meal. Plus it's incredibly balanced because you have all the components to a nutritious meal in one large stuffed Portabella cap!
KISS Tip: Try these with ground chicken, pork or even lamb! OR even consider removing the beef and double the rice, veggies and then adding some cheese on top! These would be super tasty with a vegetarian twist!
Wishing you and your family a fun, delicious and safe Fiesta! <3 Shannon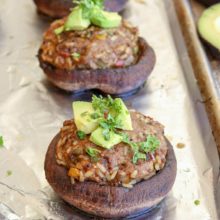 Print Recipe
Fiesta Stuffed Portabella Mushroom Caps
Ingredients
6

Monterey Mushroom Portabella Caps, stems removed

1

Tbsp

avocado oil, plus additional for drizzling

1

lb.

lean ground beef or your favorite ground protein

1

cup

steamed rice

1/2

small

red onion, chopped

(about 1/3 cup)

1

medium

red bell pepper, chopped

(about 1 cup)

2

garlic cloves, minced

2

tsp

cumin

1/2

tsp

paprika

1/2

tsp

chipotle chili powder

1/2

tsp

sea salt
Instructions
Preheat oven to 400º. Line a baking sheet with aluminum foil or grease a baking sheet (or both!) and set aside.

Wash, dry and remove stems from Portabella caps. Use a pairing knife to cut back flesh that covers gills, if needed. 

In a large skillet, add oil and once hot add in all chopped vegetables and spices.

Cook for 4-5 minutes until the veggies are tender and then remove from the heat.

Place cooked veggies in a large bowl and add prepared rice. Mix well.

Add ground beef (uncooked) to rice and veggies and mix until well incorporated.

Place Portabella caps on prepared baking sheet and evenly divide the mixture into balls and place into mushroom caps, being careful to spread out the mixture to edge of cap.

Spray or drizzle edges of mushroom caps with oil and cook for 25 minutes or until thermometer reads 160º.

Enjoy with avocado, pico de gallo, cilantro or other favorite toppings!