I want to make sure you know what you're looking at in these photos. THESE are seriously the best, the fluffiest, the easiest, the most delicious gluten-free AND dairy-free blueberry pancakes ever. Mr. KISS in the Kitchen has been really excited about the pancake recipe testing going on around our home and has asked for these to be on our regular breakfast (or lunch or dinner) menu. And trust me- if you try them, you'll probably have the same reaction- "These can't be everything you say they are (GF, DF)… they're SO fluffy!". Keep reading to find out how to easily whip up these hotcakes and find out what that little red gadget is in the background of the photo below!
This month's The Recipe ReDux is all about our favorite kitchen gadgets! That little red gizmo isn't exactly involved in the hands-on recipe prep, but it sure does hold my recipe while I'm cooking! I know many of us use our phones, tablets, computers, etc. for recipes, but I'm still old-school and appreciate a piece of paper (especially when I'm recipe testing and need to jot down some notes!). My friend Rachel gave me this "Recipe Rock" several years ago and I also just gifted my mom one for Christmas! It's simple, practical and adds a nice pop of color to your kitchen.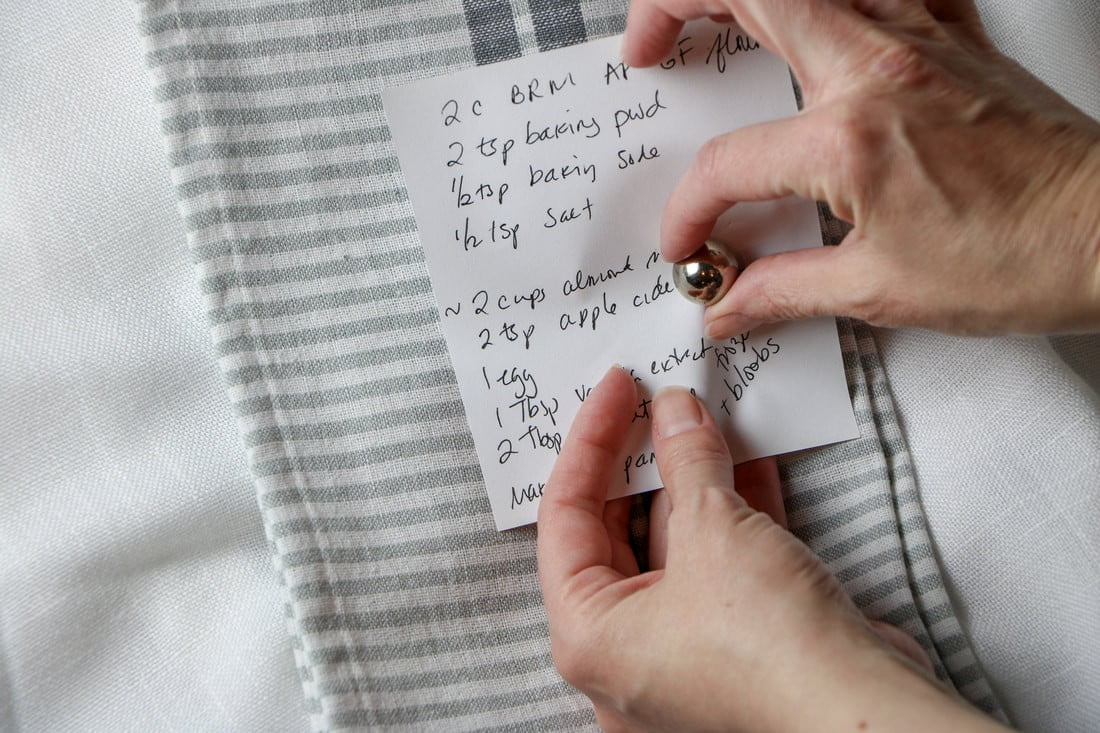 Now back to these fluffy "buttermilk" pancakes. The batter is a super simple and uses a base of my favorite all purpose-gluten free flour (Bob's Red Mill!).  It's their 1:1 baking blend and I use it for practically all my gluten-free baking, like in these 
Lighter Gluten-Free Carrot Cupcakes
, 
Fudgy Avocado Blender Brownies
 or for these 
Chocolate Cherry Muffins
! The flour is mixed with non-dairy "buttermilk" which is basically some almond milk mixed with apple cider vinegar- the final result is a pancake that tastes better than IHOP.
I wanted to show the way I make blueberry pancakes so the whole batter doesn't turn blue when using frozen blueberries and how to make sure they're still cooked all the way through! Each photo in the slideshow has a short caption with some pointers!
This recipe makes a nice portion with 10-12 pancakes depending on how heavy-handed you pour batter ;).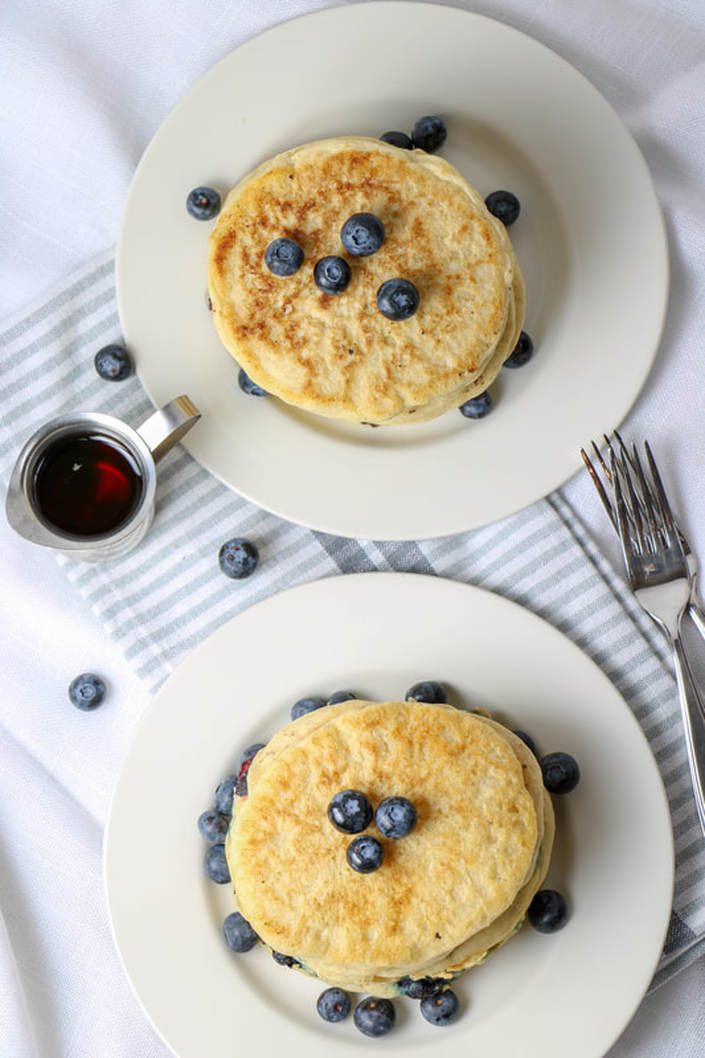 I'd also like to point out something slightly humorous about these photos. When I was done with the recipe and shoot (and sitting down with a fluffy stack of pancakes), I realized almost all the photos had ENORMOUS stacks of pancakes. So the question is- was that because of pregnancy brain or is that just because I'm a hungry preggo? I'm kinda thinking it was a little of both ;).
KISS Tip: Leave the blueberries out for a plain buttermilk pancake or swap out the blueberries for your other favorite berry, banana or even pecans!
Print Recipe
Fluffy Gluten-Free Blueberry Pancake (GF, DF)
Ingredients
Dry Ingredients
2

cups

Bob's Red Mill Gluten-Free 1:1 Baking Flour

2

tsp

baking powder

2

tsp

baking soda

1/2

tsp

salt
Wet Ingredients
2

cups

original sweetened almond milk or non-dairy milk of choice

2

tsp

apple cider vinegar

1

large

egg, beaten well

1

Tbsp

vanilla extract

2

Tbsp

liquid or melted coconut oil
Other Ingredients
1

cup

frozen blueberries, reserved
Instructions
Mix the dry ingredients in a medium size bowl.

Mix wet ingredients in a glass measuring cup, making sure all ingredients, including egg, are mixed well.

Gradually pour wet ingredients into dry, stirring sides of bowl and making sure it's well mixed. If clumps start to form, stop pouring the wet ingredients and break clumps (flour balls) up. Pour rest of wet ingredients and let sit for 3-4 minutes.

While batter is resting, heat a griddle over med-high heat. Pour or spray a light coating of oil to make sure the pancake batter won't stick.

Using a 1/3 cup measuring cup, pour batter 2-3 pancakes at a time, depending on what will fit on your griddle.

After about a minute, batter should begin to slightly bubble (See above slideshow for instructions with photos). Carefully drop 8-10 blueberries on pancakes and cook for additional 30-45 seconds or when you can see the underside of the pancake becoming slightly brown.

Cook for about 60 more seconds and continue with the rest of the batter!

Serve with your favorite pancake toppings or enjoy plain, because they're just that good!