I'm struggling to find words that can adequately convey how I feel about this Mother's Day. It's so surreal that likely by the end of this month, I'll officially be a mom. Those who know me well know that I've longed to be a mother for more than half of my life, even answering the "What you do you want to be when you grow up" question with "A Mom", at a fairly young age. And now, this sweet baby girl who has already enlarged my heart's capacity (and every other part of my body) is about to be here. The feels are so real and the gratitude is literally bursting out of me. I know this day can be one of complete joy and also immense heartache, so wherever you fall on that spectrum, let's all use this day to show grace to ourselves and others.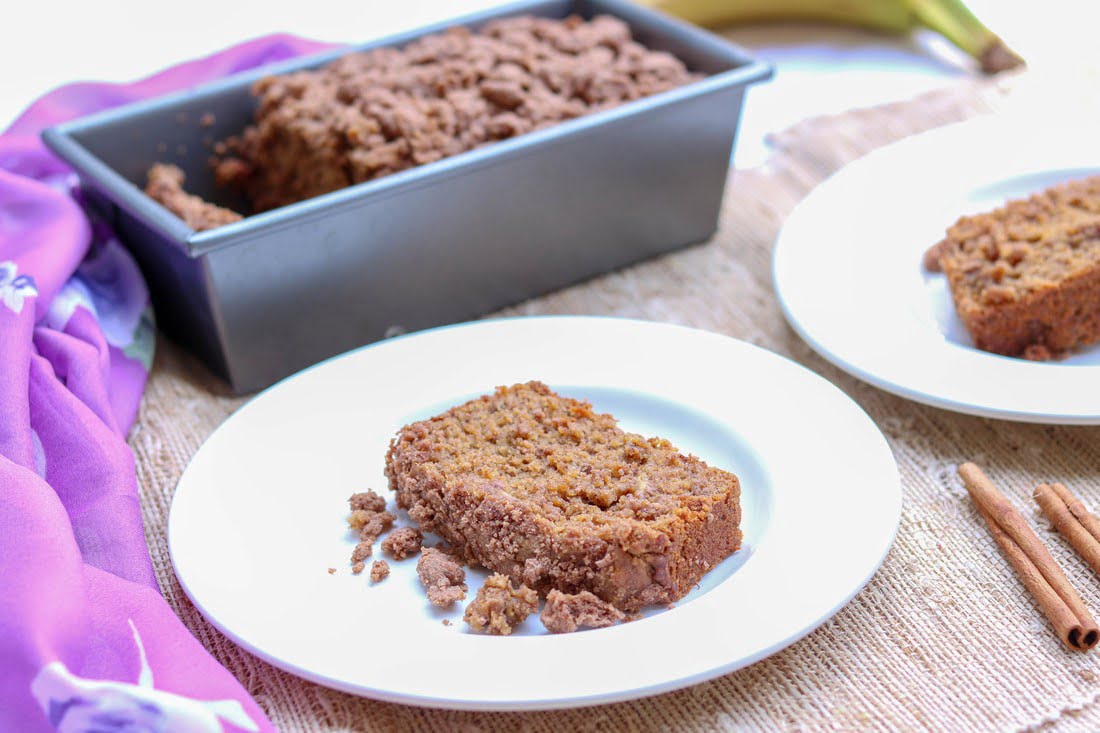 Food is my love language and my own mom has been helping tremendously the past few weeks while we have been moving. She's brought over countless meals and even some baked goods- food is seriously love, y'all.
​I'm a huge fan of banana bread and love experimenting with different versions. I have a classic 
Gluten-Free Banana Bread
 recipe that is my go-to and even a 
Gluten-Free Berry Banana Bread
 that I love to make at holidays for friends and family, but this Cinnamon Crunch version is definitely my new fav! If you love banana bread and/or cinnamon, this recipe is going to be your new fav. Special bonus- it's so easy and turns out super pretty!
There's something about that crumb topping that makes it look a little fancy, but this bread couldn't be more simple to put together. It's perfect for a Mother's Day brunch or just to have on hand during the week for a delicious snack or part of breakfast!
And when it comes out of the oven… the crumble topping is seriously perfection!
The soft texture of the bread with the crunchy crumble on top is so delish and it's bursting with cinnamon flavor. If you're not a cinnamon fan, I'd probably pass on this recipe.
I'm pretty sure these will make great muffins also, but I haven't tried them out yet. Would love to know if you try out mini loaves or muffins with this recipe!
Shoutout to all the new mamas, seasoned mamas, grandmamas and mamas-to-be out there- show yourself (and each other) some extra love, compassion and grace.
​<3 Shannon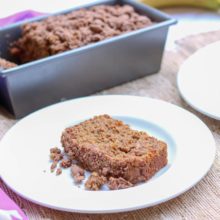 Print Recipe
KISS Cinnamon Crunch Banana Bread
Ingredients
1 3/4

cup

gluten-free flour with xanthum gum

(I like Bob's Red Mill 1:1 Baking Flour)

1/4

cup

ground flax

1

Tbsp

cinnamon

1 1/2

tsp

baking powder

1/4

tsp

salt

2

large

eggs, beaten

1

cup

mashed bananas

1/2

cup

coconut palm sugar

1/3

cup

coconut oil

1/2

cup

unsweetened applesauce

1

tsp

vanilla extract
Crumb Topping
1/3

cup

gluten-free flour

1/3

cup

brown sugar

1

tsp

cinnamon

3

Tbsp

vegan butter, softened
Instructions
Preheat the oven to 350° and grease a 9×5 inch loaf tin.

Mix together flour, flax, cinnamon, baking powder and salt in medium bowl and set aside.

Whisk together the eggs, mashed bananas, coconut palm sugar, coconut oil, and unsweetened applesauce until well combined. Gently fold in the dry ingredients until well incorporated, being careful to not over mix.

For the crumb topping, mix the flour, brown sugar, cinnamon and softened butter in a small bowl. Using your fingers or a pastry cutter, mix the ingredients until small crumbles form.

Place the batter in the prepared loaf tin and evenly sprinkle with the crumb topping.

Bake for 55-60 minutes, or until a toothpick inserted comes out clean. Enjoy!