I'm excited to partner with Canyon Bakehouse, my favorite gluten-free bread company! As always, all opinions are my own, and I only partner with brands and products I genuinely love using in my own kitchen.
Breakfast is of high priority in our house and having some make ahead options that are tasty and nutritious is always on my radar. These Make Ahead Breakfast Freezer Sandwiches have come in clutch more than once this past week and I'm excited to have found a gluten-free English muffin that our family loves so much!
I'm also excited to announce that my Overnight Blueberry Lemon French Toast Bake is being featured in Canyon Bakehouse's new Breakfast e-book! I'm personally stoked about this resource because even food bloggers need more breakfast recipes and chances are, y'all do too!
This recipe starts with a super simple vegetable egg bake. Chopped veggies are quickly sautéed and mixed into beaten eggs to provide a substantial base of protein with a nutritious boost of veggies! KISS Tip: If you don't have a circle shaped cookie cutter, you can use a mason jar to cut even egg circles!
You can customize these breakfast sandwiches any way you like! Starting with the bread, you can choose Canyon's Original English Muffins or their Honey Whole Grain English Muffins (of course they're both gluten-free since this family owned company has a dedicated gluten-free bakery)! From there, you can choose what veggies, cheese (if any) and if you'd like meat. We are all about protein in our house so I grabbed the cleanest sausage patties I know of (Jones Dairy Farm) and this is the perfect breakfast sandwich IMO.
KISS Tip: Wrap in wax paper, seal with masking tape and throw into a Stasher bag (or similar option) for a low-tox food storage option!
​Canyon's Stay Fresh packaging means it can stay fresh for 90 days because it's sealed tight (once opened, you want to enjoy within 5 days like any other bread) so you can stock up on these muffins without taking up freezer space!I know it's only September but in we're going to blink and it will be the holidays. This is exactly the type of recipe that is super helpful to make a few batches of before family comes into town! This beats a breakfast sandwich at a fast food joint any day and allows family to heat something up if there's a fend for yourself breakfast morning. Bookmark this page or pin it now and thank me later ;).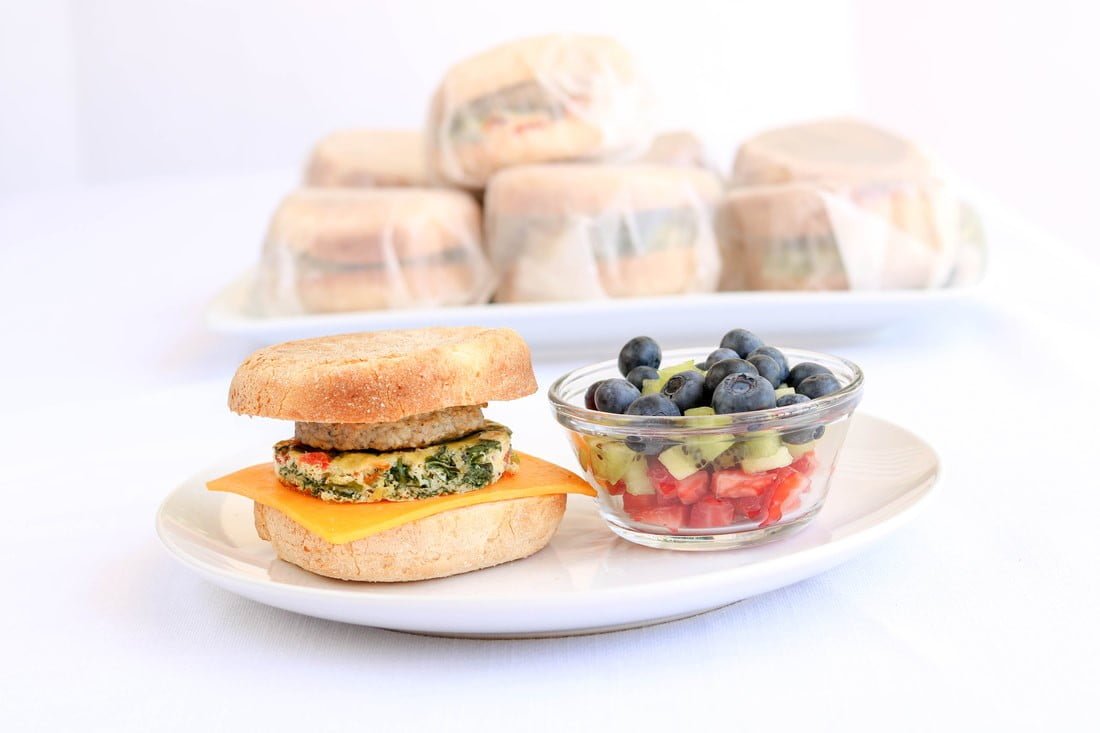 Print Recipe
KISS Gluten-Free Freezer Breakfast Sandwiches
Servings:
8
breakfast sandwiches
Ingredients
Avocado oil cooking spray

2

packages

Canyon Honey Whole Grain English muffins

12

eggs

1

12 oz. can

fire-roasted red and yellow peppers, diced

1

5 oz. bag

fresh spinach

1/2

tsp

salt

1/2

tsp

pepper

8

frozen sausage patties

8

slices

of cheese

(if desired)
Instructions
Preheat the oven to 375° F. 

Spray a 9×13 baking dish with cooking spray of choice (I use avocado oil cooking spray). 

Crack eggs and whisk together. 

Sauté spinach for 2-3 minutes over medium heat until almost wilted. Add in the diced fire-roasted peppers and cook for an additional 3 minutes. Transfer veggies to a bowl and allow to cool for 5 minutes. 

Using a slotted spoon, spoon veggie mixture into the egg mixture and pour into the oiled 9×13 baking dish. 

Place baking dish in oven and bake for 20-25 minutes or until inserted knife comes out clean. 

Remove baked eggs from oven and allow to cool for 5-10 minutes. 

Once the eggs have cooled, use a cookie cutter that matches the size of the English muffin to cut the eggs. If you don't have a cookie cutter, you can use the opening of a mason jar. 

Place a piece of parchment paper on the counter and place English muffin bottom on top. Place the egg on the bottom layer, followed by the sausage patty, a slice of cheese (if desired), and top with the English muffin top. 

Wrap tightly in wax paper and tape together. 

Set wrapped sandwich aside and repeat with remaining English muffins, eggs, sausage and cheese. 

Place wrapped sandwiches in a tightly sealed freezer-safe bag and place in the freezer. 

To reheat sandwich, remove one sandwich from the freezer bag and remove wax paper. Wrap a moist paper towel around the sandwich and microwave for 1 minute. Remove from microwave, carefully separate egg and sausage then microwave open faced for 1 more minute. Let cool 1-2 minutes then remove from the microwave and enjoy!