Is anyone else as obsessed with lemon as I am? I know this isn't a pregnancy craving because I've always loved recipes with hints of lemon and even have quite a few here on the blog (Strawberry Banana Lemon Smoothie, Creamy Cashew Lemon Snack Bites and Blueberry Lemon Overnight French Toast Bake, to name a few)! There's just something about that citrus zing that is so refreshing and delicious! 
I was asked to make 35 gluten-free cupcakes for a local Any Baby Can event (more on that below) and I knew immediately I wanted to make them lemon! Consider yourself forewarned though, these aren't "lighter" cupcakes- you won't find applesauce instead of oil and they're far from sugar-free, but they are the most delicious gluten-free cupcakes you've ever tasted. Special bonus- they're really pretty and make your whole house smell like Spring!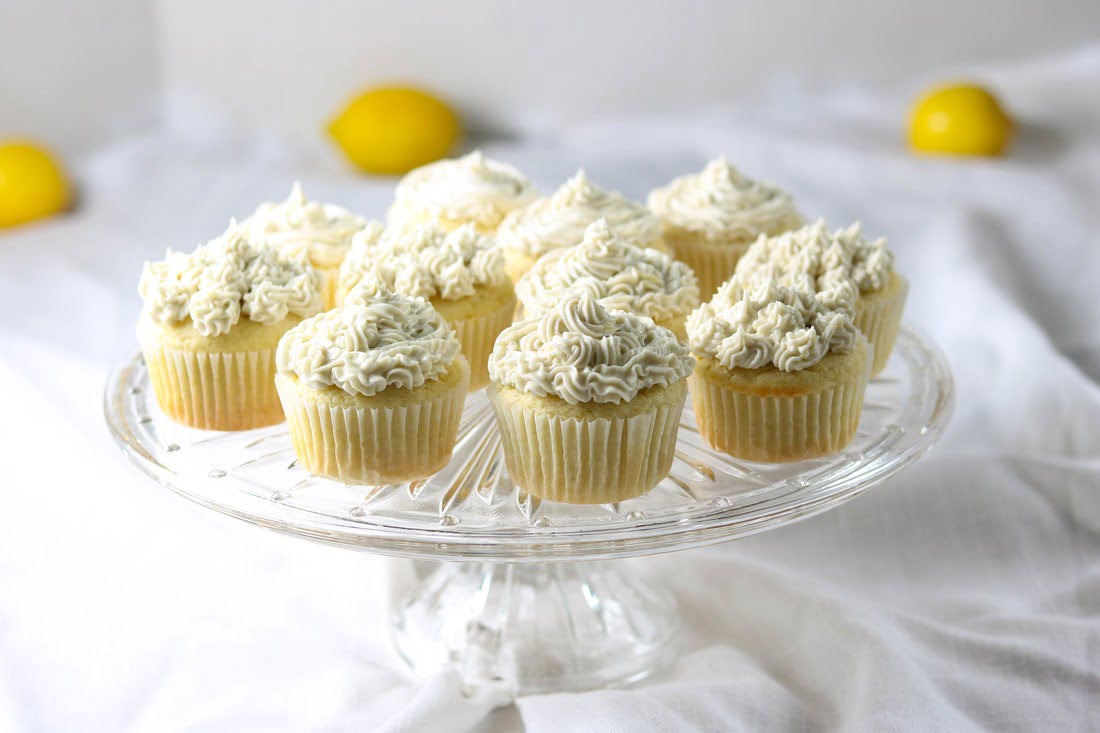 Mr. KISS in the Kitchen would see this picture and say that these cupcakes are just in "muffin form". He doesn't like frosting so he likes to think that all cupcakes sans frosting he eats are actually muffins. I've given up the battle of convincing him otherwise, but I want to point that he actually liked the frosting on these!
I always love creating and trying out new recipes, but I really wanted these cupcakes to be extra perfect. It was such special timing (definitely a God thing) to be asked to help provide these cupcakes in the month of April. Two years ago we had an infant death in our extended family. That tragedy was so powerful that it truly changed my life's path. Perhaps I'll share more in another post, but it's one of those stories you want to pull up a seat next to each other and share your heart over a cup of tea or coffee. A story so meaningful and life-giving even, in a circumstance defined by death. During that time, Any Baby Can actually provided the burial plot for that precious boy and our family will always be grateful for meeting that tremendous need. How special that I had an opportunity to give just a little teeny something back to that organization!
All smiles for these lemony delicious cupcakes made with a lot of love!
This also happened to be the second time (and first time in probably 8 years) ever I actually tried to pipe frosting. I was pleasantly surprised with how they turned out- it's all about those Wilton tips!
I can still taste these now and I'm ready to whip up another batch! This recipe also made me realize how I should really use my Kitchenaid stand mixer more. For some reason I tend to prefer stirring with a spoon until complete arm muscle failure occurs, but that stand mixer sure makes life easier… especially at 8 months pregnant!
I hope you enjoy these full-fun (all the sugar and butter that make a baked good taste fantastic) cupcakes! If you're looking for another full-fun recipe, check out this family recipe for Dad's Favorite Peach Cobbler! And if you're looking for lighter recipes, check out the 99% of all the other ones in the KISS in the Kitchen Recipe Archives!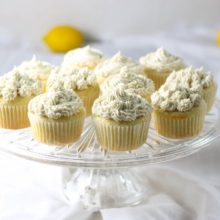 Print Recipe
Gluten-Free Lemon Cupcakes with Lemon Buttercream Frosting
Ingredients
3

cups

All-Purpose Gluten-Free Flour

(with xanthum gum- I like to use Bob's Red Mill 1:1 Baking Flour)

4

tsp

baking powder

1/2

tsp

salt

1 1/2

cups

sugar

2

sticks

butter or vegan butter, softened

2

Tbsp

coconut oil

4

large

eggs, at room temperature

1

cup

milk of choice

(I used almond)

1

Tbsp

vanilla extract

1/2

cup

fresh lemon juice

2

Tbsp

lemon zest

(If you zest a 2 large lemons first then juice, you should get the amount of needed juice/zest)
Lemon Buttercream Frosting
1 1/2

sticks

butter or vegan butter, softened

~4

cups

powdered sugar

1/4

cup

lemon juice

1

Tbsp

lemon zest, more if desired
Instructions
Preheat the oven to 350°. Line 2, 12-count muffin pans with paper liners and set aside.

Using stand or hand-held mixer, beat the butter and sugar together on medium-high for 2-3 minutes in a large bowl until fully creamed. You may need to scrape down the sides and bottom of the bowl 1-2 times. Add room temperature eggs and vanilla and continue beating on medium-high until everything is fully mixed, about 2 minutes.

In a medium bowl, whisk together flour, baking powder, and salt. Slowly add the dry ingredients to the wet ingredients, alternating with the milk and beating on low speed. Add in the coconut oil, lemon zest, and lemon juice on low speed until just combined.

Using an ice cream scoop, scoop batter evenly into the 24 cupcake liners (about 2/3 full).

Bake for 20 minutes and remove from oven. Insert a toothpick in the middle of a cupcake to ensure doneness (a clean toothpick = done, crumbs or batter mean cook for another 2-3 minutes). Allow to cool completely before frosting.

While cupcakes are cooling, begin to make the frosting. Add the softened butter and powdered on low speed until completely combined.

Continue to beat on medium speed until the frosting is creamy.

Add the lemon zest and lemon juice and continue to mix on low-medium.

Make any adjustments based on preferences (additional sugar if you would like it sweeter or if the frosting is too thin, additional lemon juice or zest if you like it extra lemony!).

Once cupcakes have completely cooled, apply frosting and try not to eat an entire batch!