Gluten-Free S'mores Cookies are bursting with melty chocolate, crunchy graham cracker pieces and gooey marshmallows. With all those dreamy ingredients baked inside and extra on top, these decadent yet still easy to make S'mores cookies will be your go-to when craving a gluten-free S'mores experience.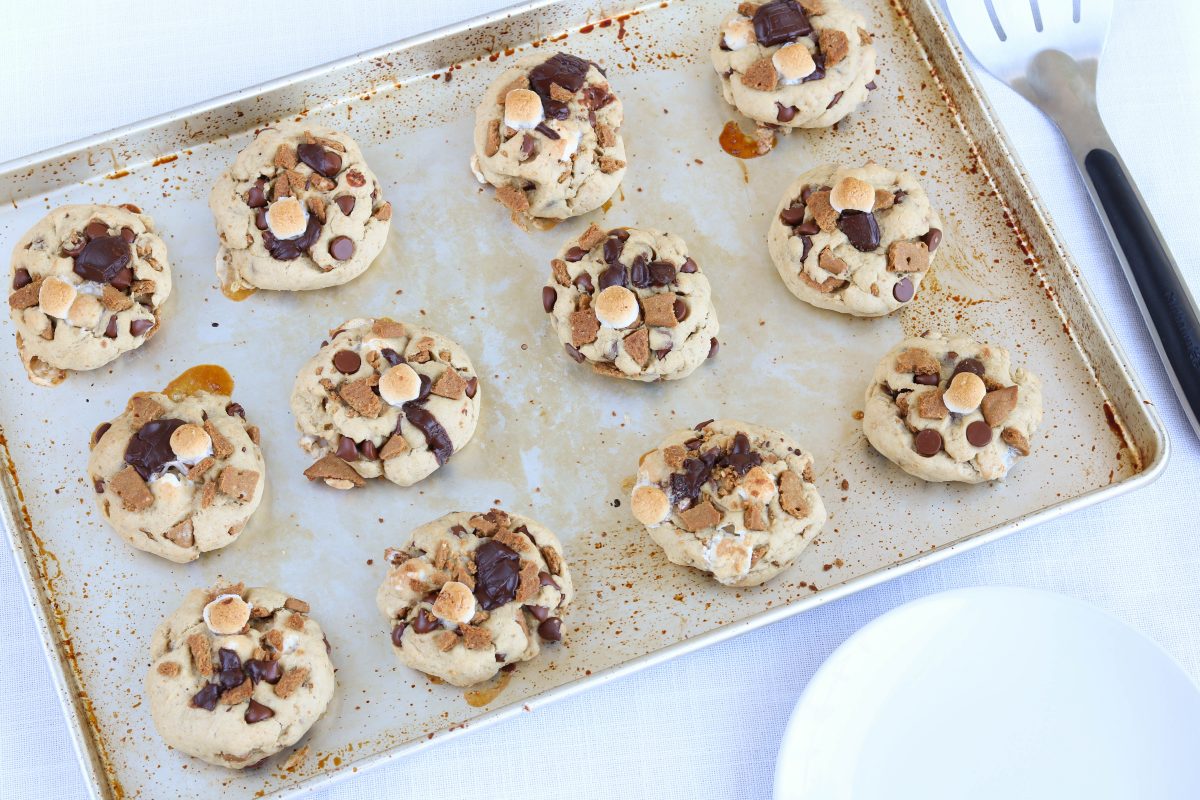 I had been wanting to create a gluten-free S'mores cookie recipe for years but was a little intimidated with finding gluten-free ingredients that would make it both safe and delicious. Thankfully there are ample gluten-free graham crackers available these days (I like Pamela's Honey Graham squares) and high quality marshmallows (I like Dandies). Note that I'm not saying these cookies are healthy or that the marshmallows or any ingredients are healthy but more so just high quality ingredients. I had honestly never had a marshmallow with the junk (think corn syrup, extra preservatives or even food dye- WHY is this necessary in a white treat??) and now I've probably had one too many because they are THAT good.
How do I make gluten-free S'mores cookies?
Here's the basics of what you'll need for these cookies!
Gluten-free flour (with xanthum gum- I used King Arthur and it worked great)
Arrowroot powder
Baking powder/soda
Grass-fed butter
Light brown sugar + white sugar (relatively small amounts)- this cookie is slightly sweet but doesn't need a ton of sugar given all the sweet add-ins!
Eggs (I haven't tried making the recipe without it and I doubt it would work well with a flax egg or other substitute)
Vanilla extract
Chocolate chips
Gluten-free graham crackers
Mini marshmallows
High quality dark chocolate bar (my go to is Hu Kitchen and their Salty Chocolate Bar is PERFECT for this recipe)
Call me crazy (my pregnancy hormones are raging) but I really think these S'more cookies are timeless and can easily span across all seasons. From Christmas cookies (current situation) to Valentine's Day to a summertime S'mores experience- I hope you think of this gluten-free S'mores cookie recipe. I bet if you make them, you'll agree with my assessment.
This will lastly be my last recipe I'll be sharing for 2020. I can't wait to share some new delicious, easy and gluten-free recipes with you in the New Year. Thank you so much for taking the time to be a part of this community! Wishing you and your family a joyful Christmas and blessed holiday season.
Gluten-Free S'mores Cookies
Ingredients
2

cups

gluten-free flour with xanthum gum

(see notes below)*

1

tsp

arrowroot powder

1/2

tsp

baking powder

1/2

tsp

baking soda

1/4

tsp

salt

1

stick

grass-fed butter, cubed

(salted or unsalted)

1/3

cup

light brown sugar, packed

1/3

cup

white granulated sugar

2

large

eggs

1

tsp

vanilla extract

1

cup

dairy-free chocolate chips

3/4

cup

gluten-free graham cracker pieces (about 4 squares) + more for topping (about 1 square)

1/2

cup

mini marshmallows + 1-2 per cookie for topping

1/2

2.1 oz. bar

(1 oz.) Hu Kitchen Salty Chocolate Bar, cut into chunks for topping
Instructions
Preheat the oven to 375F. Mix together the flour, arrowroot, baking soda, baking powder and salt in a large bowl. Set aside.

Place the cubed cold butter into a large, deep bowl. Using a hand mixer (or a stand mixer if you have one!), cream the butter for 30 seconds - 1 minute.

Then add in both sugars and mix an additional minute on medium, followed by the eggs and the vanilla extract.

Turn the mixer down to low and gradually add in the flour mixture. This should take at least a minute.

Next, fold in the chocolate chips, graham cracker pieces, and marshmallows.

Using an ice cream scoop or 2 Tbsp measuring spoon, measure out 12 cookies and place on an ungreased baking sheet. Add in 1-2 chopped chocolate chunks, graham cracker pieces, and marshmallows on top (it helps to slightly wedge them into the cookie dough ball).

Bake the cookies for 10-12 minutes. They should be slightly golden brown on top and not burned on the bottom. Let rest at least 15 minutes before transferring to a cooling rack.
Notes
*I've vetted both Bob's Red Mill and King Arthur Flour 1:1 for these cookies. Other less common brands, like Cup4Cup (and many others) will have different ratios of gluten-free flours and results may vary. For example, Cup4Cup uses a high volume of corn starch, which I've found leads to a very sticky batter even though the end result of the cookie is still good. If you make these with another brand of GF All-Purpose flour, I'd love to know your experience, but I generally recommend either King Arthur or Bob's Red Mill.