---
Disclosure: KISS In the Kitchen received one or more of the products mentioned for evaluation purposes. All opinions expressed are my own.
---
Are you seeing what I'm seeing? Do you like muffins? Peaches? Like to eat? Keep reading.
I've been on the hunt for a new muffin recipe. I'm a huge fan of muffins that aren't overly sweet, have a hearty whole wheat flavor and big chunks of fresh fruit that give a muffin a juicy burst in every bite.
I have found that recipe. Truvia® sent me some of their Brown Sugar Blend and I'm a fan. It sweetens and bakes just like brown sugar, but with less sugar.
So when I found a recipe on their website that met all the aforementioned muffin criteria AND had an oatmeal streusel topping… I was sold. And for all the peach lovers out there, brace yourself. It's goin' down for real.
The only negative is I can't stop eating them. Liiiiike, there's streusel on my keyboard.
KISS Tip #1: Peel the peaches with a pairing knife to get most the skin off- fruit skin in muffins can be a tad strange.
KISS Tip#2: This is what "folding" looks like- you can tell the batter is not over-mixed and each peach isn't buried in batter. Too much stirring = tough muffins.
I deviated slightly from the recipe, by increasing the cinnamon (about 1 tsp in the batter), using rolled oats instead of quick-cooking and I chose coconut oil for the fat source.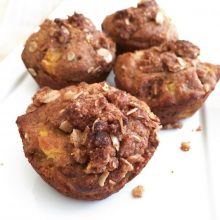 Print Recipe
Peach Muffins with Streusel Topping
Recipe Courtesy of Truvia®
Ingredients
1

egg, lightly beaten

1/4

cup

coconut oil, canola oil or melted butter

1/4

cup

Truvía® Brown Sugar Blend

3/4

cup

lowfat buttermilk

1 1/2

cups

white whole wheat flour

1

tsp

baking soda

1/2

tsp

ground cinnamon

1/4

tsp

salt

1 1/2

cups

peeled and diced fresh peaches
Oat Streusel Topping
3

Tbsp

quick-cooking oats

2

Tbsp

white whole wheat flour

2

Tbsp

Truvía® Brown Sugar Blend

1/4

tsp

ground cinnamon

2

Tbsp

firm butter
Instructions
Heat oven to 400°F. Line 12 medium muffin cups with paper liners or grease with butter or shortening. Make Oat-Streusel Topping; set aside.

Combine egg, oil Truvía® Brown Sugar Blend, and buttermilk in medium mixing bowl.

Mix flour, soda, cinnamon and salt in small bowl. Add to mixture in large bowl. Fold in peaches. Divide batter evenly among muffin cups; sprinkle with Oat-Streusel Topping.

Bake 18-20 minutes or until lightly browned and toothpick inserted in center comes out clean.