Here's my tried and true hospital bag essentials for baby #2 after figuring out what we didn't need and really did the first time around!
There's something special about a second pregnancy that I can't quite put words to. It's still hard, exhausting and this particular pregnancy has been in the midst of our global COVID-19 pandemic, but it's still really nice to just feel like everything is a teeny (emphasis on we're really just talking a small amount here) easier because it's not the first time. There's still discomforts and every pregnancy is different (the nausea and heartburn have been WAY worse this time around), but some of the things you can just enjoy a little more or perhaps worry about a little less. Figuring out what hospital bag essentials were needed this time even felt a little easier!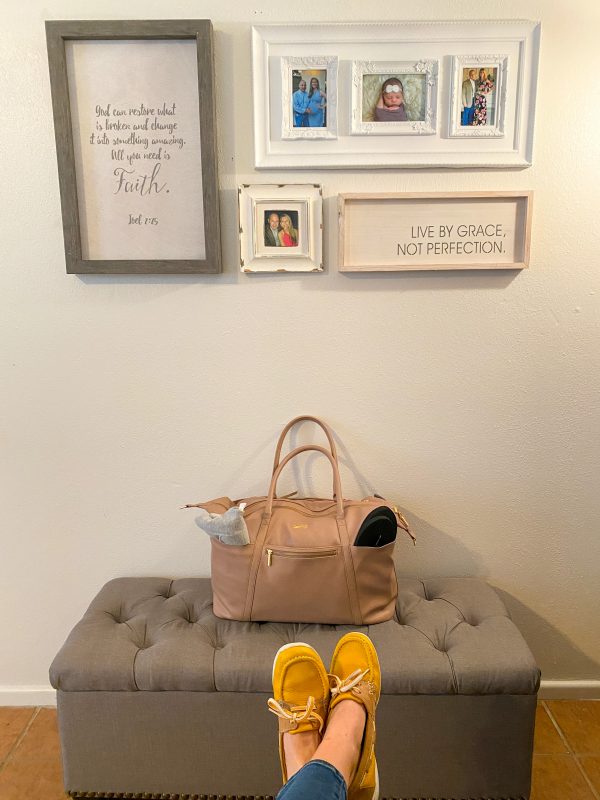 Packing our hospital bag was something I got a ton of joy from the first time around. This time I felt a little more like a veteran and probably was a little too relaxed about it considering one night around 37 weeks, I was frantically throwing stuff in a bag thanks to baby giving us a little possible labor teaser. Thankfully she didn't come then and it was just the kick in the pants I needed to get my bag organized.
I also enjoyed getting a new bag this time around and definitely packed some repeats, included a few new things and didn't include some previous "must-haves" that turned out weren't quite as essential as I thought they might be (hello 0-3 months clothes and a body loofa). If you haven't seen my first post, you can find it here.
What is the ideal hospital bag size and style?
This will likely all boil down to personal preference but I knew I wanted something different than the first time. My bag last time was basically just this huge open duffel bag and so many things were misplaced and not well organized. I knew I wanted something this time with A LOT of pockets and that I could use in the future for travel. I ended up picking this Freshly Picked bag. It's more than I would ever normally spend on a bag but I know I'll use it for years to come and I was super fortunate to have earned an incentive with my Beautycounter mentor and redeemed a portion of it for this treat of a bag!
What are the top 10 hospital bag essentials?
Snacks and drinks. Y'all know I have my priorities straight. I've already packed coconut water (love sipping on this since it's a clear liquid and sometimes water is just hard to drink), electrolyte packets, granola bars (88 Acres are still my go-to), medjool dates and nuts.
Personal care products for you. In addition to the basics (toothbrush, deodorant), I think it's worth including a few essentials to feel more like myself. Even just makeup wipes, my moisturizer, dry shampoo and some chapstick can help me feel a little more perky. Don't forget any postpartum related items like nipple butter,  Motherlove Sitz spray or any other items you may prefer to use your own vs what is at the hospital.
Personal care products for baby. For us that looks like bringing our own diapers and baby balm. I honestly can't remember if we even used any type of "diaper cream" on Joy in those first few days, but I do know I'd prefer to use something I feel comfortable from an ingredient standpoint.
Clothes for you. Good rule of thumb is bringing what fit well at around 6 months pregnant. For me this looks like stretchy pants, shirts that button down, a nursing tank/bra, socks and a robe. Don't forget to pack whatever you may want to labor in if you don't plan on using the gown provided.
Clothes for baby. 1 or 2 outfits tops but definitely include mittens and socks. I overpacked with Joy and also brought 0-3 month options that didnt even fit her until a month later. Stick with the newborn size and make sure it's something that's comfy around their umbilical cord. Otherwise, plan on probably having baby swaddled and not wearing a ton of different outfits while actually in the hospital. Don't forget to bring a gown or anything special you may want to photograph them in if that's your thing :).
Electronics/accessories- camera (if not just using your phone. I brought my DSLR camera and I'm so glad I did- the photos turned out incredible. You can check them out in Joy's Birth Story!) and fully charged battery, cell phone charger, speaker if you plan on playing music during labor. A diffuser + essential oils is also something we packed both the first and second time!
Shower shoes– if you think there's any chance you'll take a shower, just bring some flip flops you can get wet.
Folder bring your birth plan in this (if you have one) and more importantly, use it store any of baby's important paper work before discharge
Birthing ball (already aired up) I've always heard that hospitals have them but depending on how many women are currently using them, they may not be as available. Given we're now almost 10 months into this pandemic…. I'm bringing my ball. I can do math and that puts a whole lot of women likely to be laboring in neighboring rooms!
Whatever Dad needs! Chances are it's not much compared to you and baby but just encourage him to pack what he might need for a possible 2 night stay.
What are some helpful extras to pack in your hospital bag or take with you?
The below items are not necessary but might be might be nice if you have extra space, want to feel extra prepared or if you have extra time waiting for baby to arrive!
Extra collapsible empty bag to keep in the car in case you come home with any extra items or just aren't as neatly packed when you depart.
Nursing pillow. Likely not a must-have, BUT I will say after our breastfeeding experience the first time (train-wreck.. maybe I'll write a blog on it one day), not all breastfeeding pillows are created equal. If you already know you have one you love (my favorite ended up being My Brest Friend and I actually just ordered a different pillow I had never heard of today).
Any supplements you may not want to skip for a couple days- not a make or break, but I would argue postpartum nutrition + nutrition for healing is super important so continuing whatever supplements you may already be taking can be a helpful small step.
Letter board for introducing baby! This can also be helpful if you're on the fence about first or middle names- actually seeing the name spelled out was helpful for us!
Basket of goodies to share with any staff that help you your family during your time at the hospital
If you're a mom to be, I hope you enjoy packing your bag and just know that all your baby needs is you! Even if some of these "must-haves" don't make it with you, it will all still work out just fine. Enjoy this special time and season of excitement and anticipation!