As much as I'd love to say I'm not a procrastinator, that's terribly far from the truth. I can be about as last-minute as they come, but the good news is- some of my best work comes in those last minute crunch times. And I'm super excited to share some healthier and fun Halloween ideas for your family that seriously take seconds to just a few minutes to whip up!
I love to use different holidays as an excuse to get kiddos in the kitchen! Fortunately, these are kid-friendly snacks they will love to make AND eat! Keep reading on how to make the different items featured above! And in case you're wondering what you're looking at (from top left moving counter clockwise to the top right):

1.) Vampire Ice Cubes (no step-by-step instructions needed for this one- it's just frozen 100% pomegranate juice!)
2.) Witch Fingers
3.) Apple Nachos
4.) Spooky Mouths
If your kiddos have a savory tooth more than a sweet one or they just enjoy string cheese (hello, 90% of children), they are sure to love these witch fingers.
Simply cut a cheese stick in half, using a butter knife, make indentions [knuckles] on the middle of the string cheese and apply a thin layer of hummus to the end of the finger. Slice the end of a baby bell pepper and cut that small end piece in half to make the perfect pointy and creepy finger nail!
Apple Nachos are always a win and make for a great treat for Halloween or any day!
Place apple slices (I like the pre-sliced ones to save on time and have found they tend to be fairly cost-effective compared to some other pre-chopped fruits and veggies) on a plate and top with various fun toppings and sauces! Some of my favorite toppings are pretzel pieces, nuts and chocolate chips. Chocolate and caramel drizzle are fun and the squeeze bottle is a great way for a less messy nacho versus the sauces in glass jars!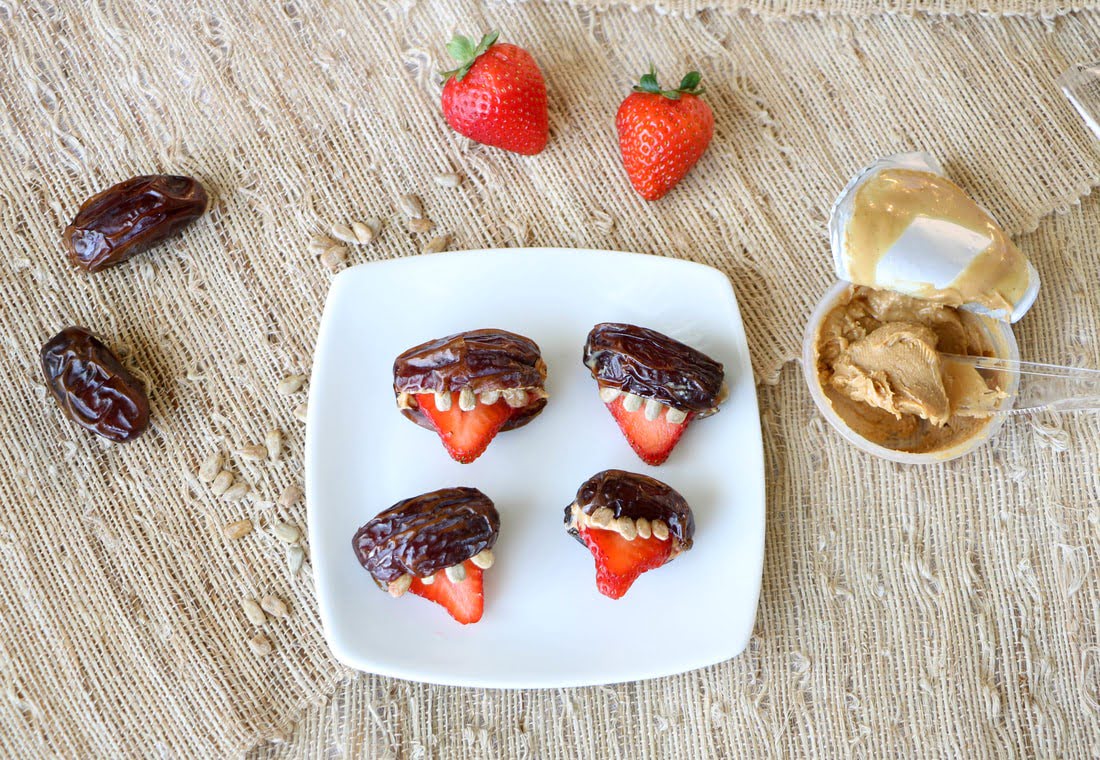 I came across these Spooky Mouths in the latest Natural Delights Medjool date email newsletter and knew they'd be perfect for little hands wanting to make something scary and sweet!
Simply slice a date in half, remove the pit and put about a teaspoon of nut or seed butter inside the date. Shove sunflower seeds in the top fleshy part of the date to make some "teeth" (very carnival-esque teeth, I may add) followed by a fresh strawberry slice for the tongue. These couldn't be any easier to make and they look downright weird!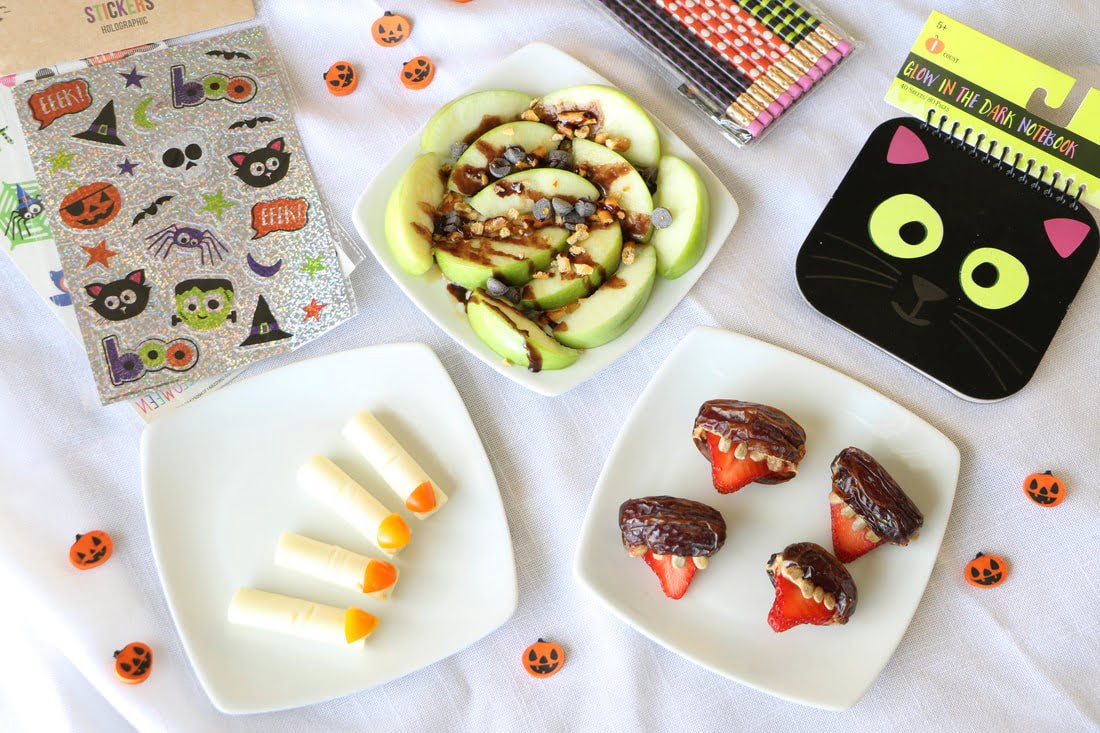 One final reminder for any parents looking for food allergy-friendly trick or treat items, school supplies like notepads, pencils, erasers and stickers make for fun and practical items to hand out! I love to make a quick visit to the dollar store to pick up temporary tattoos, hair ties, glow sticks and sidewalk chalk also- many items are cheaper than candy and they're guaranteed to be safe if you have any concerns for food allergies! Wishing you and your littles a safe and fun Halloween!