I owe way too many people an apology for not posting this recipe sooner. I may have teased it one too many times on social and then every time something would happen and I didn't get it up. #momlife #tiredmom
But alas, it's here and I promise it's worth the wait! This Lemon Chicken Zoodles with Spicy Sesame Oil is a game changer for your weeknight menu.
I'm a pretty big zoodle fan, but mainly because I love vegetables. If I'm in the mood for pasta, substituting zucchini spirals doesn't usually satisfy that craving, so I would recommend using your favorite pasta if that's what you have the hankering for. Otherwise, the flavors and textures of this dish really work with the zucchini!
This is a light dish with lemons, sage and walnuts incorporated into grilled chicken, tomatoes and zoodles. The finishing touch is a generous drizzle of spicy sesame oil and the flavors marry so well. If you make dish once, I feel pretty confident you'll make it twice ;).
It tastes just as good as it looks and is pretty simple to put together. I also think it would go nicely with shrimp if you're wanting a break from chicken or just enjoy shrimp more!
Apologies again for taking way too long to get this recipe up and I hope you don't wait as long to make it as I did to post it!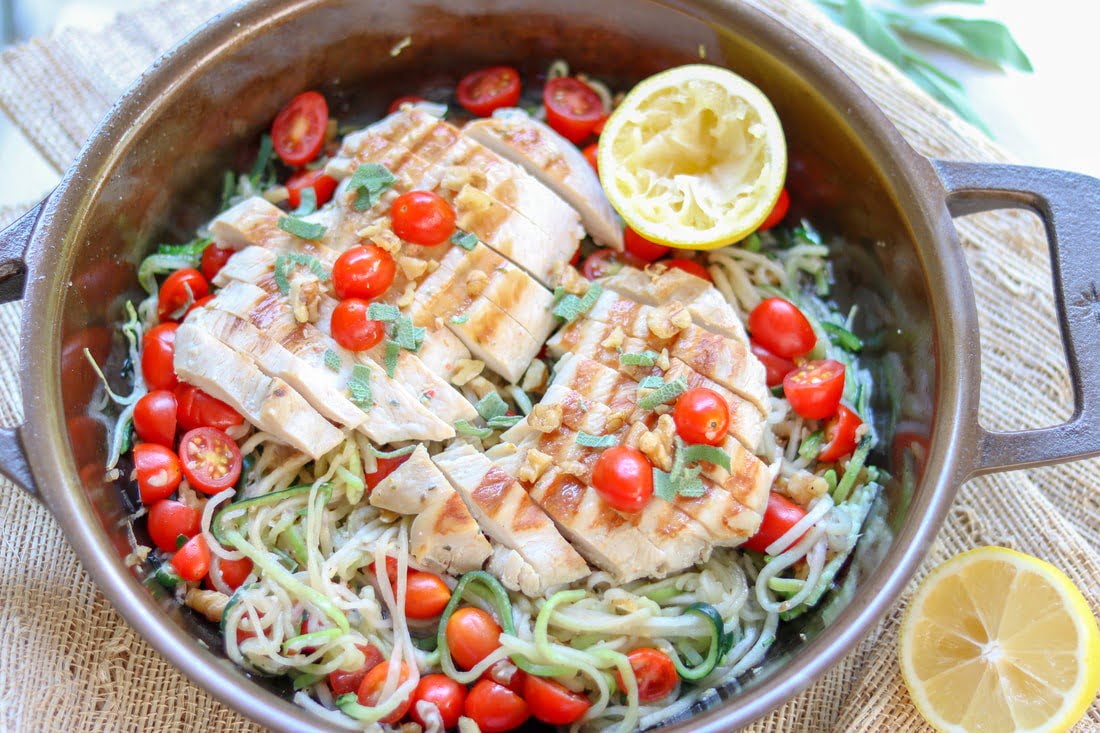 Print Recipe
Lemon Chicken Zoodles with Spicy Sesame Oil
Ingredients
1

lb.

chicken breasts (about 2 large)

6

cups

zucchini spirals

1

Tbsp

avocado oil

1

tsp

fresh minced garlic (dried works fine also)

1/2

tsp

black pepper

1

pint

cherry tomatoes, halved

1/3

cup

chopped walnuts

4

fresh

sage leaves, torn

1

lemon, sliced in half

3

Tbsp

Chosen Foods Spicy Sesame Oil
Instructions
If you have a favorite way to cook chicken breast, feel free to do it your own way. MY personal favorite is to season with salt and pepper then use an indoor grill with a press, but if you don't have one of those, here are the simple steps to successfully cooking chicken breast that I first learned from The Kitchn!

While your chicken is cooking, chop the tomatoes and walnuts.

Once your chicken is almost done cooking, in a medium skillet heat the avocado oil. Add the zoodles, garlic and pepper and saute for about 3-4 minutes. Squeeze the lemon halves over the zoodles and stir.

Add in cherry tomatoes and cook for additional 2 minutes until they soften slightly. 

Slice chicken and place on top of zoodles and tomatoes, followed by the walnuts and torn sage pieces. Squeeze additional fresh lemon juice on top, if desired, then drizzle with Chosen Foods Spicy Sesame Oil and enjoy!