Sheet pan meals are where it's at, y'all! But then again, y'all already know that. Whenever I take polls on Instagram to find out what recipes y'all want more of, it's often sheet pan meals. Instant Pot recipes are also a popular answer so I'll be working on some of those for y'all soon! In the meantime, y'all can try out this under 20 minute delicious meal that cooks at the same time to make your life just a bit easier :).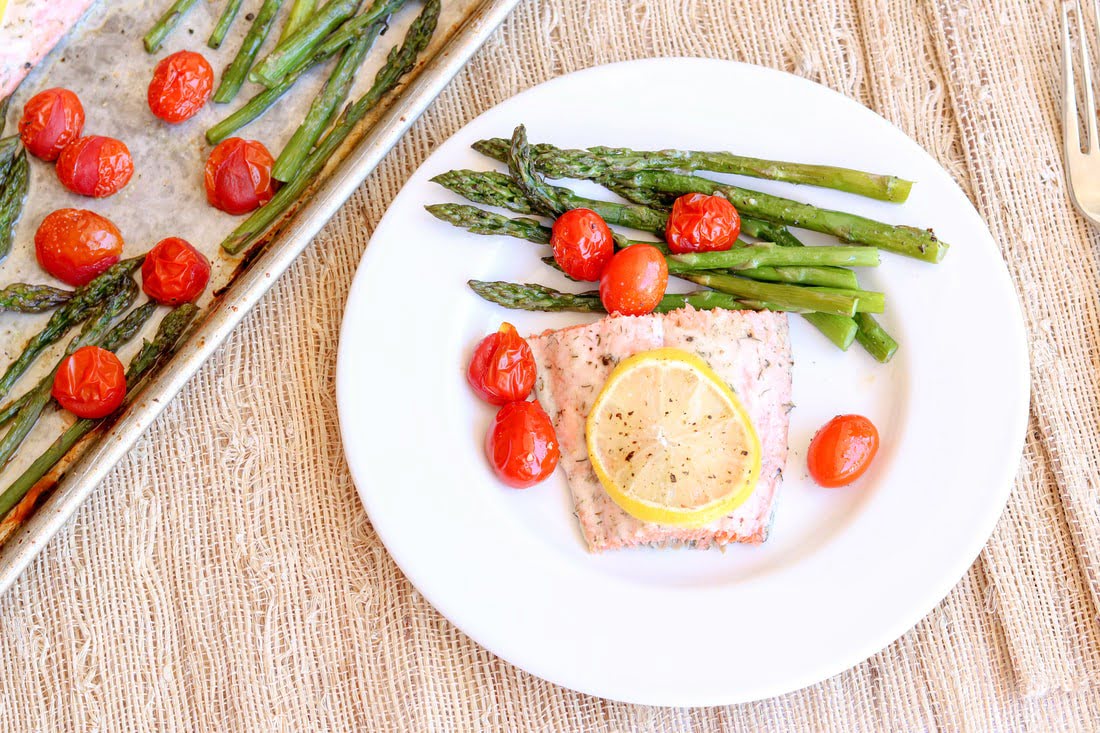 Things have been pretty crazy (in a good way) lately! Joy is almost one (not sure how that happened!) and KISS in the Kitchen is expanding! I'm bringing on a fantastic assistant to help me keep my act together ;). My goals are more consistent content for y'all, more resources for keeping a healthy non-toxic home and also to help me have a better work life balance. Maintaining KISS in the Kitchen's mission to be a safe place to come for simple recipes and tips is at the forefront of what I do and now I'll have extra hands to further our mission! Now back to this simple recipe ;).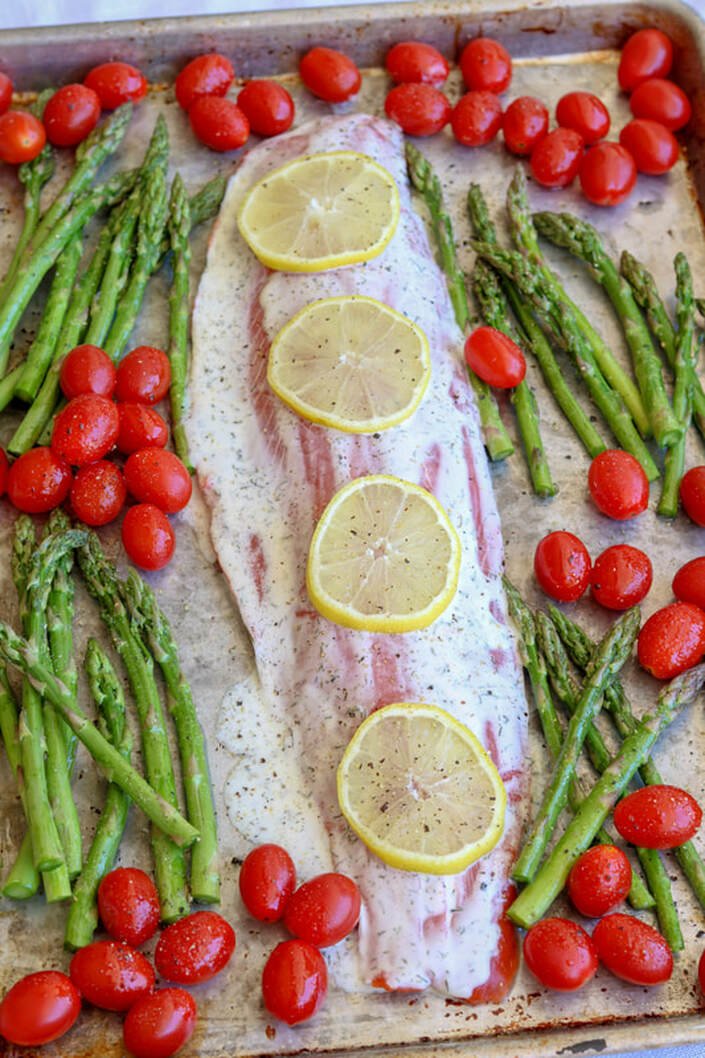 I tend to gravitate towards citrus flavors when cooking seafood. If you're one of the many who have loved this Citrus Shrimp & Zoodles Sheet Pan, you will love this one too. And if you haven't already made the shrimp sheet pan- it's an 8 minute cook time so definitely check that one out. I mean, who can't use more meals in their life that take under 20 minutes to prepare!?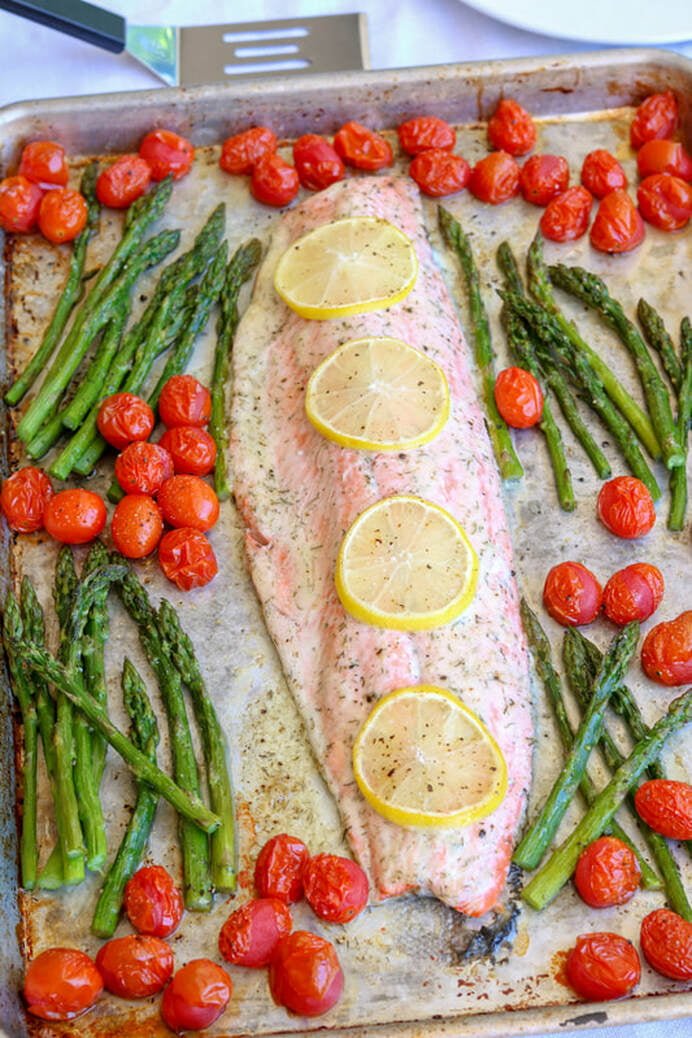 This creamy lemon dill sauce is a cinch to whip together and doesn't have any wonky unnecessary ingredients you might find in a store-bought sauce or marinade! 
I love using cherry tomatoes in sheet pan meals because they are the simplest yet somehow most exquisite veggie (technically fruit) to bake. They're forgiving with cook times and when they burst they're even more delicious! I hope you enjoy this meal as much we did!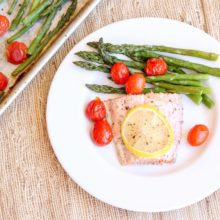 Print Recipe
KISS Lemon Dill and Seasoned Veggie Sheet Pan
Ingredients
1

lb

sockeye salmon

1

lb

asparagus,

trimmed

1

lb

cherry tomatoes

1

small

lemon,

sliced in 1/4 inch rings

3/4

tsp

salt

1/2

tsp

black pepper

1

tsp

garlic powder
For the sauce
1/4

cup

avocado mayo

 (homemade or paleo- I like Primal Kitchen's!)

1

tsp

dill

1

Tbsp

lemon juice

1/2

tsp

golden balsamic

(if you don't have this ingredient you can omit and it will still taste okay. The golden balsamic just gives it an extra zing and hint of sweetness!)
Instructions
Preheat oven to 400°F and line a baking sheet with parchment paper.

Prepare lemon dill sauce by whisking all ingredients in small bowl.

Place sockeye in middle of baking sheet and generously brush with sauce, reserve the rest to serve with meal.

Arrange asparagus and cherry tomatoes around salmon and sprinkle with sea salt, pepper and garlic powder.

Bake for about 15 minutes. Tomatoes should be bursting, asparagus should be tender and salmon will flake.

Enjoy and top each salmon piece with a spoonful of the lemon dill sauce!