Thanks so much for stopping by KISS in the Kitchen today. If you're looking for the free download for Balanced Back to School Lunches- there you go! And here's an entire post about balanced lunches for kiddos with a Banana Nut Butter Date Rollup that the kids will swoon over!
---
I'm a huge sandwich fan- I mean, literally- in my bio it says "Sandwich Maker". I'm the girl that when given a plate of pancakes, eggs and sausage turns it into a pancake sandwich…. how else are you supposed to eat that plate of food? And a sandwich for breakfast is one of my fav ways to start the day (after coffee and some time with Jesus, of course). So with back to school, time is one H-O-T commodity. Don't worry- I got your back. And your belly.
These are too easy to make- you can pre-assemble the sandwich ingredients while the eggs are cooking in the oven then layer 'em up after your eggs have cooled and put them in the freezer for your next grab n' go breakfast (or dinner…. whenever you need a fast and balanced meal!).

​Confession– this was my first experience baking eggs… *hits self in head*. Why haven't I done this before? That second picture is where the money's at- by breaking up the yolk a little bit, you end up with a nice blend of baked egg white and egg yolk.
While you're waiting for the eggs to cool down, you can assemble the sandwiches. It's really THAT easy.
KISS Tip: Personalize these breakfast sandwiches! 
-Add sauteed spinach, mushrooms, onions or other veggies to the egg mix when baking!
​-Add a sprinkle of nutmeg, paprika or garlic powder for a hint of spice!
-Use a variety of cheese or English muffins so you don't get burnt out on the same breakfast sandwich (although this one taste so good, not sure if the burn out is possible)! 
Once you've assembled your sandwiches, these babies need to be wrapped in plastic wrap (TIGHTLY) and placed in a freezer Ziploc bag. I bet you can't make these and not eat at least one before freezing them…. at least, I can't.
A breakfast sandwich can totally be a balanced breakfast- you've got whole grains and quality protein- just add a side of fruit and you're good to go!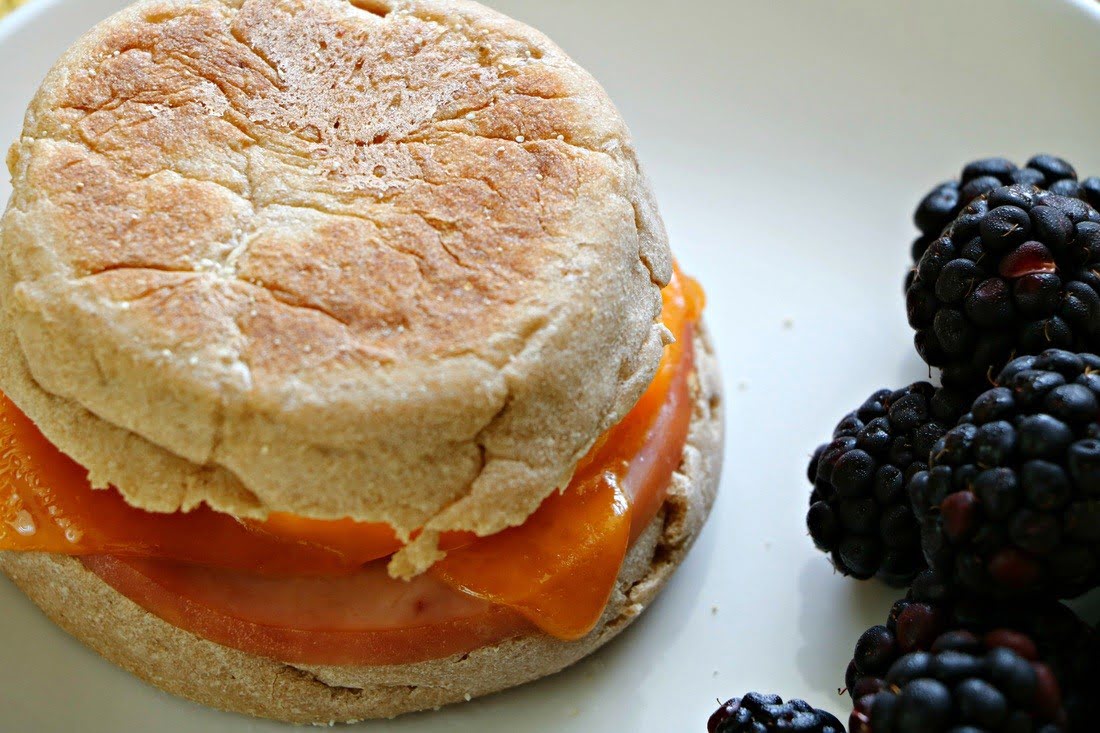 Print Recipe
Make-Ahead Freezer Breakfast Sandwiches
Ingredients
1

dozen

large eggs

1 1/2

cups

sauteed vegetables, if desired

12

whole grain

English muffins

12

thick slices

of ham, Canadian bacon or deli meat

Salt & pepper

12

slices

reduced fat cheese

(your favorite type)
Instructions
Preheat oven to 350 degrees and lightly grease a 12 count muffin tin. 

Crack one egg in each hole and lightly beat each egg with a fork or whisk. Season with salt and pepper. Bake for 12 minutes or until the eggs are firm. Remove from the oven and let cool.

Place a piece of plastic wrap on the counter and place English muffin bottom on top of the plastic wrap. Place a slice of ham or meat of choice on the bottom layer, followed by one baked egg, cheese slice, followed by the English muffin top. Wrap tightly in plastic wrap and set aside. Repeat with the remaining muffins, ham, egg and cheese.

Place wrapped sandwiches in a tightly sealed freezer bag and place in freezer.

To reheat sandwich, remove one sandwich from the freezer bag and remove plastic wrap. Wrap a moist paper towel around the sandwich and microwave for about 1 1/2 – 2 minutes in 30-45 second intervals until heated through. Remove from microwave and enjoy with a side of fruit!