Sheet pan meals are basically a survival method during high stress seasons. I recently made my 8 Minute Citrus Shrimp and Zoodles Sheet Pan recipe on the air at Great Day SA and it was such a hit! If you haven't tried it, I promise you'll love how fast, easy and delicious it is! It inspired me to brainstorm more sheet pan meals and I knew I wanted to create one with chicken tenders. The slightly sweet and tangy marinade plus the sweetness of sweet potatoes make this one delicious and flavorful meal!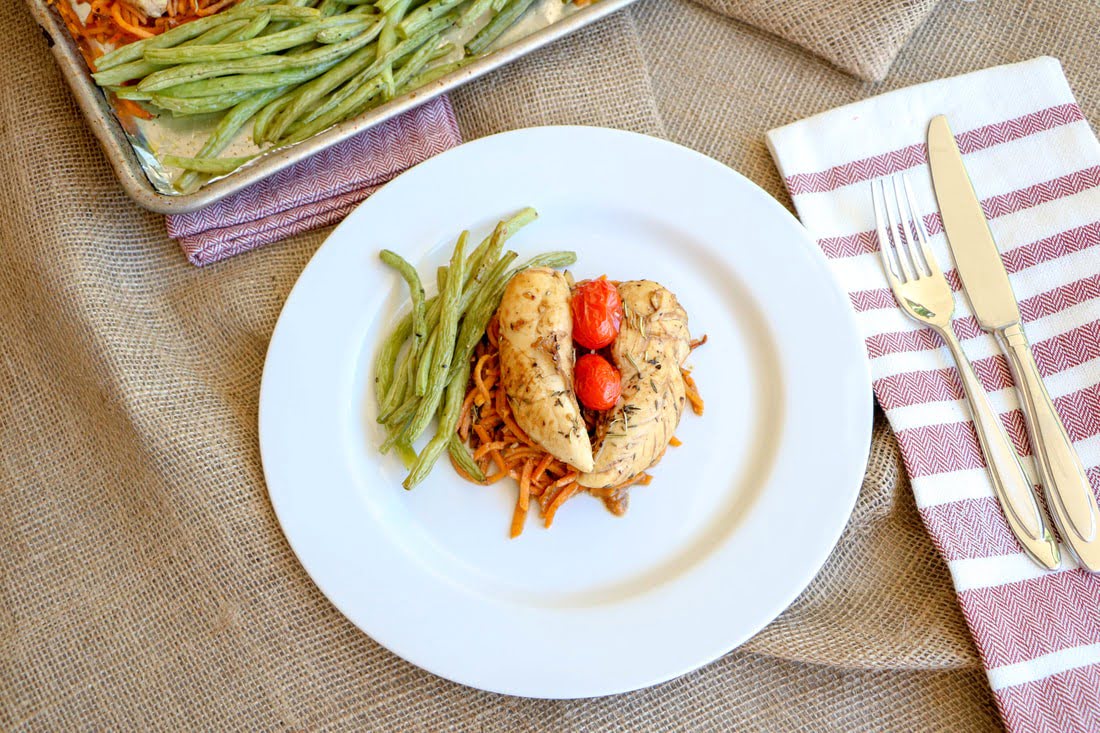 I'm shooting real straight with y'all and sharing what I learned while creating this recipe in a short and sweet version (because the baby is asleep and I need to be packing for a trip and get some Z's!!).
1.) The flavor on this dish is bomb, but I really think the chicken needs to marinate for 6 hours or overnight.
2.) I would use skinny tenders or pound the chicken to less than 1/2 inch thickness.
3.) The green beans need to be cut in small pieces than what you see in the photo. I love al dente, but they were a bit too crunchy if you leave them that long. Cut them in half or even thirds.
This is the perfect year-round meal and definitely one that will make the whole family happy. From little eaters to teenagers eating you out of house and home, this sheet pan supper is sure to satisfy! Like that alliteration, huh?
KISS Tip: If you're craving more of a creamy sweet potato, I would substitute a baked sweet potato by either roasting some sweet potatoes ahead of time or microwave a couple while this is baking. These swoodles are delicious, but they definitely have more of a slightly al dente texture instead of creamy sweet potatoes.
Print Recipe
Maple Balsamic Chicken and Sweet Potatoes Sheet Pan Meal
Ingredients
1 1/2

lbs.

boneless skinless tenders, pounded if more than 1/2 inch thick

1

10.7 oz. package

or about 5 cups spiralized sweet potatoes

1 1/2

lbs.

green beans, ends trimmed and cut in half or ~2 inch pieces

1/2

cup

cherry tomatoes

1 1/2

Tbsp

avocado oil

1/2

tsp

cinnamon
Marinade
1/4

cup

pure maple syrup

1/4

cup

balsamic vinegar

3

Tbsp

dijon mustard

2

Tbsp

fresh lemon juice

2

Tbsp

avocado oil

2

Tbsp

minced garlic

1

tsp

dried thyme or 1 Tbsp finely chopped thyme

1

tsp

dried rosemary or 1 Tbsp finely chopped rosemary

1/2

tsp

salt

3/4

tsp

ground black pepper
Instructions
Mix all the marinade ingredients together and if chicken tenders are more than about 1/2 inch thick, use the flat end of a meat tenderizer to pound the chicken to about about 1/2 inch thickness.

Either place chicken in a gallon resealable bag with marinade OR place chicken in a glass baking dish and cover with marinade. I prefer the resealable bag for easy cleanup, but your call!

Let chicken marinade overnight or for at least 6 hours.

Preheat oven to 400°. Line a baking sheet with foil and coat with oil.

Toss spiralized sweet potatoes in 1/2 Tbsp avocado oil and place on center of the prepared baking sheet and sprinkle the cinnamon on top.

Place chicken on top of the sweet potatoes.

Toss cut green beans in 1 Tbsp avocado oil, dust with salt and pepper and spread out green beans in the space above and below the sweet potatoes and chicken.

Add in the cherry tomatoes on top of chicken. You can add a lot more if you enjoy roasted tomatoes!

Bake for about 22-25 minutes or until the chicken reads 160° when checked with a meat thermometer.

Serve immediately and enjoy!