​There's just something about skillet desserts that take dessert to a whole 'nother comfort-food level. The combination of cast iron, warm naturally sweet berries, hearty oats and fall spices make this dish a 10 on the comfort scale.  It's kinda like a hug. A bear hug.
​The downside to a lot of skillet desserts is often the richness of the recipe, to the tune of oodles of butter, sugar and whipped cream. I believe there can be a place for those recipes- very special occasions or if you're one of those that can discipline yourself with just a few bites (I.. uhh… don't fall in that category), then cool. But I'm all about modifying and lightening up recipes to make them healthier while still tasting completely indulgent. I chose one of California Giant Berry Farm's recipes in their latest e-book to lighten up and also make allergy-friendly!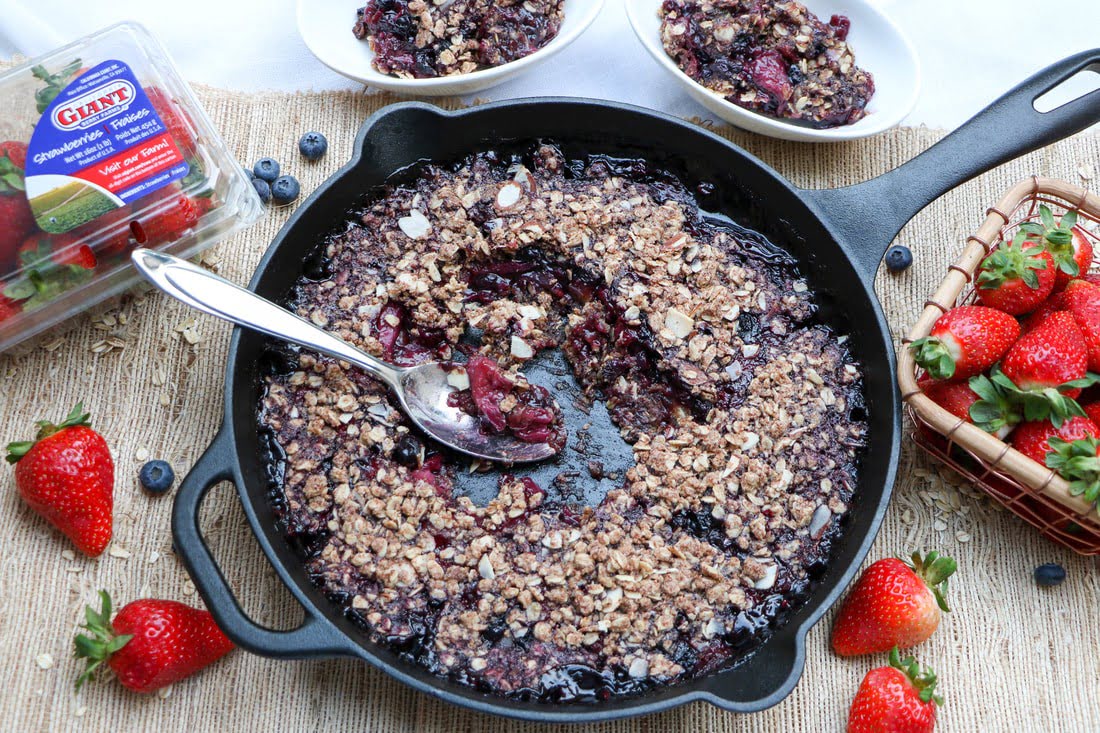 ​California Giant Berry Farms actually has a FREE eBook download with 6 recipes and 6 skillet tips and tricks you can download from their website! Cast iron cooking is all the rage right now, but there's a few insider tips that are super helpful when busting out the skillet! You'll also find the recipe that inspired this one, a Strawberry & Oat Skillet Crisp with Maple Whipped Cream, along with 5 other mouthwatering recipes. There's even Skillet Brownies; what more could you ask for?
​One of the reasons I LOVE using berries in desserts is their natural sweetness that allows for using less added sugar! Plus, fruit tends to get even sweeter when heated so this Berry Maple Oat Skillet is a win for so many reasons.
I find California Giant Berry Farm's strawberries to be the sweetest of all berries in the supermarket. Plus, they're naturally large because of the perfect combination of the soil, climate and location of the farm.  And I can feel confident knowing that this family business never sprays pesticides on their non-GMO berries!
And since this recipe was modified to be allergy-friendly, even the whipped cream is dairy-free! If you haven't made coconut whipped cream before, you've gotta try it. It's a delicious life-saver for those with dairy issues and the naturally sweet coconut flavor complements the maple and fall flavors in this berry good skillet dessert! 
And one last thing- I went back and forth whether to call this a crisp or a crumble. Apparently they're used to be somewhat strict definitions for each, but now can be used interchangeably. I finally decided on crumble because I think it describes the texture more accurately. Crisp or crumble, it's delicious either way! Hope you enjoy!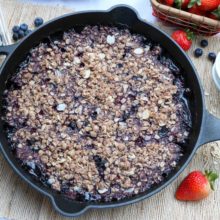 Print Recipe
Maple Berry Skillet Crumble
Ingredients
4

cups

quartered California Giant Strawberries

2

cups

California Giant Blueberries

1/2

cup

maple syrup

1

tsp

vanilla extract

1 1/4

cup

Gluten Free 1:1 All Purpose Flour

1 1/4

cup

Gluten-Free Oats

1/4

cup

brown sugar

1/3

cup

coconut palm sugar*

1/3

cup

sliced almonds

1 1/2

tsp

cinnamon

1/2

tsp

ground ginger

1/4

heaping tsp

baking soda

1/4

heaping tsp

baking powder

1/4

tsp

salt

1/2

cup

coconut oil, melted

1

can

full fat coconut milk, refrigerated overnight
Instructions
Preheat cast iron skillet in a 350 oven.

In a medium saute pan, simmer strawberries, blueberries and maple for 10 minutes over low-medium heat.

Meanwhile, combine the flour, oats, sugars, almonds, spices and baking powder and soda in a medium mixing bowl and then stir in melted coconut oil until there are pea size clumps. Tip: I find sometimes it works well to use your (clean) hands to mix this together.

Carefully remove preheated cast iron and evenly spread half of oat crumble on bottom of skillet. Using a ladle or serving spoon, evenly top with berry mixture, followed by the remaining oat crumble on top.

Bake for 35-40 minutes or until golden brown on top.
For coconut whipped cream
Chill mixing bowl and whisk in the fridge or freezer for at least 10 minutes.

Open can of refrigerated coconut milk and make sure all the solid fat has risen to the top after being refrigerated overnight.

Scoop off the fat and place in cold bowl. Using your handheld mixer with the whisk attachment, beat the coconut milk for 2-3 minutes until stiff peaks form.

You can choose to add 1 Tbsp of sugar if you want, but it has a nice natural sweetness to it already!

Serve immediately over the Maple Berry Crumble and enjoy frequently ;).
Notes
*I played with the sugar content a lot and found this to be just the right amount of sweetness. If you're wanting an extra sweet crisp, I'd increase the coconut palm sugar to 1/2 cup!