I know that name is a mouthful- and so are these cereal bars. A mouthful of goodness that kiddos and adults are sure to love. And like most of the treats you'll find here at KISS in the Kitchen, these bars are gluten and dairy free, so they're safe to enjoy if you need to avoid those ingredients! If you have a PB or nut allergy, keep reading for substitution tips below!
You've probably stumbled across pumpkin cereal at the grocery store during this fall season or possibly on an aisle end cap- because pumpkin everything, right? If you haven't seen pumpkin-laden cereal yet, I found Sprouts Toasted Pumpkin Loops (featured in this recipe) and of course, your classic Pumpkin Spice Cheerios are also available.
I think these bars make for a fun fall-treat to include in your kiddo's lunch or an after-school snack, but are a tad sweet to qualify as a stand-alone breakfast. If you put some extra protein with it (eggs, milk or whatever protein your kiddos enjoy), I'd let it fly for breakfast ;).
This recipe is super simple with only 4 ingredients- pumpkin cereal, peanut butter, almonds and maple syrup. They are such a fun texture with the combination of cereal and crunchy nuts. 
KISS Tip: If you can't do PB or almonds, try substituting Sunflower Seed Butter for the PB and/or Pumpkin or sun flower seeds for the almonds!
This is also a great year round recipe- just use regular "un-pumpkin" cereal ;).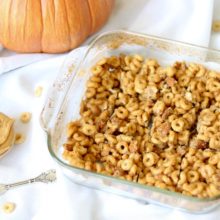 Print Recipe
Maple Pumpkin Peanut Butter Bars
Ingredients
2 1/2

cups

pumpkin cereal

(I used Sprouts Toasted Pumpkin Loops)

1/2

cup

chopped almonds

3/4

cup

creamy peanut butter

1/2

cup

maple syrup
Instructions
In a medium sauce pan, heat peanut butter and maple syrup over medium heat for about 5 minutes or until well mixed and a smooth semi-thin liquid.

In a large bowl, combine cereal and almonds. Add warm peanut butter and maple into dry ingredients and mix well.

Pour mixture into an 8X8 glass dish lined with parchment paper. Press mixture firmly with wooden spoon or spatula and chill for at least one hour in the fridge.

Using a sharp knife, cut into 12 even squares. Store in fridge for up to one week.