---
This is not a sponsored post. Some of the below products I received for free and there may be affiliate links, but all opinions are my own and as always, I only promote brands and products I'm truly passionate about!
---
Being a mom has been a blend of everything I thought it would be and a lot of things I totally wasn't expecting. It's all the things I dreamed of, like being totally in awe and in-love with my baby and being utterly exhausted in a way that can't even compare to any other season in life. Those are the things I expected (and of course there are others), but I didn't expect the feeding challenges or the blood curdling screams. I played a lot of "baby crying" videos from YouTube to help prepare our dog, but none of them quite had the octave of sweet Joy. That being said, I can't imagine life without her :).
​Regardless of whether your newborn journey is just how you pictured it or if it's drastically different, chances are, all our journeys have a distinct element of "survival". Survival mode has been the epitome of the newborn phase and I'm excited to share some of the baby and mama items that have been super helpful for us during this newborn and postpartum period!
---
The Ollie World​ Swaddle
My friend Lindsey of Sleep Little Lamb made sure to let us know how important swaddling is for newborns. Creating a "4th trimester" for a fresh babe outside the womb can be incredibly helpful to calm and soothe. Swaddling is definitely an art and somehow Mr. KISS in the Kitchen is a master swaddler. I, on the other hand, am not quite as skilled and when using muslin blankets, it's approximately 4 seconds before my daughter is flailing her arms. THANK GOODNESS for the Ollie Swaddle! No wonder it's known as The Smarter Swaddle™. It's made from custom moisture-wicking material to help reduce the risk of overheating and with a custom fit, it meets the needs and size of each little one! You can even do an easy access diaper change from the hole in the bottom and since it's one size, it's a breeze when transitioning to different stages. You can see Miss Joy is nice and snug in her Ollie below! Click the photo below to shop at The Ollie World and you can "Sign up and save 10% off your first order"!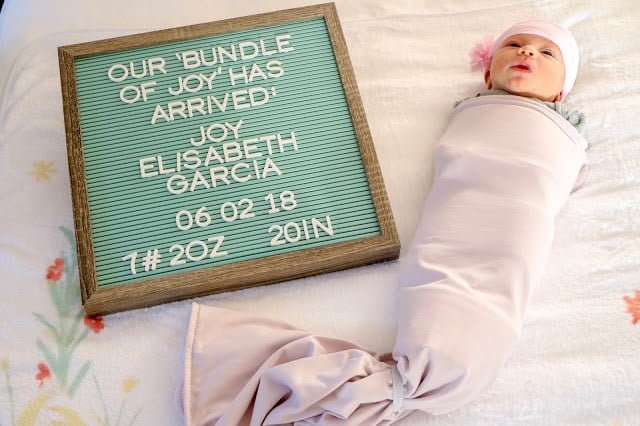 DockATot
​This portable lounger has been such a helpful napping tool for us. The DockATot is a multi-function lounger, co-sleeper, and playtime lounger. Babies can sleep, play, and chill in an incredibly comfortable and safe dock that can be easily moved around the house or when traveling! Although Miss Joy often has a hard time getting to sleep, she sleeps much harder and longer when she's in her DockATot! All DockATots have been tested for breathability, are made from non-toxic materials, and are an ideal micro-climate for babies and tots. The Deluxe DockATot that Joy is in below is designed for 0-8 months, but there's also the Grand DockATot which is ideal for 9-36 months. Click the photo below to learn more about DockATot and check out all their adorable patterns. There's even a summer sale going on right now!
Solly Baby Wrap
Our sweet girl was lip and tongue tied, so that made our first several weeks especially challenging. Feeding was a living nightmare and after we got her lip/tongue tie revised, she had a several day stretch where she did not want to be put down. My Solly Baby Wrap was a tremendous help and allowed me to have my hands free for other things or just give my arms a break from holding her! Plus, it's buttery soft and breathable so even in Texas, I can wear her without overheating either one of us!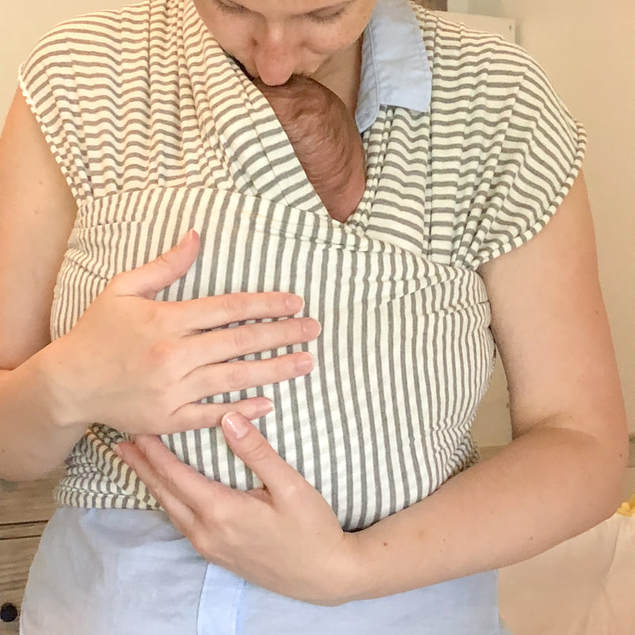 Binxy Baby
I wasn't one of those moms that was super eager to get out of the house after we came home from the hospital. We had more appointments than I wanted so a trip to the grocery store or Target sounded awful. However, at about the one month mark I was feeling more ready to take on Target. The Binxy Baby was a safe and comfortable way to keep Joy secure in the cart. Several people stopped and asked me what she was resting so comfortably in, including one mama who was holding her 3 month old, while shopping. I wasn't surprised when she said she was going to order one that same day! The Binxy Baby is safety tested, fits most standard grocery store carts and is used for babies up to 6-8 months of age or until they can sit up on their own. It can even hold the carseat and supports up to 50 pounds in weight.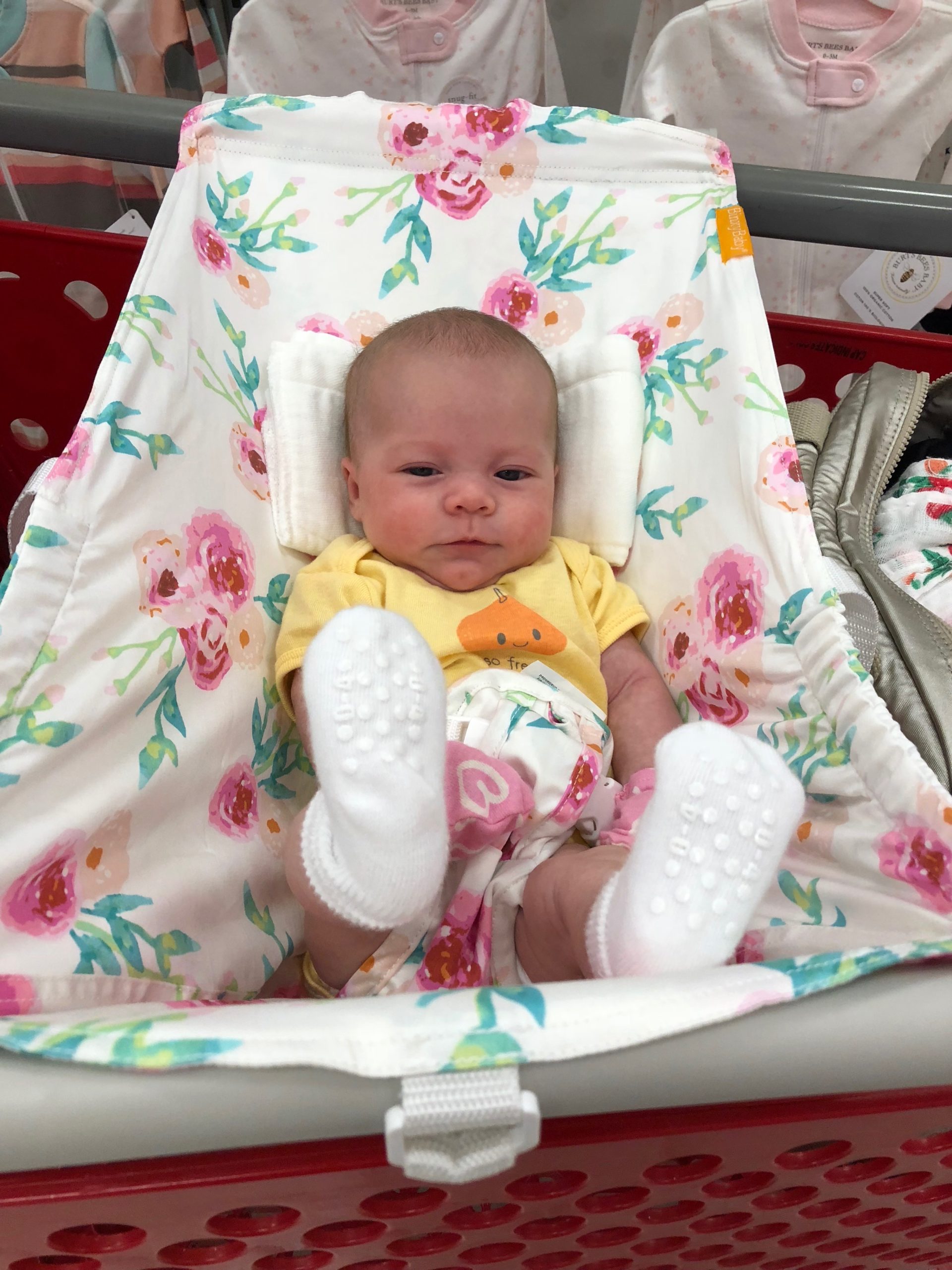 Milk Snob Cover
The entire postpartum experience and newborn period looked a lot different than I thought it would. I thought we would be hunkered down at home for quite some time, but instead the day after we came home, we were back out making a visit to the outpatient lactation office. The next day we were at the pediatrician. A few days later we were at the pediatric dentist. You get the idea… and you bet I wanted to cover our little peanut up to protect her from the sun, germs, people and the like. Plus it's super cute ;).
Childhood Sleep Consultant
My friend Lindsey with Sleep Little Lamb has been a wealth of knowledge for us! Who knew there are ideal wake and sleep times for a 3 week old? Kudos to you if you know that stuff, but this new mama was/is clueless. Having an expert breakdown the fundamentals of newborn sleep in an easy to understand and compassionate way has been super helpful. Lindsey gets to work with families in their homes here in San Antonio, but can provide virtual services across the U.S. and worldwide!
VAVA Nightlight
This is seriously a hidden gem. My friend Amber recommended these little nightlights and they're fantastic. Whether I'm pumping or breastfeeding in the middle of the night or changing a diaper, it's really nice to not have to turn on a bright overhead light. These little nightlights can be turned on/off or dimmed all with the touch of your finger and they're rechargeable- no batteries needed. I'll be ordering a couple more of these from Amazon soon!
​​Bamboobies Nursing Pads
Nursing pads are not created equal. The disposable ones have a time and place, but I found all of the material to be rather irritating. The Bamboobies nursing pads though are honestly the softest material ever and incredibly comfortable. They're easy to launder and since it seems the washing machine is ALWAYS going, I just toss the pads in with a load of baby girl's clothes and dry them on gentle. Easy peasy- can't recommend these enough.
​Earth Mama Organics Nipple Butter
This is another life-saver. I actually started using this nipple butter when Mr. KISS in the Kitchen and I were on our babymoon in Colorado Springs. The weather was so cold and dry and I found myself in need of some nipple butter. Needless to say, cold dry weather doesn't have anything on a newborn with a tongue and lip tie… the nipple butter has been a life-saver. I also put it on Joy's dry skin which surprisingly works even better than coconut oil!
Our Glider
I knew I would be spending a lot of time in the glider, but just like everything else you think you know before you're a mom (but then you REALLY KNOW once you're in it), I likely spend more than half of my day in the glider. We purchased ours at a local store, Crib and Kids, and were equally as thrilled with the service as we were the glider! The store is adorable, the staff were so helpful and I couldn't be happier with the glider!