I'm excited to partner with Pure Maple Syrup from Canada for this post! As always, all opinions are my own, and I only partner with brands and products I genuinely love using in my own kitchen.
This Maple Banana Overnight French Toast is the perfect french toast bake that requires minimal effort. Simply add cubed bread, mashed bananas, eggs, pure maple syrup and spices in a prepared dish and let rest overnight. It's the perfect comforting and easy make-ahead breakfast for the whole family.
Make-ahead breakfasts are often the lifeblood of our kitchen. When I'm short on time, something like an overnight french toast bake that I can throw together in less than 15 minutes the night before is exactly what I need. So whether you're short on time or just want a new make-ahead breakfast recipe, this maple banana overnight french toast is going to be your new favorite (promise!).  The addition of pure maple syrup and fresh bananas on top of an already maple-y + banana-y french toast is truly scrumptious.
What are the benefits of maple syrup?
Pure maple syrup from Canada is a natural sweetener derived directly from the maple tree's sap that, and when consumed in moderation can be part of a healthy diet. 
Pure maple syrup is my go-to sweetener of choice because it actually has nutrition in it! Pure maple syrup contains vitamins and minerals – at approximately 110 calories per serving (2 tablespoons).
Maple is an excellent source of manganese (35% of the daily value). Manganese is involved in many chemical processes in the body, including the processing of cholesterol, carbohydrates, and protein. It's also a good source of riboflavin (15% of the daily value).
Nerd alert, but this is the stuff I geek out over: Scientists have identified more than 67 different plant compounds, or polyphenols, nine of which are unique to pure maple syrup. One of these polyphenols, named Quebecol, naturally forms when the sap is boiled to produce maple syrup.
What are some of the best ways to cook with maple syrup?
With its unique pleasing flavor, pure maple syrup can be used in both sweet and savory culinary applications. It can be used as replacement for other sweeteners in a variety of dishes. Using maple syrup both in this overnight french toast bake and also a drizzle on top, gives it delicious flavor that can't be compared to any other sweetener (in my opinion)!
Can I substitute maple syrup for other sweeteners?
Yes, maple syrup can be used in place of any other liquid sweetener. Check out this easy guide to swap maple syrup for other sweeteners.
I tested this overnight maple banana french toast 4 times before I got it just right. The difficult part was actually the bananas and getting them to look pretty while also having a nice (not soggy) texture. Turns out the perfect approach is mashing some ripe banana into the wet ingredients that rest overnight and then topping the overnight french toast with fresh bananas, and you guessed it- a little more pure maple syrup.
If overnight french toast is your thing, check out this Overnight Blueberry Lemon French Toast Bake or this Mixed Berry Overnight French Toast Bake!
KISS Tip #1: Substitute any bread if you don't have gluten-free bread on hand. Just make sure it's 2 or 3 days old so it's dryer/denser and ready to absorb the liquid overnight.
KISS Tip #2: Can't wait to make this recipe? You can let it soak for just 2 hours instead of overnight, if you're in a rush. It's still just as good, just has a slightly different texture!
If you make this recipe, I'd love to hear you how you enjoyed it or if you tried anything different with it!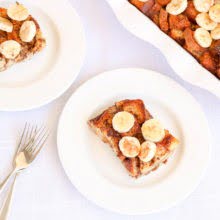 Print Recipe
KISS Banana Maple French Toast
Ingredients
1

15 oz loaf

gluten-free bread, cut into 1-inch cubes

(I like Canyon Bakehouse)

6

eggs

1 3/4

cup

almond milk

or milk of choice

1/3

cup

Pure Maple Syrup from Canada

+ extra for drizzling

1/4

cup

melted better

or coconut oil

4

large bananas

(1 banana should be very ripe to use inside the french toast, and the other 3 are used for topping after the french toast is baked)

1

tbsp

vanilla extract

1

tbsp

cinnamon

1/2

tsp

nutmeg
Instructions
Grease a 9x13-inch baking dish and place bread cubes evenly on greased dish.

Whisk eggs, almond milk, maple syrup, melted butter/coconut oil, mashed banana, vanilla and spices in a large measuring cup or bowl.

Pour wet ingredients evenly on top of cubed bread. If there are dry pieces sticking out of the egg-milk mixture, try gently pressing down so all the pieces get we (it's okay if they still stick out of the egg-milk mixture).

Cover and put in refrigerator for at least 2 hours or overnight.*

When ready to bake, put in a preheated 350 degree oven for 45-50 minutes or until a knife inserted in center comes out clean.

Cut the 3 remaining bananas into small even slices and top immediately. Drizzle with additional maple syrup and cinnamon and enjoy!
Notes
* The longer the dish sets (goal = overnight), the more custardy and moist it is! Although 2 hours will suffice.