Pasta salad is the easiest tasty summer dish that's perfect for a picnic, potluck or simple lunch with the family. With 4 dressing options, gluten-free noodles and easy ingredient substitutions,  this pasta salad recipe is sure to please even the pickiest of eaters!
What do I need to make this pasta salad?
Gluten-free pasta noodles – I used fusilli noodles, but any shape will work! I highly recommend Jovial Foods pasta– you would never know it's gluten-free because it tastes so good and has the best texture! I purchase mine through Thrive Market for the best savings. Use this link to save $40 off your first order!
Cucumbers – I used three minis (we're overflowing with them thanks to Costco!), but 1 large would work great!
Cherry tomatoes – I used one pint and halved them, but add as little or as many as you want! Try tri-color ones for an extra pop of color!
Black olives – I used a 2.25 oz can of pre-sliced ones to make it easy. I love Lindsey's Olives for an affordable organic option.
Goat cheese – I used a 4 oz. package of crumbled goat cheese. Feel free to omit if you're sensitive to cheese or try feta or blue if you want a stronger flavor!
Fresh basil – I added 1/4 cup of finely chopped basil. Omit or sub for another herb like dill or parsley if you're not a basil fan.
Dressing – I tested out four different dressing options (lemon tahini, ,creamy dill,  Italian and olive oil & balsamic) and they all tasted great! You can pick the one that sounds best to you or divide the salad up into separate bowls and do more than one! All the recipes are below.
Pasta salad is a great way to incorporate different vegetables and healthy fats like olives. You'll find some wonderful protein and calcium in the cheese and even the fresh basil provides some nutrients like vitamin K, manganese, iron, vitamin A and vitamin C. There is plenty of reason to enjoy this recipe and it allows for easy substitutions and customization without getting too complicated.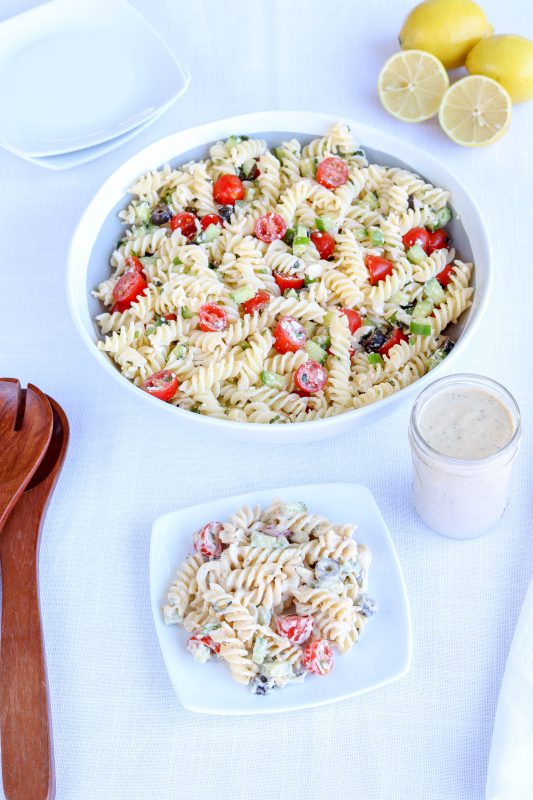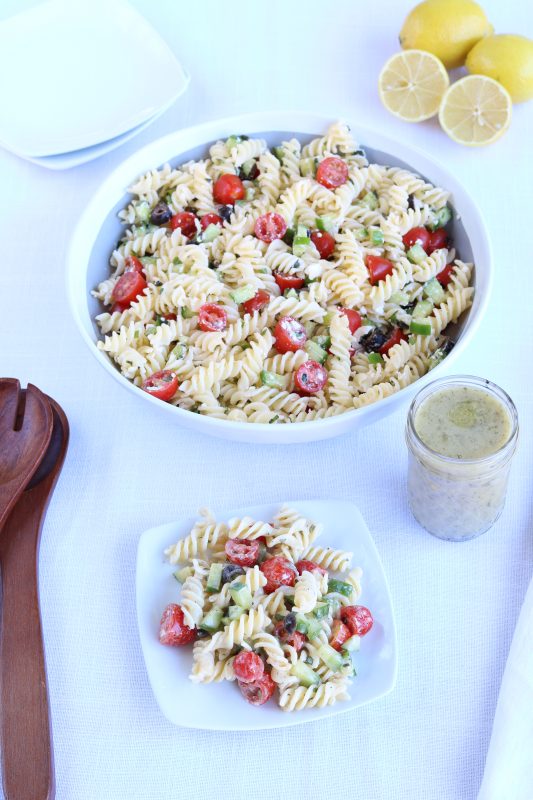 How long does pasta salad last in the fridge?
According to doesitgobad.com, most pasta salads will last 3-4 days in the refrigerator. This is the general recommendation for all types of salads – think chicken salad, potato salad, tuna salad, etc. However, it's important to note that ones made with oil-based dressings usually last a bit longer than creamy ones made with dairy or mayo-based ones. So if you're making this recipe with my Olive Oil & Balsamic or Italian dressing, it may be good for a day or two longer than the Lemon Tahini and Creamy Dill ones!
What goes well with pasta salad?
Is there a food that doesn't go well with it ;)? So many foods can be a great accompaniment to this recipe! My mind immediately goes to a backyard BBQ, so hamburgers or hotdogs would be a great option to serve with this recipe. You could also add some freshly cooked fish (salmon would be great and this Lemon Dill Salmon would actually be perfect on top) and enjoy it as your main dish. The options are endless since pasta salad is such a versatile main or side dish. Have fun with it and I'd love to know if you try this recipe!
Pasta Salad Four Ways
Ingredients
1

12 oz. package

gluten-free pasta

(I used fusilli)

3

mini

cucumbers or 1 large cucumber, diced

1

pint

cherry tomatoes, halved

1

2.25 oz. can

sliced black olives, drained

1

4 oz. package

crumbled goat cheese

(about 1 cup)

1/4

cup

finely chopped fresh basil
Lemon Tahini Dressing
6

Tbsp

apple cider vinegar

1/4

cup

tahini, well stirred

3

Tbsp

freshly squeezed lemon juice

2

Tbsp

extra virgin olive oil

2

Tbsp

avocado mayo

1

tsp

Italian seasoning

1/4

tsp

ancho chili powder, heaping

(unless you are sensitive to spice)

Pinch of salt

Pinch of ground black pepper
Olive Oil & Balsamic Dressing
1/2

cup

extra virgin olive oil

6

Tbsp

balsamic vinegar

2

Tbsp

freshly squeezed lemon juice

1

Tbsp

jarred, minced garlic

2

tsp

dijon mustard

1/2

tsp

dried Italian seasoning

1/2

tsp

salt
Creamy Dill Dressing
1

cup

avocado mayo

2

Tbsp

white wine vinegar

1

tsp

dried dill

(omit or choose a different herb if you don't like dill)

1/4

tsp

salt

1/4

tsp

pepper
Italian Dressing
8

oz.

of your favorite Italian dressing or Primal Kitchen's Vegan Ranch works amazing also!
Instructions
Cook gluten-free pasta noodles according to package instructions. While the pasta is cooking, chop tomatoes, cucumber and basil and drain olives.

Add all ingredients for the dressing of your choice to a medium-size bowl and whisk to combine.

Once pasta is done cooking, transfer to a colander. Rinse quickly with water and generously drizzle on some olive oil to keep the noodles from sticking.

In a large serving-size bowl, combine the cooked pasta, chopped vegetables, olives, goat cheese and basil. Pour at least half the dressing in, toss well and continue adding until it's coated to your liking. You can also reserve a small amount of dressing to freshen up the salad if not serving immediately!