---
I'm excited to partner with Monterey Mushrooms, the largest fresh mushroom grower in North America, for this post. As always, all opinions are my own, and I only partner with brands and products I genuinely love using in my own kitchen.
---
If you love both fajitas and enchiladas, this recipe is going to be your new favorite. Not only is it bursting with delicious fajita flavor, it has some some serious meatiness from hearty portabellas and a cheesy goodness that is pretty much restaurant quality.
I'm embarrassed to say this, but I can count on one hand how many times I've made enchiladas at home. After creating this recipe, I can tell you I'll be using both hands and feet (to count) in a matter of no time, because this recipe is going on repeat! I often cook with mushrooms, whether it's baby bellas, Let's Blend finely diced mushrooms or whole portabellas, but I had never made them the star of enchiladas until now. Why did I take so long?!
I used Monterey Mushroom's Fajita Time Sliced Portabellas, which you can find at H-E-B. I love that they're pre-sliced and come with a seasoning packet – it doesn't get any more simple than that. I also grabbed a package of sliced fresh vegetables (onions, green and red peppers) to add to the mushrooms. Right now through March 12th, H-E-B has a special running from 2/27-3/12 where when you purchase 1 Fajita Time Sliced Portabellas and 1 HEB Fajita Vegetables 12oz you get 1 Cocina Fresca Salsa 16oz and one 10 ct HEB Flour Tortilla for free, which is basically the bulk of ingredients you need for this recipe!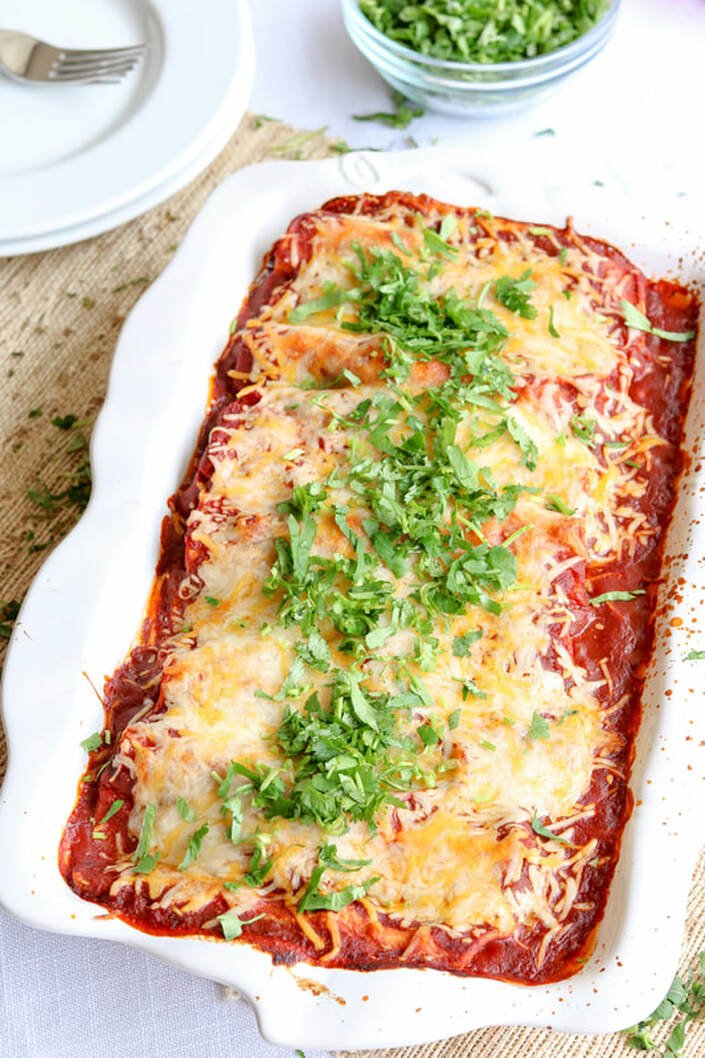 If you're not local and still want to make this recipe, no worries- it's easy peasy and all the ingredients are in the recipe below. This is such a great weeknight recipe and especially good for Meatless Monday, the Lenten season or if you're just looking for more vegetarian options. I love that mushrooms are one of the most earth-friendly and renewable crops available. In fact, one million pounds of mushrooms can grow in the space of one acre while requiring minimal water and are ready to harvest in only a few days. Plus, they're nutritious, delicious and have an incredibly hearty texture that makes these some meaty enchiladas (sans meat)!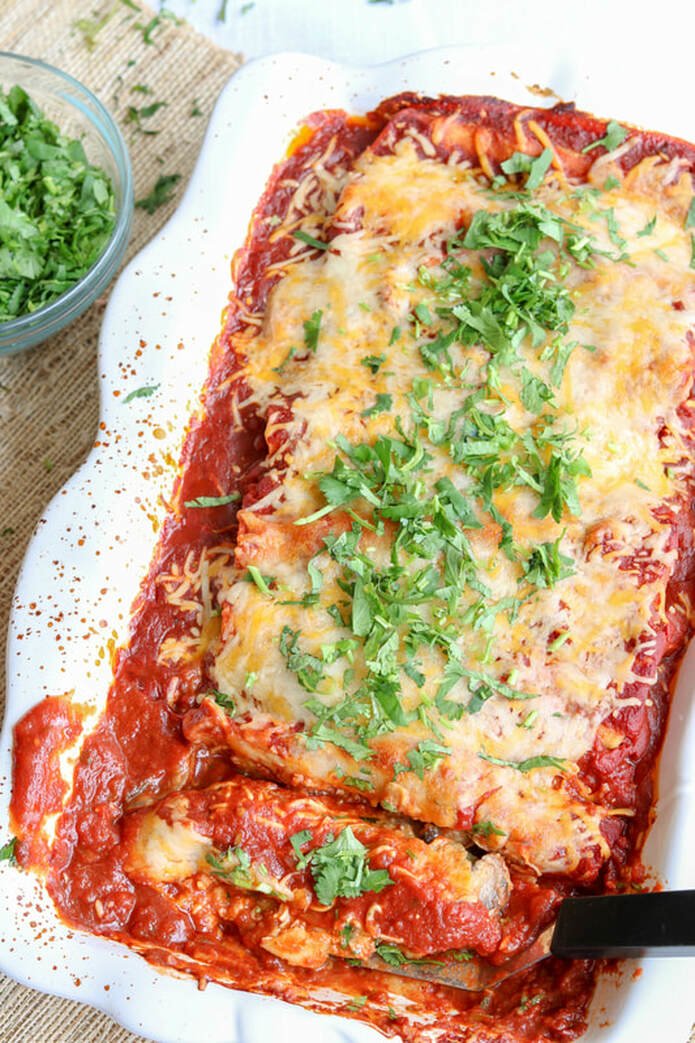 These saucy enchiladas are pretty close to restaurant quality. One of our babysitters (who isn't the biggest vegetable fan) tried these, loved them and even ate seconds. I was on cloud nine after that happened and might have had seconds myself ;). Something tells me if you make them, you'll be going back for more too! Don't forget if you're local to grab the deal from H-E-B on all these recipe ingredients!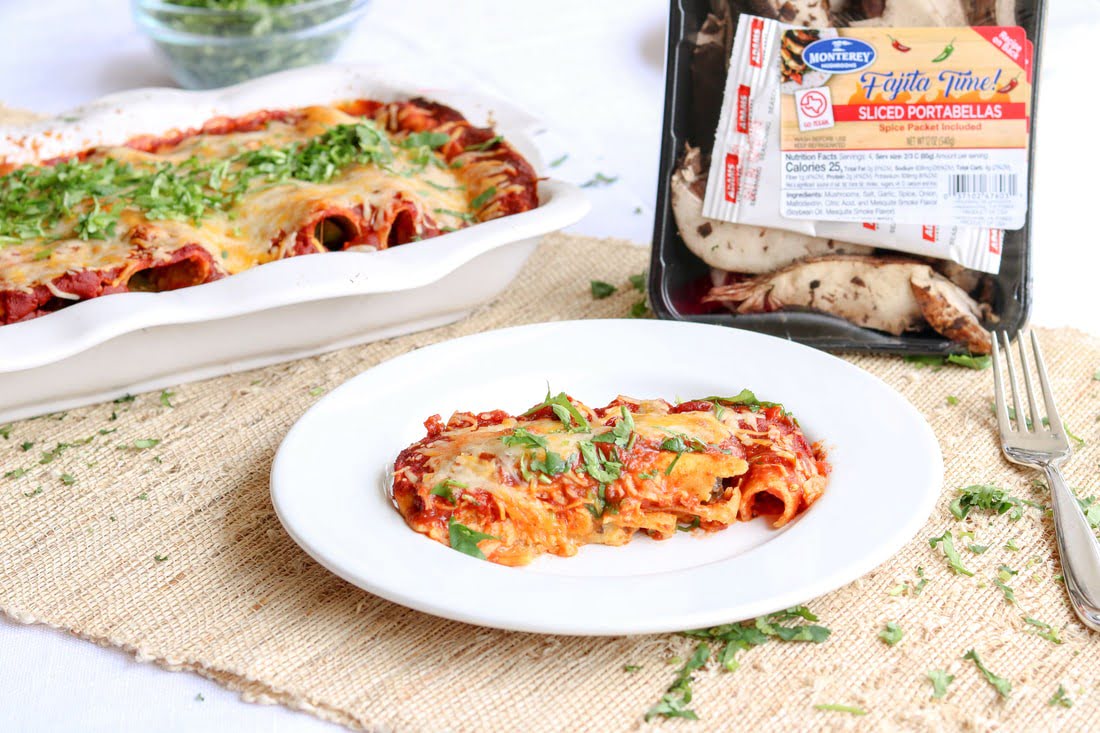 Print Recipe
Portabella Fajita Enchiladas
Ingredients
1

12 oz. package

Fajita Time Sliced Portabellas with seasoning packet or 3 large portabella mushrooms, sliced in 1/2 inch slices

If you aren't using Fajita Time sliced portabellas that come with the seasoning packet, you can substitute a taco seasoning.

1

12 oz. package

pre-chopped veggies (bell peppers, onions) or about 2 1/2 cups sliced onions and bell peppers

2

Tbsp

avocado oil

1

cup

prepared fresh salsa

6

oz.

tomato paste

2

cups

el Pato enchilada sauce

1

tsp

cumin

3

cups

shredded Mexican cheese

10

corn

tortillas
Instructions
Preheat oven to 375° and lightly grease a 9 X 13 baking dish.**

In a medium skillet, heat avocado oil and add the vegetables and mushrooms. Stir the fajita seasoning into veggies and sauté for about 10 minutes or just until softened.

Stir in 1 1/2 cups of cheese until melted and mixed in with veggies.

Mix enchilada sauce, salsa, tomato paste and cumin together in a large measuring cup, making sure it's well blended. Pour about 1 1/4 cup sauce on greased baking dish.

Heat the tortillas in damp paper towels for about 10-15 seconds. Using a spoon, place a heaping spoonful of veggies in each tortilla. Roll and place seam side down in the sauced baking dish. Continue rolling the remaining enchiladas and arrange close together in the dish.

Sprinkle half the remaining cheese (about 3/4 cup) over the enchiladas, followed by the remaining sauce and top with the remaining 3/4 cup cheese. Make sure the enchiladas are well covered by the sauce- exposed tortilla can burn or dry out.

Bake for 20 minutes. Let cool for 5 minutes, top with cilantro and enjoy!
Notes
*

You can also use a slightly shorter dish to make the enchiladas squeeze closer together!