Do you remember that scene from Runaway Bride where Richard Gere (swoon) is yelling at Julia Roberts telling her she's so lost that she doesn't even know what kind of eggs she likes?! I feel like that's kinda sorta like motherhood. We get so busy and caught up in everyone else's needs that we don't even know how we like our eggs anymore. But one thing is for sure… as moms, we eat them cold.
I don't about you, but most days I'm actually okay with cold eggs. It's one of the many welcomed "inconveniences" that comes with being a mama, know what I mean? But every now and then hot eggs would be a nice treat.
This Potato Egg & Bacon Sheet Pan Bake (also nicknamed the Basic Breakfast Sheetpan) is a delicious mix of sweet potatoes, regular potatoes, bacon and eggs. It's simple to prepare and definitely a crowd pleaser. It was somewhat inspired by one of my most popular recipes, this Southwest Breakfast Sheet Pan Bake. If you're looking for more simple breakfast recipes, definitely favorite or pin that one!
KISS Tip: Chop the potatoes earlier in the week to cut prep time down significantly on this already fast recipe!
I hope you're enjoying this sheetpan series and stay tuned for two more coming your way this month. Make sure to check out all my other sheetpan recipes and I'd love to hear from you if you tried this recipe!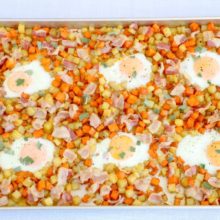 Print Recipe
Potato, Egg, & Bacon Sheet Pan Bake
Ingredients
Oil or cooking spray

(I prefer avocado oil for recipes above 350° F)

2

medium-sized

sweet potatoes,

chopped into bite-sized pieces

3

medium

Yukon-Gold potatoes,

chopped into bite-sized pieces

2

Tbsp

avocado oil

1

tsp

garlic

1/2

tsp

onion powder

3/4

tsp

paprika

1/2

tsp

salt

1/2

tsp

pepper

6

large

eggs

1

8 oz. package

of bacon,

cut or torn into bite-sized pieces

8-10

sage leaves,

torn into small pieces
Instructions
Preheat your oven to 400° F. Using cooking spray or oil, lightly grease a rimmed baking sheet. 

In a large bowl, toss the chopped potatoes in avocado oil. Add in the spices and mix until coated evenly. 

Place on the baking sheet and bake for 15 minutes until the potatoes are tender. Using a wooden spoon, mix the potatoes once about 10 minutes into the cook time to keep from sticking/burning on one side. 

Remove the baking sheet from the oven and spread the bacon pieces along the top of the potatoes. Return to the oven for 7 minutes. 

Remove the baking sheet from the oven and make 6 nests for the eggs. Spray the bottom of each "nest" where the baking sheet is bare with avocado oil spray. 

Crack an egg in each of the 6 nests and return baking sheet to the oven for 7 minutes.

Remove from oven and enjoy!