These power balls with milk boosting ingredients are delicious, nourishing and so easy to whip up! Plus, they're freezer-friendly so you can make them before baby arrives and have power balls that will help boost your milk supply already available!
What ingredients are in power balls to help boost milk supply?
Lactation power balls include a blend of foods that can help boost milk supply for breastfeeding mothers. Foods most commonly used in lactation power balls include oats, brewers yeast and flax seed. The reason these foods are great for breastfeeding mothers is because they contain galactogogues – compounds that mimic hormones that increase milk production (like prolactin!).
Here are the ingredients in these lactation power balls – ALL of which might help stimulate milk production! And if you don't personally find them beneficial, they're at a minimum a tasty snack a busy new Mama can enjoy while breastfeeding or pumping!
Oats – I like to use gluten-free rolled oats (Bob's Red Mill is my go-to.)
Dates – highly recommend using Medjool dates and Natural Delights are the best, IMO.
Almond butter – any kind of nut butter will work great. My favorite brand is Georgia Grinders. You can snag a 4-pack of assorted kinds here!
Chocolate chips – these Enjoy Life mini chocolate chips are a great dairy-free option.
Brewers yeast –  one of the best known foods for increasing milk supply. I like this one that doesn't have a terrible aftertaste- you can grab a bag on Amazon
Oat milk – I like Oatly.
Honey
Ground Flax seeds – I also like Bob's Red Mill for these!
Cinnamon – feel free to sub with nutmeg or allspice if you don't have or like cinnamon, although these may not have the same effects on milk supply.
Vanilla extract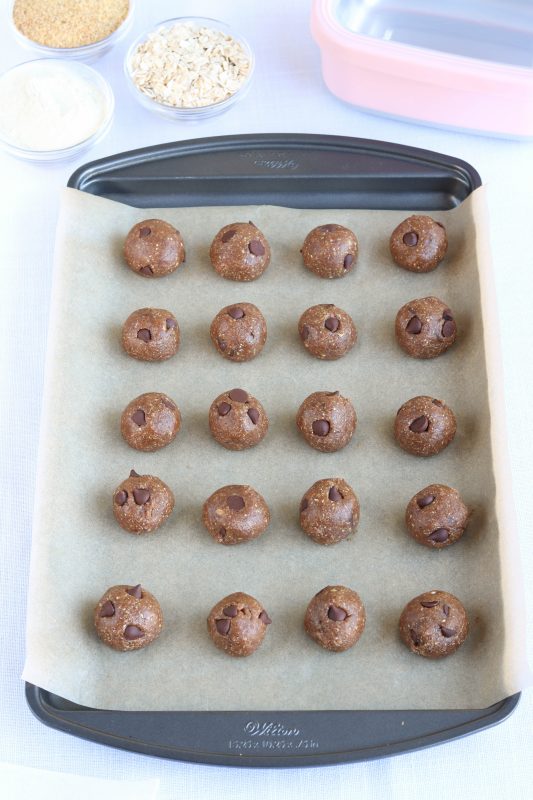 Do lactation power balls actually work?
There's not a lot of clear cut scientific evidence to absolutely confirm their efficacy, but you can certainly find ample amounts of anecdotal evidence that these ingredients help boost milk supply. Personally, I find my body doesn't respond quickly (or at all) to many galactogues but I often still add them in because their ingredients packed with nutrition and it certainly won't hurt to consume extra oats, flax seed, brewer's yeast, etc.!
Can anyone eat lactation power balls?
Absolutely. None of the ingredients in these power balls aimed at boosting milk supply will  will hurt anyone not breastfeeding. I will say that brewer's yeast might make them taste a bit bitter to some, especially kids, so that's something to be mindful of. Otherwise, I'd make enough to share with the whole family since they're great for breakfast, dessert, or a snack!
If you're not making power balls for the purpose of boosting milk supply, I would just make sure your power balls have a nice balance of protein, healthy fats, and fiber!
What other foods help produce breast milk?
According to What to Expect, fenugreek, fennel seeds, many different types of herbs, lean meat and poultry, and garlic could potentially increase supply. I think we all know it's not as simple as eating a chicken leg and experiencing more milk, but it is important to note that consuming a nourishing diet that provides enough protein and calories is crucial to help support your body make breast milk. You can't add in foods or supplements and expect miracles if your baseline nutrition and hydration aren't in place.
If you're looking for more recipes that include milk-boosting ingredients, try some of these:
If you're struggling with your supply, I would highly recommend working with a lactation consultant or checking in with support groups like La Leche League. Even then, I have personally found that you can do ALL THE THINGS and remain with a supply that doesn't fully meet your baby's needs. This does NOT make you a failure and every little drop of breast milk is so beneficial for your baby!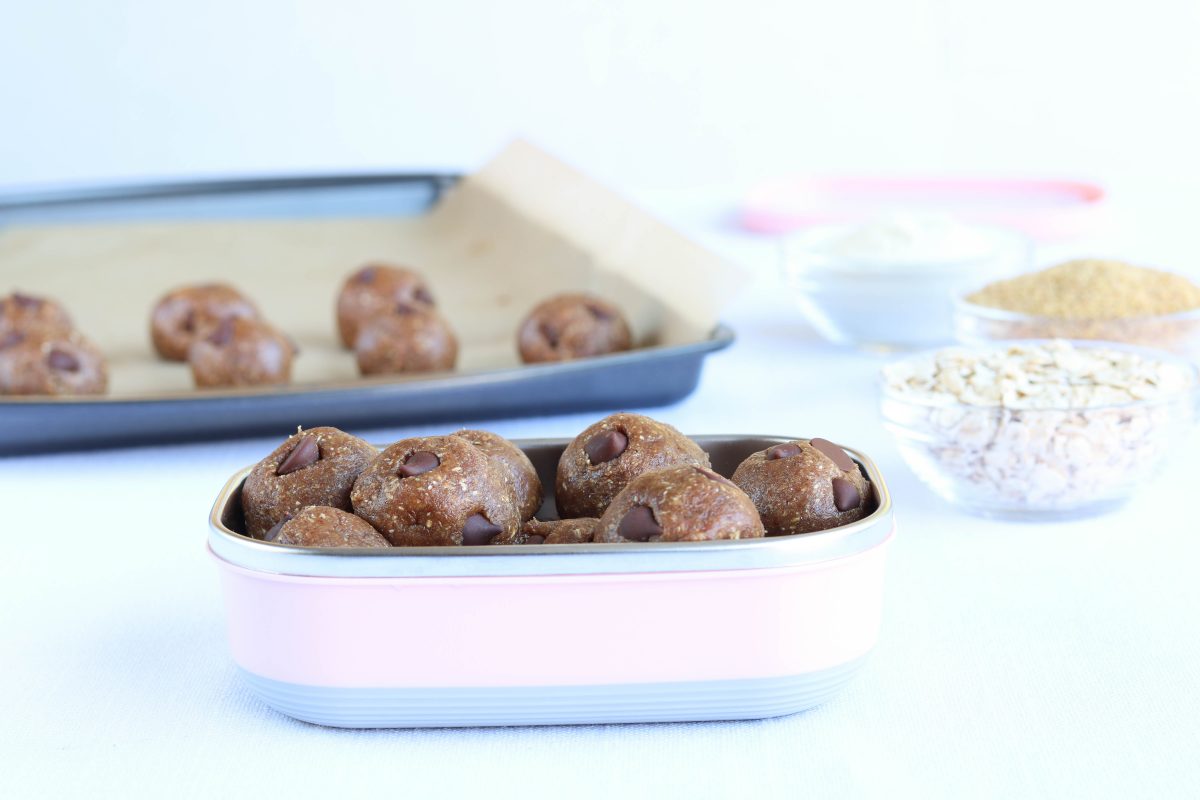 One of these days I'll carve out the time and mental energy to share my breastfeeding story. Breastfeeding is such a special experience but it isn't everything and sometimes even when you check all the boxes for the things that should make it work or help you make enough milk, it just doesn't happen. If that's you, I see you, Mama.
Power Balls to Boost Milk Supply
Ingredients
1

cup

rolled oats

8

pitted

Medjool dates, soaked in hot water for 5 minutes

(this step isn't 100% necessary but definitely helps soften them and make them blend easier!)

1/2

cup

natural or raw almond butter

ideally no extra oils/sugars added

1/3

cup

dairy-free chocolate chips

1/4

cup

brewer's yeast

1/4

cup

oat milk

1/4

cup

honey

3

Tbsp

ground flax seeds

1

Tbsp

+ 1 tsp cinnamon

1

tsp

vanilla extract
Instructions
After you have soaked the dates in warm water for about 5 minutes, or until they have softened, remove them from the water and add to the food processor. Pulse until they form a thick paste.

Add in the rolled oats and pulse a few more times until well mixed. Then add in all other ingredients except for the chocolate chips and process until well blended.*

Transfer the mixture to a medium-large bowl and stir in the chocolate chips. Continue stirring until they are evenly distributed throughout.

Refrigerate for two hours or until less sticky.

When ready, use your hands to form bite-sized balls and enjoy immediately or store in an airtight container in the refrigerator for 1-2 weeks!
Notes
*The quickest and most efficient way is to process all ingredients except for the chocolate chips in the food processor, but if you'd like your bites to have more texture, I'd recommend hand mixing all ingredients after the dates and oats are pulsed together.