Let me start by saying that if you're not pregnant, you can still enjoy this delicious salad and it's truly a salad that's healthy for everybody (men, women, children- I think that covers it) because it's packed with nutritious ingredients. Y'all might have seen my recent post about this new essential nutrient and how it's especially important for maternal and fetal health. But what I didn't mention, is choline is actually important throughout all stages of life and 90% of Americans aren't actually getting enough! So I've created this delish salad that's packed with choline, protein and flavor!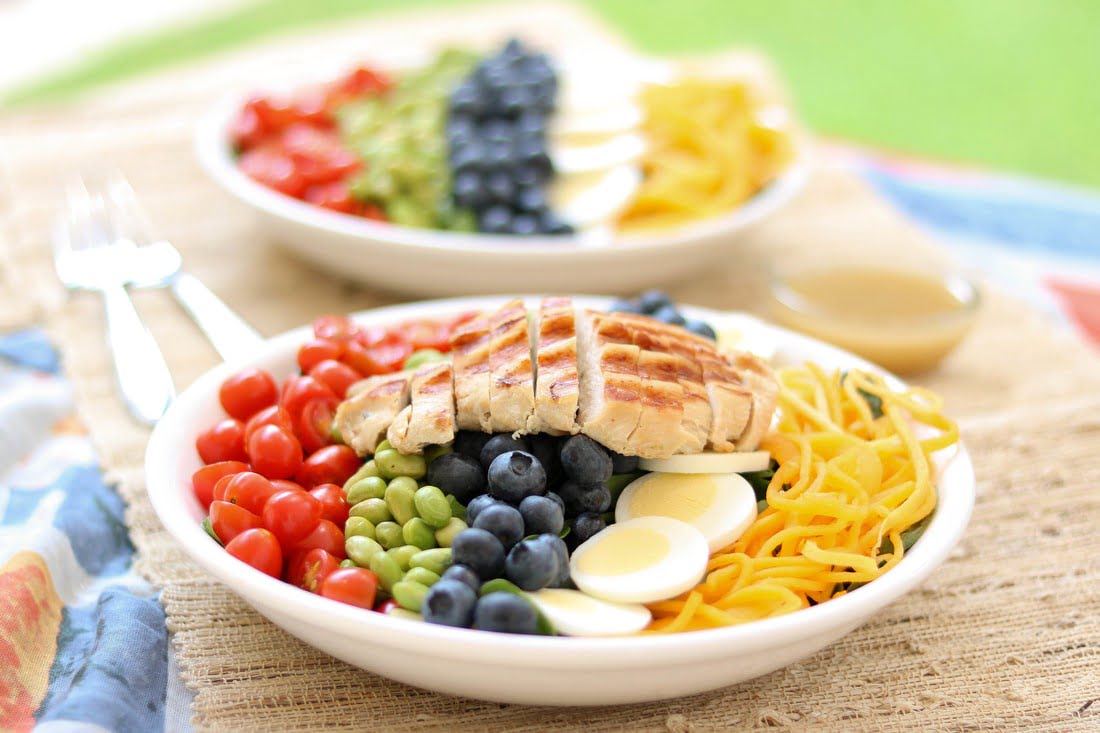 Eggs, chicken and edamame are great foods to focus on when trying to consume more choline, but they also happen to be very tasty and satisfying. And although in the second and third trimester of pregnancy, we do need a few hundred more calories per day, it really helps to focus on foods that are nutrient dense as well. And like I mentioned before- if you're not pregnant, that's not an acceptable excuse to not enjoy this salad ;).
This salad is also a great way to celebrate Meatless Monday because it's super hearty even without the grilled chicken. Plus, it only takes a few minutes to whip together so it's perfect for a weeknight meal or lunch.
This could be an awesome Mason jar salad too. I'd suggest layering the boodles (butternut noodles) on bottom, followed by the edamame, then blueberries, tomatoes, eggs and spinach.
With all my salads, I love to whip together a simple homemade dressing. I made a 4 ingredient vinaigrette (recipe below) and it took about 3 minutes. I also love this Cherry Balsamic Vinaigrette, but it takes a little longer (15 minutes) since the cherries have to boil. Whether you make your dressing from scratch or opt for the bottled stuff, the salad is bound to taste great because the ingredients are so fresh and flavorful. Cheers to eating more veggies!
Print Recipe
Pregnancy Power Salad with Maple Cider Vinaigrette
Ingredients
8

cups

fresh baby spinach

1

cup

edamame, cooked

(I microwaved a frozen package, then let it cool)

1

cup

fresh blueberries

4

hard-cooked eggs, sliced

1

cup

cherry tomatoes, halved

1 1/2

cups

butternut noodles

(I use Veggie Co Noodle- super convenient and always fresh!)

4

chicken breasts, pre-cooked and sliced, if desired*
Maple Cider Vinaigrette
1/4

cup

avocado oil

2

Tbsp

maple syrup

1

Tbsp

dijon mustard

1

Tbsp

apple cider vinegar

Dash of salt & pepper
Instructions
In a 1-cup measuring cup, whisk together dressing ingredients and set aside. Skip this step if you're using a different dressing!

Place 4 large salad bowls or plates on counter and place ~2 cups spinach on each**

Microwave edamame according to package instructions and let cool. Once cool, place 1/4 cup edamame on top of spinach.

Next, add 1/4 cup blueberries, 1/4 cup tomatoes and one sliced boiled egg to each salad. Compete the rows of colorful ingredients by evenly dividing the butternut noodles and adding to the salad.

Top salad with sliced chicken, if desired, and serve with maple cider vinaigrette or your dressing of choice!
Notes
*Note about chicken prep: If you have a favorite way to cook chicken breast, feel free to do it your own way. MY personal favorite is to use an indoor grill with a press, but if you don't have one of those, here are the simple steps to successfully cooking chicken breast that I first learned from The Kitchn!
**If serving a large crowd, you combine all the ingredients in one large bowl and let everyone serve themselves.