Guys… it's really starting to feel like fall. I went outside early this morning to roll down the recycle bin and it was totally chilly while I scurried down the driveway (in my bathrobe… #realtalk) with this cumbersome blue bin behind me. But all I could think is that it ACTUALLY feels like fall. If it's not already [annoyingly] obvious that fall means pumpkin to me, it also means it's soup time! And this creamy Pumpkin Chickpea soup is a breeze to make.
​This soup was destined to be a part of something bigger… like it's meant to be with an ooey-gooey grilled cheese sandwich or something has got to be dunked in this soup.
This soup can go in so many directions. Although packed with pumpkin, it's flavor is mild and goes nicely with Italian seasonings, for the perfect savory finish. BUT this soup could totally be created with cinnamon, pumpkin pie spices and a smidge of maple syrup to give it a hint of sweetness. Either way, I still believe it belongs with a grill cheese next to it.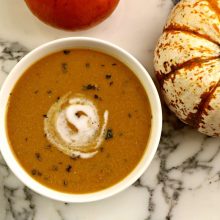 Print Recipe
Pumpkin Chickpea Soup
Ingredients
1 1/2

Tbsp

coconut oil

1

extra large

sweet yellow onion, chopped

3

garlic cloves, peeled and minced

1

Tbsp

Italian seasoning

3 1/2

cups

vegetable broth, divided

1

15 oz. can

chickpeas, rinsed and drained

1

can

pumpkin puree

1/2

cup

canned coconut milk 

Salt and pepper, to taste
Instructions
Heat a soup or stock pot over medium-high heat, heat oil and add chopped onions. Saute onions for 10-15 minutes until soft and fragrant. 

Add garlic cloves and Italian seasoning and cook for 2-3 more minutes.

Add 2 1/2 cups vegetable broth, stir and simmer for 2-3 minutes.

Turn off heat, add chickpeas and coconut milk. Use an immersion blender to blend the soup until smooth. If you don't have a blender, transfer soup to a Vitamix or blender in batches.

Once soup is completely smooth, stir in pumpkin puree. Set to a medium-high heat and bring soup to a simmer. Add final 1/2 cup or more broth if thinner consistency is desired.

Season with salt and pepper to taste. Garnish with fresh or dried parsley, cracked black pepper and a drizzle of coconut milk.