I'm excited to partner with Monterey Mushrooms, the largest fresh mushroom grower in North America, for this post. As always, all opinions are my own, and I only partner with brands and products I genuinely love using in my own kitchen.
---
We always hear that breakfast is the most important meal of the day, but I also happen to think it's the most delicious. It just happens to be the easiest meal to prepare, which is helpful when all those extra out of town guests arrive for the holidays! But whether you're feeding the holiday crowd, or just trying to stay on track this month, this sausage and mushroom breakfast casserole is your best solution!
I love casseroles because they're a great way to get some veggies in at breakfast, but who has time for all that chopping?! I don't! I'm relying on Monterey Mushroom's Let's Blend finely diced and pre-seasoned fresh mushrooms and some frozen spinach to boost the nutrition and flavor of this casserole. Let's Blend is basically my best friend in the kitchen. I use it in meatballs, stuffed peppers, nachos, and the list goes on, but I had yet to incorporate it into breakfast until this casserole!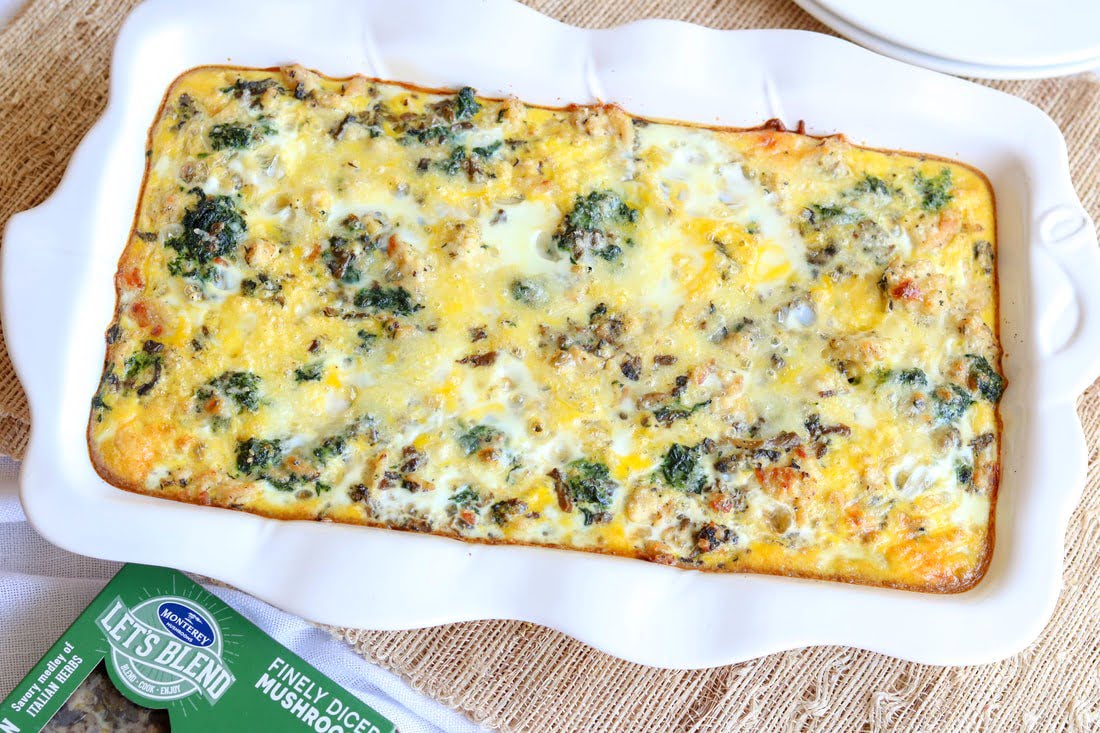 Another cool thing about this recipe is you can customize it to include your favorite ground meat or even make mini breakfast muffins! When developing this recipe, I took some polls on my Instagram stories and the results were split almost 50/50 for turkey or pork and for casserole versus muffins. Thankfully, there's no elaborate substitution instructions based on what protein you choose (I just add a smidge of avocado oil when using turkey breast since it's so much leaner) and same thing with the muffins.
I will make one disclaimer about the muffins- cleaning the pan is not the most fun things in the world. I was generous with my avocado spray oil to coat the pan and the egg still adhered much more than I would like it to. My suggestion would be to use silicone muffin cups or just prepare yourself to have a muffin pan that will need some elbow grease and soap action.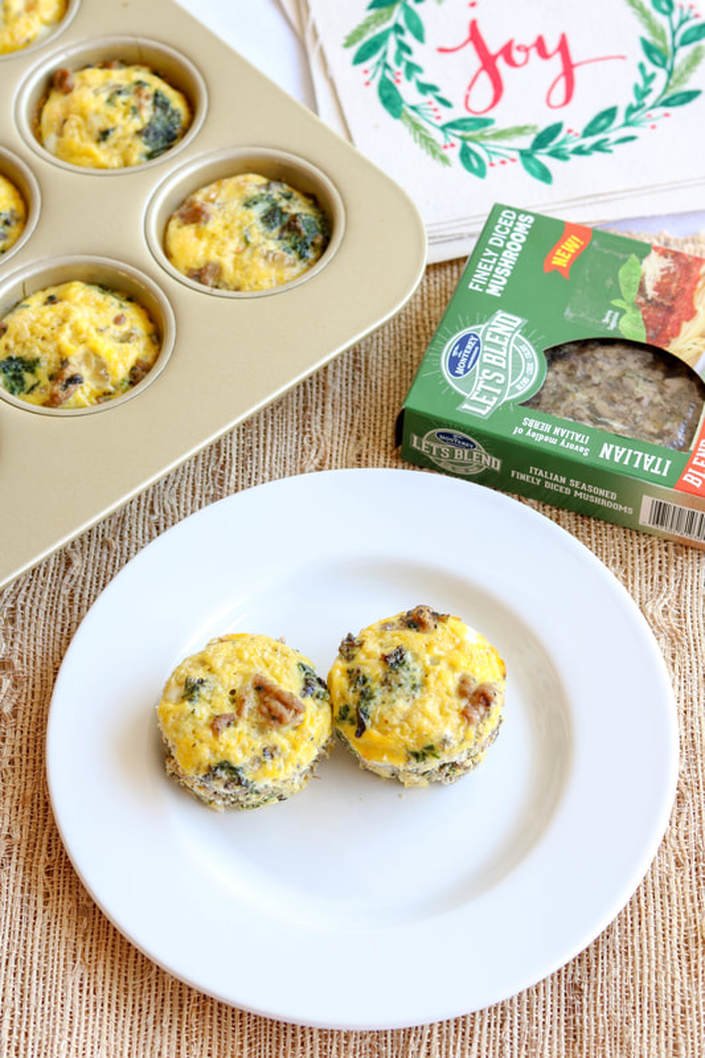 I don't know about you, but I like sausage. The flavors of sausage are wonderful, but the extra fat, casing, etc. aren't as lovely in my book. That's just one more reason Let's Blend is the perfect addition to this casserole. Since the finely diced mushrooms are pre-seasoned, the turkey, pork or whatever lean ground meat you choose ends up tasting like sausage without any added fat! And let me tell ya- the seasoning is spot on. Whether it's the Classic, Mexican or Italian flavor; they're all PERFECT! Plus, the mushrooms add additional juiciness so a dryer lean ground turkey breast has moisture, flavor and the recipes stretches further. One word: winning.
I feel like one of the biggest gifts we can give ourselves during the holidays is time. Time for ourselves and for our families is precious all year-round, so I am always looking for ways to cut time in the kitchen without sacrificing quality and nutrition. All I have to do when using Let's Blend is open up the package and blend with my favorite protein- it's just that simple. Check out all the ways you can use Let's Blend in the in link below!
Wishing every single one of you a joyful and blessed Christmas and holiday season. More than anything, I hope you get to slow down for a bit and relax with good food and those you love. <3 Shannon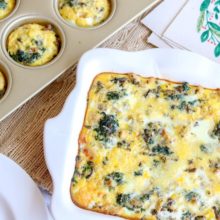 Print Recipe
Sausage and Mushroom Breakfast Casserole
Ingredients
1

lb.

ground turkey breast

1

package

Monterey Mushroom Let's Blend Italian

(Learn how to make Let's Blend at home!)

1

Tbsp

avocado oil

10

oz.

frozen chopped spinach, thawed and drained

1/2

tsp

dried red pepper flakes

1

cup

mozzarella, shredded

(optional)
Instructions
In a large skillet over medium heat, add the avocado oil and cook turkey about 5-7 minutes until minimal pink is present.

Add Italian Let's Blend and cook about 3 more minutes, stirring occasionally. Add spinach* and cook 1-2 minutes, remove from heat and stir in red pepper flakes.

Pour mixture into a 9×13″ greased dish followed by a layer of mozzarella cheese, if desired.

In a medium bowl, whisk the eggs. Pour over the turkey and vegetable mixture and bake 25-30 minutes or until a knife, inserted in the center, comes out clean.

Let cool for 5-10 minutes then cut into squares and enjoy!